July 19, 2005 FileNet (FILE)
Hello Friends! Thanks so much for stopping by and visiting my blog,
Stock Picks Bob's Advice
. As always, please remember that I am an amateur investor, so please consult with your professional investment advisors prior to making any investment decisions based on information on this website.

The market is moving higher today which always makes me optimistic about finding the kind of stocks that I like to write about on this website! For any newbies around here, my first step in identifying a prospect for this website is to scan the top % gainers list. These are often stocks with some news that exceeds expectations.
This morning, while looking through the list of
top % gainers on the NASDAQ
, I came across FileNet (FILE) which as I write is trading at $29.97, up $2.71 or 9.94% on the day. I do not own any shares nor do I have any options in this stock.
According to the
Yahoo "Profile" on FileNet
, the company "...engages in the development, marketing, sale, and support of a software platform and application develoopment framework for enterprise content management (ECM) and business process management (BPM) worldwide."
Anyhow, what drove the stock higher today was the
2nd quarter 2005 earnings report
released before the open of trading today. For the quarter ended June 30, 2005, revenue came in at $104.6 million, compared with revenue of $94.1 million, an 11.1% increase. Net income was $8.7 million in the quarter, up 295% from $2.2 million the prior year and up sequentially from $8.3 million in the prior quarter. Per diluted share this came in at $.21, up 320% from $.05/diluted share in the prior year and up 5% from the $.20 in the prior quarter. Overall, the street liked what it saw, and bid up the stock price rapidly!
Longer-term, looking at the
"5-Yr Restated" financials from Morningstar.com
, we can see that the company did have a difficult year in 2001, when revenue dropped from $400.4 million to $334.6 million, and earnings dropped from $1.05/share to a loss of $(.47)/share. However, since that time, both revenue and earnings have steadily been growing to the $398.1 million in revenue in the trailing twelve months (TTM) and $.82/share in earnings in the TTM.
Free cash flow has also been growing the last several years from $11 million in 2002 to $55 million in the TTM.
The balance sheet reflects this solid free cash flow performance with $365.8 million in cash reported by Morningstar, enough to cover both the $142.8 million in current liabilities AND the $4.8 million in long-term liabilities more than two times over. In addition, Morningstar reports that FILE has $56.6 million in other current assets. This is a very pretty balance sheet!
Looking at
Yahoo "Key Statistics" on FILE
, we can see that this is a mid cap stock with a market capitalization of $1.19 billion. The trailing P/E is a bit rich at 35.46, and the forward P/E (fye 31-Dec-06) is a bit better at 29.87. However, the PEG isn't cheap at 1.67.
Looking at the Price/Sales ratio in terms of its relative valuation within its industrial group of "Business Software & Svcs", we see that FILE is placed midway with BEA Systems (BEAS) topping out at 3.2 Price/Sales, First Data (FDC) at 3.0, FILE at 2.8, Business Objects (BOBJ) at 2.7, Automatic Data Processsing (ADP at 2.6 and Fiserv (FISV) at 2.3. Thus, the stock appears to be reasonable valued by this particular parameter.
Other statistics on Yahoo show that there are 40.94 million shares outstanding with 40.75 million that float. Currently there are 2.54 million shares out short, representing 6.20% of the float or 5.8 trading days. Using my own 3 day rule on short interest, this
is
significant, and with the good earnings report, we might be witnessing a bit of a squeeze on the shorts.
Yahoo does not report any cash dividends and the last stock split was a 2:1 split in June, 1998.
Looking at a
"Point & Figure" chart from Stockcharts.com on FILE
: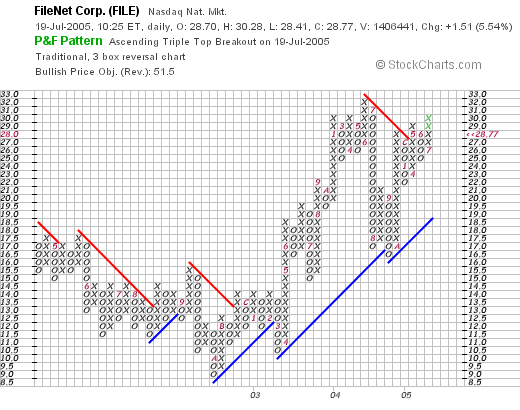 We can see that this stock was trading lower beween May, 2002, when it was in the $18.00 range, to a low of $9.00 in October, 2002. Since then, the stock has been trading fairly steadily higher to its current level of $28.67 (as I write.)

So what do I think? Let me review, the stock has moved higher today on a strong earnings report. FILE has been growing steadily the last 3-4 years, is generating lots of free cash and has a great balance sheet. Valuation is a bit steep in terms of P/E and PEG, but the Price/Sales is moderate within its "group". Finally, the chart looks strong but not over-extended. I do suspect as I look at the intra-day chart on FILE, that the initial euphoria on the earnings report might have gotten a bit overdone, but the picture remains strong, and this does not appear to be a "one day event".

Thanks so much for stopping by! If you have any comments or questions, please feel free to leave them on the blog or email me at bobsadviceforstocks@lycos.com.

Bob