A Reader Writes: "It seems like the MACD (12,26) would be a good measure for that."
Hello Friends! Thanks so much for stopping by and visiting my blog,
Stock Picks Bob's Advice
. As ALWAYS, please remember that I am an amateur investor, so PLEASE consult with your professional investment advisors prior to making any investing decisions based on information on this website!

I have been getting a few more letters lately, and I enjoy sharing them with you! If you write, please be aware that I shall likely be posting your questions and comments, but shall keep from identifying you with your last name.
I received this email in the last day or two from Harish who makes some excellent points:
Hi Bob,

I came across your blog a few months back and have been reading it
every day ever since. I have to say you have made investing a pretty
straight forward thing with the rules that you have framed. These
rules really make it easy for a novice like myself. Following your
rules I started investing in April and have already reached the first
sell point on 3 of my investments. Thanks to you!

One thing I learnt with this little experience is to buy a stock when
it is not overbought in the short term. It seems like the MACD(12,
26) would be a good measure for that. A couple stocks that I bought
quickly hit the sell point at an 8% loss, when analyzed later I found
that these stocks were overbought in the short term. These stocks did
bounce back though. I would be interested to hear your opinion on
this.

Thanks again for this wonderful service.

-Harish

PS. I am a software developer and I'll be glad to provide my services
to you in the event you need any help.
Harish, thank you for your kind words. Remember that you are on your own when investing and please consider consulting with a professional advisor prior to using my amateur approach.
In fact, I need to make a confession to you right away. Even though I write a lot, and have looked at LOADS of stocks, I really, truly am an amateur. So when you wrote about the MACD (12, 26), you had me stumped. I actually had to go and GOOGLE this to get the definition. I am aware of 50 day and 200 day moving averages, but was not familiar with the MACD (12,26)!
Here is what I found on the
Stockcharts.com tutorial on MACD
on the MACD:
The most popular formula for the "standard" MACD is the difference between a security's 26-day and 12-day exponential moving averages. This is the formula that is used in many popular technical analysis programs, including SharpCharts, and quoted in most technical analysis books on the subject. Appel and others have since tinkered with these original settings to come up with a MACD that is better suited for faster or slower securities. Using shorter moving averages will produce a quicker, more responsive indicator, while using longer moving averages will produce a slower indicator, less prone to whipsaws. For our purposes in this article, the traditional 12/26 MACD will be used for explanations. Later in the indicator series, we will address the use of different moving averages in calculating MACD.

Of the two moving averages that make up MACD, the 12-day EMA is the faster and the 26-day EMA is the slower. Closing prices are used to form the moving averages. Usually, a 9-day EMA of MACD is plotted along side to act as a trigger line. A bullish crossover occurs when MACD moves above its 9-day EMA and a bearish crossover occurs when MACD moves below its 9-day EMA. The Merrill Lynch chart below shows the 12-day EMA (thin blue line) with the 26-day EMA (thin red line) overlaid the price plot. MACD appears in the box below as the thick black line and its 9-day EMA is the thin blue line. The histogram represents the difference between MACD and its 9-day EMA. The histogram is positive when MACD is above its 9-day EMA and negative when MACD is below its 9-day EMA.
Stockcharts goes on to show an example of this with the MER chart: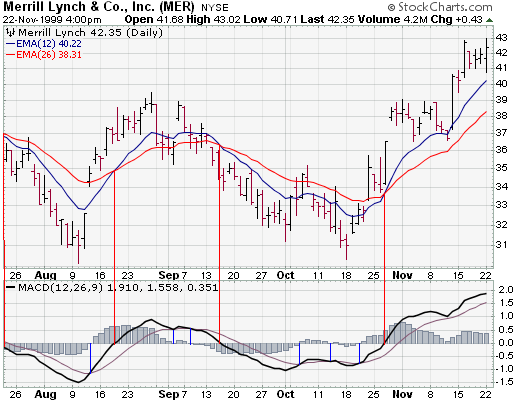 You can see the crossing over of the 26 day EMA (red) by the 12 day EMA (blue). These do seem to precede movements in the stock price! I shall see if I can comment on this occasionally in the blog!

Generally, I believe what we are discussing is the same thing from two different perspectives. My first point of reference in selecting a stock to review is the top % gainers list. These large swings most likely will result in the crossing of the short term moving average with the long-term line....if the move is big enough :). I think that your approach is excellent, but probably not necessary for a successful investment program.

In any case, I am very appreciative for your insight. You have helped educate me and I hope thus my readers!

Do I need a software engineer? The place is a bit of a mess, but I am ok with things just as they are for now! One cannot expect an amateur to have a professional website can one?

Bob