August 8, 2005 Ventiv Health (VTIV)
Hello Friends! Thanks so much for stopping by and visiting my blog,
Stock Picks Bob's Advice
. As always, please remember that I am an amateur investor so you should always consult with your professional investment advisors prior to making any investment decisions based on information on this website.
I was looking through the
list of top % gainers on the NASDAQ
today, and came across Ventiv Health (VTIV) which closed at $24.19, up $3.31 or 15.85% on the day. When I looked harder at the stock this afternoon, I liked what I saw and purchased 40 shares for my son in one of his accounts. I do not own any shares nor do I have any options on this company myself.
According to the
Yahoo "Profile" on VTIV
, the company "...provides oursourced clinical, sales, marketing, and compliance solutions for the pharmaceutical, biotechnology and life sciences industries."
What drove the stock higher today was an outstanding
2nd quarter 2005 earnings report
. In addition, the company raised guidance for the remainder of 2005. For the quarter ended June 30, 2005, revenue came in at $131.8 million, a 75% increase over the $75.2 million for the same quarter last year. Earnings from continuing operations jumped 92% to $15.0 million from $7.8 million last year. Diluted earnings per share came in at $.32, up from $.19/share last year.
If we look at the
"5-Yr Restated" financials from Morningstar.com
, we can see that revenue actually dropped from $294.8 million in 2001 to $215.4 million in 2002. Revenue has been increasing each year since then.
Morningstar shows that earnings actually dropped from $.72/share in 2000 to a loss of $(2.58) in 2001, and then have slightly erratically been improving to the $1.35 in the trailing twelve months (TTM).
Free cash flow has also been a bit inconsistance but has stayed positive and came in at $29 milllion in 2002, and is $32 million in the TTM.
The balance sheet as presented by Morningstar also looks nice with $44.4 million in cash and $123.1 million in other current assets. This easily covers both the $75.8 million in current liabilities and the $27.2 million in long-term liabilities combined.
Looking at
Yahoo "Key Statistics" on VTIV
, we can see that this is a small mid-cap stock with a market capitalization of only $646.55 million. The trailing P/E isn't bad at 17.99, and the forward P/E (fye 31-Dec-06) is a bit higher at 18.47. However, the "5 yr expected" PEG is downright cheap at 0.60.
VTIV is in the "Management Services" Industrial Group, and carries a Price/Sales ratio of 1.4. This is midway between Ceridian (CEN) at 2.3, and Accenture (ACN) at 1.4, Heidrick & Struggle (HSII) at 1.4, and Hewitt Associates (HEW) at 1.2, and Bearing Point (BE) at 0.5. Thus, in this particular parameter, valuation is moderate and midway between the other stocks in the group.
Yaqhoo shows that there are 26.73 million shares of VTIV outstanding with 25.65 million of them that float. Currently there are 1.3 million shares out short (as of 7/12/05) representing 5.30% of the float or 3.3 trading days of volume. This doesn't look like a very heavy short interest on this company!
No stock dividend and no cash dividend are paid to stockholders.
If we look at a
"Point & Figure" Chart from Stockcharts.com
: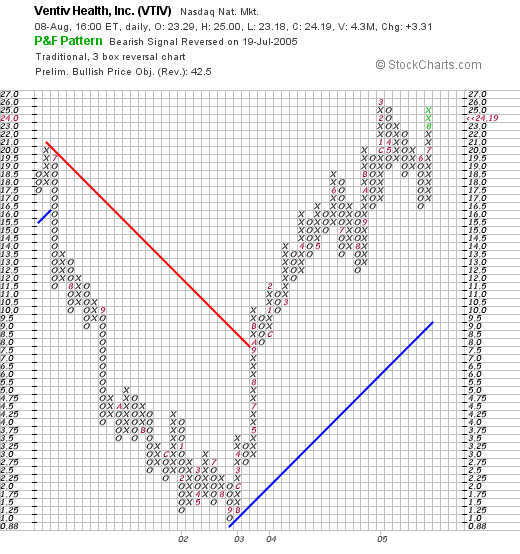 We can see that this stock was actually trading lower between June, 2001, when it peaked at around $20, and September, 2002, when it bottomed at $1.00. The stock subsequently traded higher, breaking through resistance at the $8.00 level in September, 2003, and has continued to trade higher above the support level at around $9.50.

So what do I think? Well, as I pointed out earlier, I purchased 40 shares for my son (who had his Laserscope shares sold on weakness). The earnings report was strong, guidance was raised, earnings have been growing along with revenue for the last several years, earnings have also been strong with positive free cash flow and the balance sheet looks solid. Valuation is also attractive with a PEG under 1.0. The Price/Sales ratio is near the median of the group and doesn't appear to be excessively elevated. The chart also looks nice with a very strong price performance from VENTIV.

However, I am at my 25 position maximum in my trading account, and my ANF fortunately moved a bit higher after threatening to hit the 8% loss level Friday. I thus, am not in the market to be buiying any shares! Thanks so much for stopping by and visiting. If you have any questions or comments, please feel free to email me at bobsadviceforstocks@lycos.com or just go ahead and leave your comments in the blog!

Bob