"Revisiting a Stock Pick" Fargo Electronics (FRGO)
Hello Friends! Thanks so much for stopping by and visiting my blog,
Stock Picks Bob's Advice
. As always, please remember that I am an amateur investor and that you should always consult with a professional investment advisor prior to making any decisions based on information on this website.

Needless to say, today was a very weak trading day with the Dow down 120.93 to 10,513.45, and the NASDAQ off 29.98 points to 2,137.06. However, not all stocks declined! In fact, reviewing the
list of top % gainers on the NASDAQ
, I came across Fargo Electronics (FRGO) which closed at $17.76, up $1.53 or 9.43% on the day. I do own some shares of Fargo in a managed retirement account.
I first
posted Fargo (FRGO) on Stock Picks
on October 6, 2003, when it was trading at $14.82. Thus, I have a "gain" on this selection of $2.94 or 19.8% since the original post. Let's take another look at FRGO and see if it
still
deserves to be on Stock Picks!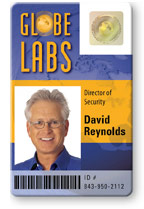 According to the
Yahoo "Profile" on Fargo
, the company "...engages in the development, manufacture, and supply of secure technologies for identity card issuance systems. It offers secure card printer/encoders, materials, and software."
As you probably know if you have been on the blog before, one of the key things I like to review is the latest quarterly report. On July 26, 2005, Fargo
reported 2nd quarter 2005 results
. Net sales for the quarter ended June 30, 2005, grew to $18.9 million, compared with $17.5 million last year same quarter. Net income for the quarter came in at $2.4 million or $.18/diluted share, up from $1.7 million or $.14/diluted share last year.
Taking a look at the
Morningstar.com "5-Yr Restated" financials
, we can see that revenue has been growing almost perfectly from $57.8 million in 2000 to $75.5 million in the trailing twelve months (TTM).
Morningstar.com also shows that earnings have grown nicely from $.34/share in 2001 to $.66/share in the trailing twelve months (TTM). During this time, free cash flow has grown from $9 million in 2002 to $11 million in the TTM.
Looking at the Morningstar.com balance sheet we find that FRGO now reports $27.0 million in cash as well as $18.3 million in other current assets. The cash alone is enough to cover the $8.7 million in current liabilities more than three times over. In addition, Morningstar reports FRGO with -0- in long-term liabilities.
Reviewing
Yahoo "Key Statistics" on FRGO
, we can see that this is a pretty tiny company, almost at the "micro" cap level with a market capitalization of $224.42 million. The trailing p/e is nice at 25.44, and the forward p/e (fye 31-Dec-06) is nicer at 20.65 with a "5 yr expected" PEG of only 1.23.
Insofar as the price/sales ratio is concerned, using the
Paul Sturm approach to Price/Sales ratios
, and referring to Fidelity.com for information, we can see that FRGO is reasonably priced midway in value with a price/sales ratio of 2.7. Topping the industry group of "Business Software & Svcs" is BEA Systems (BEAS) at 3.3, followed by Business Objects (BOBJ) at 3.2, First Data (FDC) at 3.1, and then FRGO tied with Automatic Data Processing (ADP) at 2.7, with Fiserv (FISV) at the bottom of this list with a parice/sales ratio of 2.3.
Looking back at the Yahoo statistics on FRGO we can see that there are only 12.64 million shares outstanding. Currently there are 169,320 shares out short representing 3.80% of the float but only 2.1 trading days of volume. No cash dividend and no stock splits are reported.
What about the chart? Looking at a
"Point & Figure" chart on FRGO from Stockcharts.com
: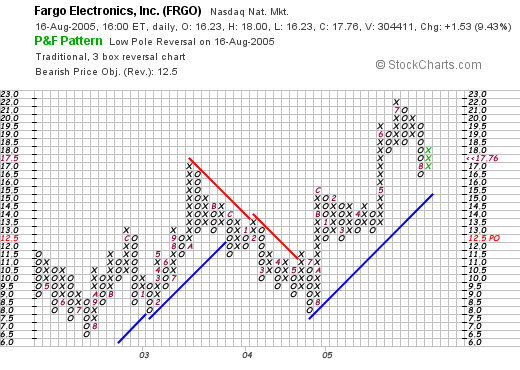 , we can see what looks to me to be a steady but strong chart for FRGO. The stock bottomed at $6.50 in July, 2002, but has since moved higher except for a sell-off from $17 in October, 2003, to a low of $8.00 in July, 2004. However, since then, the stock has continued to move above the support line.

So what do I think? Well, I do own some shares :) but I didn't make that particular decision as those shares are in a managed retirement account. However, this is the 2nd time I have listed this stock on Stock Picks! The latest quarter was strong and the past five years have showed steady growth in revenue, earnings, free cash flow, in conjunction with a very solid balance sheet. Valuation is reasonable and the chart looks nice.

Now, if I had sold something at a gain (not the QSII which was late), well, this might be a stock I might be adding to my portfolio! Thanks so much for stopping by. If you have any questions or comments, please feel free to post them right here on the blog or email me at bobsadviceforstocks@lycos.com.

Bob