"Revisiting a Stock Pick" Biosite (BSTE)
Hello Friends! Thanks so much for stopping by and visiting my blog,
Stock Picks Bob's Advice
. As always, please remember that I am an amateur investor, so please consult with your professional investment advisors prior to making any investment decisions based on information on this website.
This post would be incomplete without a word of concern for the health and welfare of everyone affected by hurricane Katrina. Like many, I have relatives in the region and will be waiting to hear from all of them that they withstood the storm and are in good health. Times like these remind us that gains in our portfolio, clever approaches to investing, etc., are for naught if you and your family aren't safe and in good health!
I was looking through the
list of top % gainers on the NASDAQ
and I came across Biosite (BSTE) which closed at $59.90, up $6.28 or 11.71% on the day. Although I have owned shares in the past, I do
not
currently own any shares or options in this company.
I first
posted Biosite on Stock Picks on June 25, 2003
when it was trading at $48.15. The stock has appreciated $11.75 since posting or 24.4%.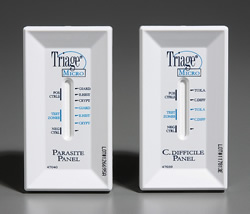 According to the
Yahoo "Profile" on BSTE
, the company "...engages in the discovery and development of protein-based diagnostics and antibody development technologies in the United States."
Looking for the latest quarterly report, I noticed that
Biosite reported 2nd quarter 2005 results
on July 26, 2005. For the quarter June 30, 2005, revenues grew 23% to $73.8 million from $59.9 million last year. In addition, net income came in at $14.0 million, a 40% increase over the 2nd quarter 2004 results. On a diluted earnings per share basis, this worked out to a 29% increase to $.76/share, up from $.59/share last year.
Looking at the
Morningstar.com "5-Yr Restated" financials on BSTE
, we can see a beautiful picture of revenue growth with revenue climbing from $55.0 million in 2000 to $273.0 million in the trailing twelve months (TTM).
Earnings during this time have also grown steadily from $.41/share in 2000 to $2.80/share in the TTM.
Free cash flow has been erratic, a function of fluctuating capital spending, with $12 million in 2002, dropping to $(41) million in 2003 but improving to $8 million in the TTM.
The balance sheet is gorgeous with $119.5 million in cash and $71.9 million in other current assets. This is enough to pay off both the current liabilities of $44.1 million AND the $16.1 million of long-term liabilities combined more than three times over.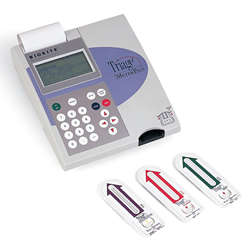 Looking at
Yahoo "Key Statistics" on BSTE
, we can see that this stock is a mid-cap stock with a market capitalization of $1.03 billion. The trailing p/e isn't too high at 21.35, with a forward p/e (fye 31-Dec-06) of 19.39. The PEG is reasonable at 1.23 (5 yr expected).
According to my Fidelity.com research, Biosite is in the "Diagnostic Substances" industrial group. Within this group, the price/sales figure for BSTE is quite reasonable. Topping this group is NUVELO (NUVO) at a price/sales of 431.6, followed by Human Genome Sciences (HGSI) at 298.3, Myriad Genetics (MYGN) at 7.8, QLT (QLTI) at 3.7, and Biosite (BSTE) at 3.4. At the bottom of the list, the most reasonably priced (by price/sales ratio) is Dade
Behring (DADE) at 2.0. Overall, Biosite is nicely priced within its particular industrial group.
Going back to Yahoo for some more statistics, we find that there are only 17.25 million shares outstanding. Interestingly, there are 3.52 million shares out short as of 8/10/05, representing 21.90% of the float (!), or 11.9 trading days of volume. This is actually up from $3.42 million shares out short last month. With the move higher today on some good news, we may be witnessing a bit of a "short squeeze" in this stock!
Yahoo reports no cash dividend and no stock dividends are reported as well.
What about the chart?
If we look at a
"Point & Figure" chart on BSTE from Stockcharts.com
: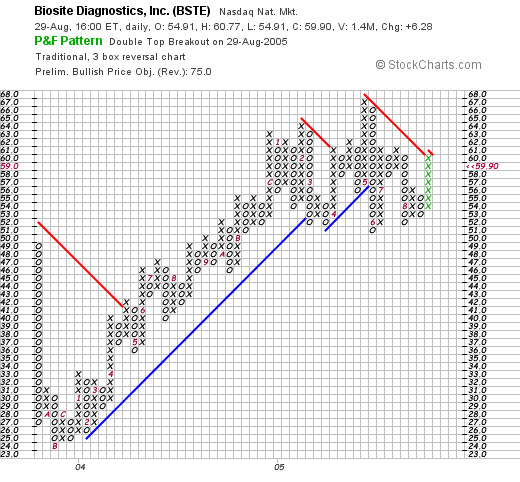 We can see what looks less than convincing insofar as stock strength. From November, 2003, when the stock was trading at $24, until February, 2005, when the stock peaked at $65, the stock has been moving higher. Recently, the price broke down as it crossed support levels at $57, to drop to $51, where it appears to be finding new price support. The stock has moved higher today, breaking through the latest resistance level, but a price move up to $62 or higher would be more convincing.

So what do I think? Well, it sure was a nice move higher today! And the latest quarter was beautiful. The morningstar.com looks nice with steady revenue and earnings growth. Free cash flow has been a bit erratic but is positive at this time and the balance sheet looks just fine. Finally, valuation appears reasonable and the stock chart looks a tad weak with the stock mostly just going sideways. However, the stock is certainly not over-extended. To top it off, there are loads of short-sellers out on this stock, so there is a bit of pent up demand as the stock price moves higher.

If I were in the market for a new stock, I certainly would be looking at this stock. In any case, thanks again for dropping by. I hope you find my discussions entertaining and educational. If you have questions or comments, please leave them right here on the blog or email me at bobsadviceforstocks@lycos.com.

Bob





Posted by bobsadviceforstocks at 1:54 PM CDT |
Post Comment
|
Permalink
Updated: Monday, 29 August 2005 10:53 PM CDT