September 12, 2005 Oakley (OO)
Hello Friends! Thanks so much for stopping by and visiting my blog,
Stock Picks Bob's Advice
. As always, please remember that I am an amateur investor, so please remember to consult with your professional investment advisors prior to making any investment decisions based on information on this website.
Before I get to stocks, I want to share with you another gem of New Orleans that you will want to visit next time you make the trip.
Pat O'Brien's
is a destination bar and entertainment center in the French Quarter.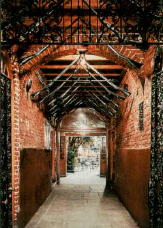 This is the entrance to Pat O'Brien's.

Back to stocks :).


Looking through the list of top % gainers on the NYSE today, I came across Oakley (OO), which closed at $18.16, up $.71 or 4.07% on the day. I do not own any shares nor any options on this company.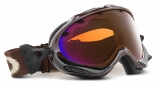 According to the Yahoo "Profile" on OO, Oakley "...engages in the design, manufacture, and distribution of consumer products, including eyewear, footwear, watches, apparel, and accessories."

On July 20, 2005, Oakley announced 2nd quarter 2005 results. Net sales jumped 10.8% to $170.5 million compared with $153.8 million last year same quarter. Net income came in at $20.3 million or $.30/diluted share, up from $16.0 milllion, or $.23/diluted share in the same quarter in 2004. In addition, the company guided full year earnings higher to an increased range of 25 to 30% growth over 2004.


Looking at the "5-yr Restated" financials on Morningstar.com, we can see the steady growth in revenue from $363.5 million in 2000 to $615.3 million in the trailing twelve months (TTM).

Earnings have grown more erratically, dropping from $.73/share in 2000 to $.56 in 2003. However, earnings have improved since then with $.71/share reported in the TTM.

In addition, the company initiated a dividend in 2003 at $.14/share, and have increased it to $.15/share in the TTM.

Free cash flow has remained positive with $55 million reported in 2002, and $25 million reported in the TTM.

The balance sheet, as reported by Morningstar, is solid with $60.8 million in cash and $253.8 million in other current assets, easily covering the $90.7 million in current liabilities and the $20.2 million in long-term liabilities, almost three times over.



Looking at Yahoo "Key Statistics", we can see that this is a mid-cap stock with a market capitalization of $1.25 billion. The trailing p/e isn't too high at 25.40 with a forward p/e (fye 31-Dec-06) of 19.96. The PEG is a tad rich at 1.47.

Looking at the price/sales ratio, we can see that this stock is also richly priced in the "Sporting Goods" Industrial Group. Oakley (OO) leads the list with a price/sales ratio of 1.9, followed by Nautilus (NLS) at 1.5, Callaway Golf (ELY) at 1.3, Brunswick (BC) at 0.8 and K2 (KTO) at 0.5.


Looking at some other Yahoo statistics on OO, we find that there are 68.72 million shares out short and as of 7/12/05, there were 2.53 million shares out short, representing 10% of the float and 7 days of average volume. This appears to be a significant short interest, if we use my arbitrary 3 days of volume as a cut-off. Any upward pressure on this stock might (imho) result in a bit of a squeeze.

As mentioned earlier, the company pays a small dividend of $.15/share yielding 0.90%. The last stock split was a 2:1 split in October, 1996.

What about a chart? If we look at a "Point & Figure" chart on OO from Stockcharts.com: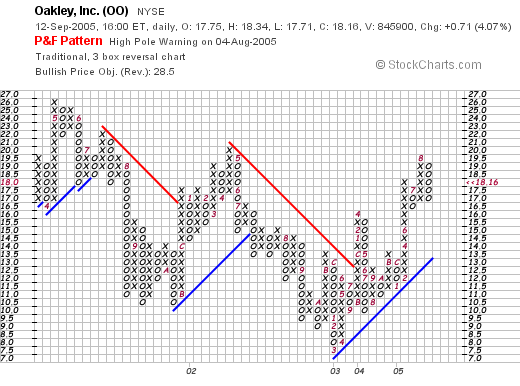 We can see that the stock only relatively recently broke its downward trend from $26 to a low of $7.50 in March, 2003. The stock broke through resistance in August, 2003, at around $12.50 and has been trading higher recently.

This graph activity coincides with the weak earnings trends until the last couple of years as noted on the Morningstar.com "5-Yr Restated" financials discussion above. The stock appears to be headed higher, and does not appear over-extended.

So what do I think? Well, this is almost a Peter Lynch kind of pick :). I mean everyone knows about Oakley's don't they? Great sunglasses! And the latest quarterly report looks nice, the past few years have been good for revenue growth and earnings have also fallen into line the last couple of years. Free cash flow is positive, but not growing, the balance sheet is solid, and the chart looks nice.

On the downside, the valuation doesn't look cheap with a price/sales ratio at the 'top of the class' and a PEG closer to 1.5 than 1.0. Otherwise, the stock looks attractive, and I would be putting it on my short list to purchase, except of course, I am not in the market to buy anything being at the full 25 position complement.

Thanks so much for stopping by and visiting my blog. If you have any questions or comments, please feel free to leave them here on the blog or email me at bobsadviceforstocks@lycos.com.

By the way,

when you do get to New Orleans, be sure to try one of those fancy hurricanes (drinks!) at Pat O'Brien's.

Bob
Posted by bobsadviceforstocks at 6:50 PM CDT |
Post Comment
|
Permalink
Updated: Monday, 12 September 2005 9:36 PM CDT