"Revisiting a Stock Pick" Marine Products (MPX)
Hello Friends! Thanks so much for stopping by and visiting my blog,
Stock Picks Bob's Advice
. As always, please remember that I am an amateur investor, so please remember to consult with your professional investment advisors prior to making any investment decisions based on information on this website.
Before I discuss Marine Products (MPX), I wanted to continue my discussion of things that I feel make New Orleans special. As we consider the cost of reconstruction and rehabilitation of the city, let us recall the many things that make this imperative. Needless to say, music and Jazz are an essential ingredient to the New Orleans experience.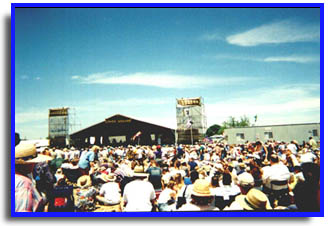 A photo of the New Orleans Jazz & Heritage Festival.

As reported in the Baton Rouge "Louisiana Lagniappe" page:
If you love jazz, gospel, cajun, zydeco, rythm and blues or just about any type of music, a great time to visit New Orleans is during the last week of April and the first week of May. This is the time the annual New Orleans Jazz & Heritage Festival is held. Second only in size and fame to Mardi Gras, in a city that hosts a great number of parties, the Jazz Fest has become both a major international musical and cultural event. The festival takes place at the New Orleans Fairgrounds horse racing track and includes not only performances by hundreds of top musicians, but an enormous display and offering of South Louisiana and New Orleans crafts and food. If anything is able to rival jazz and the music of New Orleans in popularity, its the incredible selection of creole, cajun and crescent city cuisine.
So be sure to visit New Orleans, and if you can, take in the Jazz & Heritage Festival as soon as it gets going once again!
Well, back to stocks!

Looking through the
list of top % gainers on the NYSE
this afternoon, I came across Marine Products, which as I write, is trading at $12.10, up $1.23 or 11.32% on the day. I do not currently own any shares or options on this company.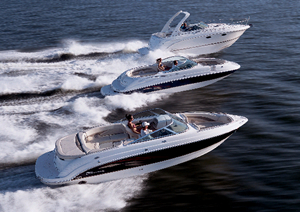 I first
posted Marine Products (MPX) on Stock Picks
on February 18, 2004, when it was trading at $20.00/share. MPX had a 3:2 split March 11, 2004, and another 3:2 split on March 11, 2005. Thus, the effective pick price was actually $8.89. With the current price at $12.10, this represents a gain of $3.21 or 36.1% since the original post.
According to the
Yahoo "Profile" on Marine Products
, the company "...engages in the design, manufacture, and sale of fiberglass motorized boats in the United States. The company's product offerings include sterndrive and inboard-powered sportboats, deckboats, and cruisers, as well as outboard sport fishing boats."
On July 27, 2005, MPX
reported 2nd quarter 2005 results
. For the quarter ended June 30, 2005, net sales grew 19.7% to $77.6 million from $64.8 million last year. Net income for the quarter came in at $8.0 million, up 24.4% from the $6.4 million the prior year same quarter. On a diluted earnings per share basis this came at $.20, a 25% increase over the $.16 reported the prior year same quarter.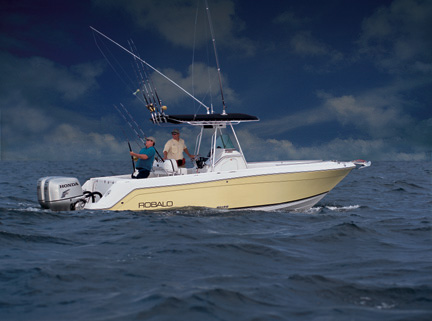 Looking longer-term at a
"5-Yr Restated" financials from Morningstar.com
, we can see the nice, steady picture of revenue growth (except for a dip between 2000 and 2001) from $148 million in 2000 to $276 million in the trailing twelve months (TTM).
Earnings have increased from $.33/share in 2002 to $.64/share in the TTM. Since 2001, the company has been paying a small dividend, increasing
each
year from $.01 in 2001 to $.13/share in the TTM. Free cash flow has been positive, growing from $8 million in 2002 to $23 million in the TTM.
As reported by Morningstar, the balance sheet for MPX is gorgeous with $46.7 million in cash, more than enough to pay off both the $22.6 million in current liabilities
and
the $5.7 million in long-term liabilities with $14 million or so still left over! In addition, the company has reported $42.2 million in
other
current assets.
Looking at
Yahoo "Key Statistics" on Marine Products
, we can see that this is a small mid-cap stock with a market capitalization of $459.32 million. The p/e is downright reasonable at 18.41, with a forward (fye 31-Dec-06) p/e even nicer at 14.94. Confirming the nice value of this stock, the PEG (5 yr expected) is under 1.0 at 0.82.
MPX is in the "Recreational Vehicles" industrial group according to my Fidelity.com research. Within this group, they are midway priced in valuation insofar as the price/sales ratio is concerned. Harley-Davidson (HDI) tops the group with a price/sales ratio of 2.8. This is followed my Marine Products (MPX) at 1.6, Polaris (PII) at 1.2, Winnebago (WGO) at 1.0, Thor (THO) at 0.8 and Monaco Coach (MNC) at 0.4.
Looking again at Yahoo, we can see that there are 38.44 million shares outstanding with 446,490 shares out short as of 7/12/05. This is a bit significant due to the relatively low trading volume of this stock, and these shares represent 3.50% of the float or 7.1 trading days of volume.
As noted earlier, the company pays a small dividend of $.16/share yielding 1.50%. And as I also discussed, the stock split last 3/11/05 when a 3:2 split was declared.
How about a chart? Looking at the
"Point & Figure" chart on MPX from Stockcharts.com
: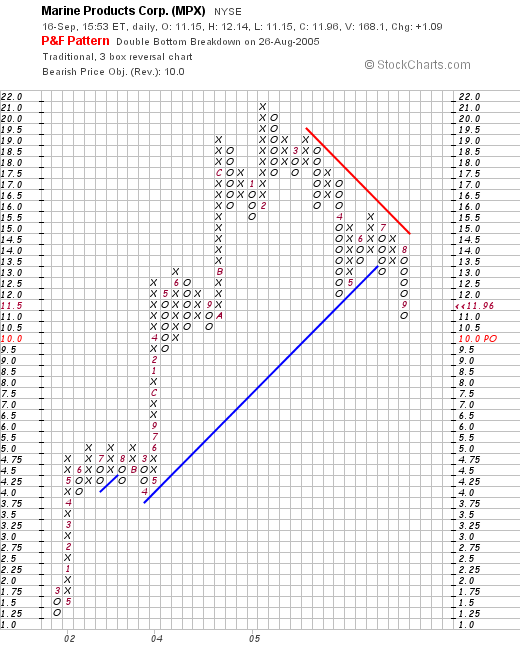 We can see that the stock has traded sharply higher from February, 2001, when it was at the $1.25 level, and hit a peak in February, 2005, at the $21 level. The stock actually broke through resistance at $13.50 in July, 2005, and now is moving higher, but still below the "resistance" line. The graph gives me some pause at least short-term!

So what do I think? Well, I wish I bought some of these shares the last time I discussed this company :). However, at this time, the last quarterly report was solid, the past five years, while not perfect, were quite strong, valuation is reasonable with a PEG under 1.0, and the price/sales is also moderate. There are a lot of shares out short which may add a possible upward price pressure to this stock.

On the downside, the chart is a bit weak. The company has just announced a stock buy back which may change the picture significantly. And I am not sure of the impact hurricane Katrina may have on this company, as presumably, damaged boats are replaced with new purchases (?).

And if you do get down to New Orleans for the Jazz & Heritage Festival, please remember to pick up a poster for me!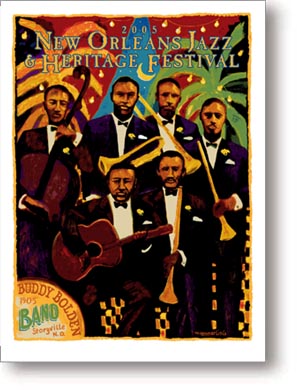 Bob