September 21, 2005 FedEx (FDX)
Hello Friends! Thanks so much for stopping by and visiting my blog,
Stock Picks Bob's Advice
. As always, please remember that I am an amateur investor, so please remember to consult with your professional investment advisors prior to making any investment decisions based on information on this website!
Before talking about FedEx (FDX) I wanted to share with you one more memory of mine about New Orleans that makes the City so special. These details are the small things that add up to make the New Orleans experience so special!
Have you ever had a piece of a King Cake?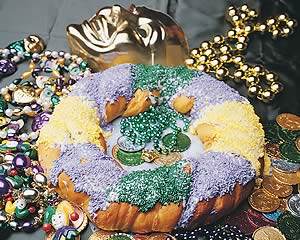 Gambino's Bakery is a major creator of King Cakes around the time of Mardi Gras. A common sight around 'break-rooms' at offices, the cake has a little plastic baby buried in the midst of the green, yellow, and purple decorated pastry. If you are unlucky enough to get the "baby", well then it is your turn to buy the next cake! Pick one up on your next visit to the 'Big Easy'!

Back to stocks.

It was not a very good day in the market today. My only stocks really bucking the trend in my Trading Portfolio, were Giant Industries (GI), the independent petroleum refiner, and Cal Dive (CDIS), the offshore salvage operator. I think you can see the picture.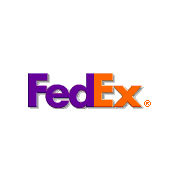 FedEx (FDX), however, moved significantly higher, making the list of top % gainers on the NYSE. I do not own any shares of FDX nor do I have any options on this stock. FDX closed at $83.15 at the close, up $6.15 or 7.99% on the day.

According to the Yahoo "Profile" on FedEx, the company "...provides a portfolio of transportation, e-commerce, and business services under the FedEx brand. The company operates in four segments: FedEx Express, FedEx Ground, FedEx Freight, and FedEx Kinko's."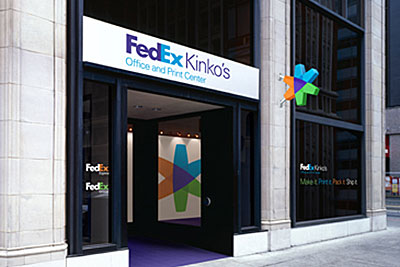 What drove the stock higher today, was the company's 1st quarter 2006 earnings report. For the quarter ended August 31, 2005, revenue came in at $7.71 billion, up 10% from $6.98 billion last year first quarter. Net income was $339 million, up 3% from $330 million last year. This worked out to $1.10/diluted share, up from $1.08/diluted share last year, a 2% increase. In addition, the company raised second quarter earnings guidance to $1.30 to $1.45/diluted share, and for the year, increased guidance to $5.25 to $5.50/diluted share. This combined news was enough to push the stock higher today in an otherwise weak market for stocks.

Looking longer-term at the Morningstar.com "5-Yr Restated" financials, we can see the nice, steady revenue growth from $19.6 billion in 2001 to $29.4 million in the trailing twelve monts (TTM).

Earnings have increased in an uninterrupted fashion from $1.99/share in 2001 to $4.72 in the TTM. The company started paying a dividend in 2003 at $.20/share and have increased that dividend in 2004 and in the TTM to $.28/share.

Free cash flow, while a bit erratic, has increased from $360 million in 2003 to $881 million in the TTM.

The balance sheet is adequate, with $1.04 billion in cash and $4.23 billion in other current assets. This is enough to cover the $4.73 billion in current liabilities, with a bit left over to help offset the $6.08 billion in long-term liabilities.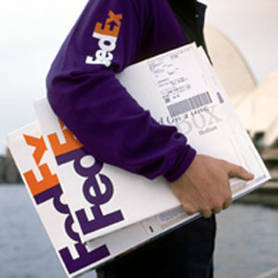 Looking at Yahoo "Key Statistics" on FDX, we can see that the market cap of this company is a large cap level $25.16 billion. The trailing p/e is moderate at 17.62 with a forward p/e (fye 31-May-07) even nicer at 14.00. Thus, with steady growth and a reasonable p/e we have a (5 yr expected) PEG under 1.0, at 0.90.

Checking the Fidelity.com website for research for the price/sales ratio, we can see that FDX is also reasonably priced in the context of other companies in the "Air Delivery/Freight Svcs" industrial group. Leading off this group is United Parcel Service (UPS) with a price/sales ratio of 1.9, Expeditors International of Washington (EXPD) follows at 1.7, C.H.Robinson Worldwide (CHRW) is at 1.1, and FedEx (FDX) is at 0.8. Only EGL (EAGL) is cheaper at 0.4.

Reviewing some additional statistics on FDX from Yahoo, we can see that there are 302.63 million shares outstanding. As of 7/12/05, there were 4.17 million shares out short, representing 1.50% of the float or 1.5 trading days of volume. This doesn't appear too significant to me, as I arbitrarily use a 3 days worth of short interest for significance.

As noted earlier, the company does pay a dividend currently estimated for the year at $.32/share yielding 0.40%. The last stock split was a 2:1 split in May, 1999.

And what does the "Point & Figure" chart from Stockcharts.com on FDX look like?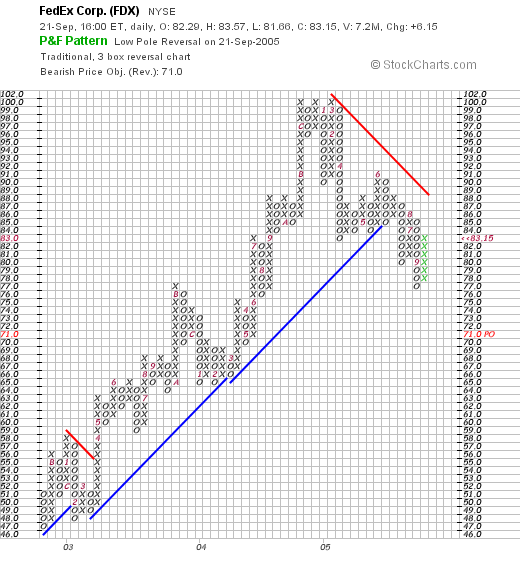 Looking at this price chart, we can see what starts out as what I would call a "gorgeous" chart, with the price moving steadily higher from $47 in July, 2002, to $102 in March, 2004. However, since that point, it really appears the stock may have "rolled over", especially when the support line (the blue line on the graph) was violated in June, 2005, when the stock slipped below $86/share. This stock needs to move above $89 to convince me that the price is truly moving higher once again!

Of concern as I write, is the climbing oil prices that has to put a damper on margins of this freight delivery company. It is interesting that the financial picture may easily be affected by persistence of these elevated fuel prices. It was reported:
Graf, the CFO, cautioned during the call that Hurricane Rita -- now a Category 4 storm -- might derail FedEx's forecast if it wreaks havoc on refining facilities and drives up fuel costs. Following close on the heels of Katrina, Rita has rolled into the Gulf of Mexico with sustained winds of 135 mph.

Unlike the beleaguered airline industry, FedEx and rival UPS (UPS:NYSE - commentary - research - Cramer's Take) so far have been able to weather fuel price increases by passing them on to customers in the form of surcharges.
So what do I think? Well, FedEx is an interesting investment idea. I do not like the current chart short-term, as some weakness is definitely being demonstrated. I also am intuitively concerned about any company so tied to fuel prices, but apparently this has not yet interfered with growth in revenue and earnings.
Otherwise, the recent quarter looks solid, valuation is nice with a PEG under 1.0, and a Price/Sales low within its industrial group. The company even pays a dividend. But I am not in the market for a stock, and even if I were, I probably would be a bit cautious around this one.
By the way,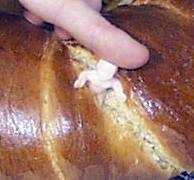 If you get down to New Orleans during the Mardi Gras, be careful when you bite into that King Cake. You wouldn't want to have to buy another cake for the rest of your friends, and you certainly don't want to choke or swallow the plastic baby!

Bob