"Revisiting a Stock Pick" Comtech Telecommunications (CMTL)
Hello Friends! Thanks so much for visiting my blog,
Stock Picks Bob's Advice
. As always, please remember that I am an amateur investor, so please remember to consult with your professional investment advisors prior to making any investment decisions based on information on this website.
Prior to getting to the stock pick, I must share with you my growing alarm about the horrendous damage Katrina and the imminent approach of hurricane Rita, a second category 4-5 hurricane! I find it hard to believe a mega-city like Houston could possibly be evacuated.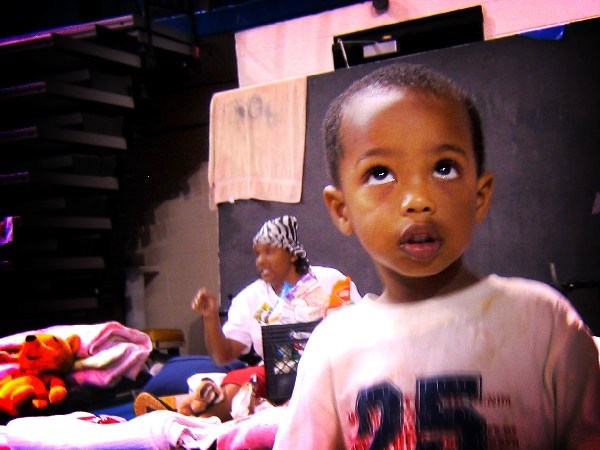 "Thomas, whose family was forced from home by Hurricane Katrina, at the shelter at Southern University in Baton Rouge. (Photo: Courtesy of Robert Terrell, flickr.com/photos/ratterrell/) "
Please consider a donation to the International Rescue Committee, an organization working to assist displaced peoples since 1933. For more information on the IRC, visit their website. While many of us are searching for great Katrina Stock Picks or Rita Stock Picks, let's not forget the people who are victims of these disasters, while we also consider the opportunities that redevelopment will provide!

Back to stocks!



I was looking through the list of top % gainers on the NASDAQ today and I saw that Comtech Telecommunications (CMTL) had made the list. I do not own any shares nor do I have any options on this stock. CMTL closed at $40.65, up $3.37 or 9.04% on the day.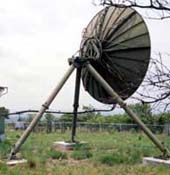 According to the Yahoo "Profile" on Comtech, the company "...engages in the design, development, production, and marketing of products, systems, and services for communications solutions. It operates through three segments: Telecommunications, Transmission, Mobile Data Communications, and RF Microwave Amplifiers."

I first posted Comtech on Stock Picks on December 9, 2003, when CMTL was trading at $30.89. CMTL split 3:2 on 4/5/05, making my effective stock pick price actually $20.59. Thus, with the stock closing today at $40.65, that represents a gain of $20.06 or 97.4%.

What drove the stock higher today was the 4th quarter 2005 earnings report which was announced today just prior to the opening of trading. For the quarter ended July 31, 2005, net sales climed $39.2 million or 66.3% to $98.3 million from $59.1 million last year same quarter. Net income came in at $11.0 million or $.42/diluted share, up strongly from $6.1 million or $.25/diluted share in the previous year.



Looking at the Morningstar.com "5-Yr Restated" financials, we can see the rapid growth in revenue from $66.4 million in 2000 to $268.7 million in the trailing twelve months (TTM).

Earnings have improved from a loss of $(.31) in 2000 to $1.28 in the trailing twelve months.

Free cash flow has also grown nicely from $6 million in 2002 to $59 million in the TTM.

Looking at the Morningstar-presented balance sheet, we can see that the company is quite solvent with $205.3 million in cash--enough to cover both the $72.4 million in current liabilities and the $110.4 million in long-term liabilities combined, with cash left over. In addition, the company has $95.1 million in other current assets.



Looking at Yahoo "Key Statistics" on CMTL, we can see that this company is a mid-cap stock with a market capitalization of $883.04 million.

The trailing p/e is a bit rich at 31.22. Forward p/e (fye 31-Jul-06) is slightly better at 27.10. The PEG ratio is a bit steep as well at 1.80.

According to the Fidelity.com brokerage research, CMTL is a member of the "Communications Equipment" industrial group, and is priced midway in the group. At the top of the group, Qualcomm (QCOM) sports a price/sales ratio of 14.1. This is followed by Adtran (ADTN) at 5.4 and Comtech (CMTL) at 3.8. Tellabs (TLAB) comes in at 2.7, Nokia (NOK) at 1.7, and Motorola (MOT) is actually listed at "0".

Referring back to Yahoo, CMTL has 21.72 million shares outstanding. There are 2.22 million shares out short representing 10.7% of the float or 7.2 trading days worth of volume. This is significant imho using my arbitrary "3-Day" rule of short interest.

No cash dividend and the latest stock split, as noted earlier, was a 3:2 split on 4/5/05.

Looking at the Stockcharts.com "Point & Figure" chart on CMTL: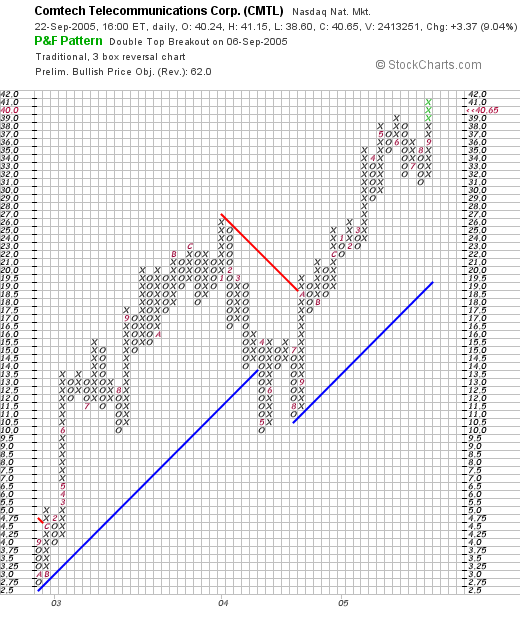 , we can see that Comtech (CMTL) has had an exceptionally strong chart, with a sharp rise from $2.75/share in April, 2002, to a peak of $26 in February, 2004. The stock sold off in May, 2004, but has traded higher since. Really a very strong stock chart!

So what do I think? Well I wish I had bought it the first time I posted it :). Otherwise, the company issued a superb earnings report today, the past five years have been quite strong, valuation appears reasonable, the company is spinning off free cash flow, and the balance sheet looks solid. Finally, the chart looks great!

Now, if I only had some cash to be buying stock :). Oh well.

Thanks so much for visiting! If you have any comments or questions, please feel free to email me at bobsadviceforstocks@lycos.com.

By the way, if you do get back to New Orleans, be sure to visit City Park where you can ride on the carousel and take in the sights and sounds of City Park.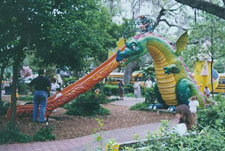 Of couse there is always Storyland for the kids!

Bob