A Reader Writes "Would you buy now? (COH)"

Hello Friends! Thanks so much for stopping by and visiting my blog,
Stock Picks Bob's Advice
. As always, please remember that I am an amateur investor (!), so please remember to consult with your professional investment advisors prior to making any investment decisions based on information on this website.
I was checking my mail today and I was surprised to find two emails about Coach (COH). I have owned Coach in my own portfolio since February, 2003, however recently, the stock has been weak and questions are arising about whether it is time to sell, buy, or just sit tight with Coach. Before discussing this, let me remind you that I am honestly, truly, absolutely an amateur investor! I use the news sources that I can obtain on my high speed internet connection. I grab news stories from Yahoo, CNN, or Fidelity.com. I have no access to inside information, and I don't interview managers or anything like that!
But let me first share with you the emails:
First, Faith wrote:
Hi Bob,
I enjoyed your blog of, Saturday, 1 October 2005 "Weekend Trading
Portfolio Analysis" Coach (COH). Do you know what the heck is going on
with Coach today???? We're losing our shirts. Any news you know that
Google News doesn't know?
Thanks,
Faith
And tonight I got a second email, this time from Kevin who wrote:
Hello, Bob

You have quite an impressive site, at least the part
that I saw regarding stocks and COH in particular. I
bought some at $32.50 a month or so ago and would like
to buy more now, but I'm not sure. The stock price has
fallen quite a bit in the last week or so. Would you
buy now? Or would you wait? My logic is saying buy
low, and wait. After all it's an investment, and it
will eventually recoup, right?

thanks for you advice
Kevin (a newcomer to this world of stocks)
First of all, let me thank both of you for writing. Let me start with Faith. Coach
did
have a rough day today closing at $28.94, down $(1.60) or (5.24)% on the day.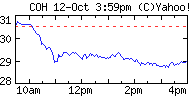 Looking at the one-day graph from Yahoo demonstrates the slide in the stock. However, let's take a step back and look at the "Point & Figure" graph on COH:

Here we can see that the strength of COH appears undiminished. The stock has pulled back slightly from its recent high at around $36.50, but has not broken down below the support level (imho). It does help to get the big picture!

I searched news the same way you did and I couldn't find much. There was a story from Motley Fool suggesting that if the consumer pulls back a bit, the high end stores like COH might feel the heat. Otherwise, no news that I can find.

Insofar as "losing your shirts", I recommend and utilize an 8% stop under my stocks after an initial purchase to prevent small losses from becoming major disasters. You will need to consider your strategy prior to making your stock purchase.

Back to the question about "what happened" to COH. This might be best explained by looking at the CANSLIM definition especially the "M" in CANSLIM meaning "Market". The stock market has been in a funk, and in general, there has been a lot of what I would describe as "profit-taking" on stocks where some investors have large profits (like COH).

As I pointed out in my COH Review, COH sits in the industrial group called Textile-Apparel/Footwear/Ac. (?accessories?).

Other stocks in this group include NKE which closed at $81.92, down $(1.06) or (1.28)% on the day; Reebok (RBK) which closed at $57.45 down $(.09) or (.16)%; Timberland (TBL) which closed at $32.12, down $(.38) or (1.17)% on the day; and Wolverine Worldwide (WWW) which closed at $21.29, up $.33 or 1.57%.

In conclusion, I don't know anything particular about COH that you wouldn't know.

Taking a look at what Kevin wrote, I cannot tell whether COH would or wouldn't be a good buy in here, My hunch is that it would likely be profitable. However, in my own portfolio, I don't buy stock that have declined and are thus better "values". COH may well be a great value and thus would be a profitable transaction to pick up some shares in here. I prefer to buy stocks that are moving higher (found on the top % gainers list). I cannot predict whether COH will recoup, although I have a hunch that is quite likely.

I would prefer to see you buying something with more momentum, such as the CMN stock ahat I reviewed recently. Just my style I guess. Good luck and keep me posted on how you are handling these issues.

Bob









Posted by bobsadviceforstocks at 11:33 PM CDT |
Post Comment
|
Permalink
Updated: Wednesday, 12 October 2005 11:39 PM CDT