October 18, 2005 Graco (GGG)
Hello Friends! Thanks so much for stopping by and visiting my blog,
Stock Picks Bob's Advice
. As always, please remember that I am an amateur investor so please remember to consult with your professional investment advisors prior to making any investment decisions based on information on this website.

First of all, I would like to apologize to any of my readers that were looking for my posts the last few days. I was away from my computer, and I am sure I missed posting at least as much as some of you may have missed reading what I had to write :). Anyhow, I am back at work so let's see what we have here today.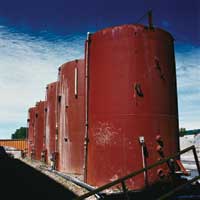 Looking through the
list of top % gainers on the NYSE
today, I came across Graco, Inc. (GGG), near the top, trading at $35.89, up $2.61 or 7.84% on the day as I write. I do not own any shares nor do I have any options on this stock.
According to the
Yahoo "Profile" on GGG
, the company "...supplies various systems and equipment for the management of fluids in industrial, commerical, and vehicle lubrication applications."
On July 25, 2004, the company reported
2nd quarter 2005 results
. Net sales for the quarter ended July 1, 2005, grew 24% from year-earlier figures to $198.2 million. Net earnings of $35.6 million were up 19% from the prior year. Diluted net earnings per share came in at $.51, a 19% increase over the $.43 reported the previous year.
Looking a bit longer-term at the
Morningstar.com "5-Yr Restated" financials
, we can see that except for a dip from 2000 to 2001, revenues have grown steadily from $494.4 million in 2000 to $679.1 million in revenue in the trailing twelve months (TTM).
Earnings have also grown nicely, again except for a dip between 2000 when the company earned $1.01/share, dropping to $.92/share in 2001, earnings subsequently increased steadily to $1.70/share in the TTM.
Free cash flow has been solidly positive, increasing from $83 million in 2002 to $100 million in the TTM.
The balance sheet as presented on Morningstar also looks strong with $7.1 million in cash and $209.1 million in other current assets, more than enough to cover both the $139.1 million in current liabilities and the $43.6 million in long-term liabilities and still have about $30 million left-over.
In general, I like to use the
Ameritrade definition of Market Capitalization
when discussing stocks:
Small-cap -- less than $500 million Mid-cap -- between $500 million and $3 billion Large-cap -- over $3 billion
Thus, looking at the
Yahoo "Key Statistics" on GGG
, we can see that GGG is still considered a "mid-cap" with a market capitalization of $2.45 billion.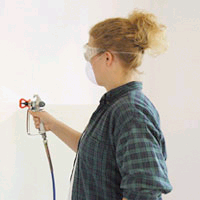 Other parameters on the Yahoo page reveal that Graco has a trailing p/e of 21.03, and a forward p/e of 16.83 (fye 31-Dec-06). Even with these moderate p/e's, growth is still expected to be relatively modest as the PEG (5 yr expected) still comes in at a bit of a rich level of 1.49.
What about the Price/Sales ratio? As Paul Sturm from Smart Money has
written
, the Price/Sales ratio can provide you a sense of relative valuation of a stock compared to similar companies in its general "industrial group.". In particular, using the
Fidelity.com eresearch site
, we can see that Graco (GGG) sits at the top of its group "Diversified Machinery" in terms of valuation with a Price/Sales ratio of 3.4. Graco is followed by Roper (ROP) at 2.6, Illinois Tool Works (ITW) at 1.9, and Ingersoll Rand (IR) and Pentair (PNR) at 1.3, and Eaton (ETN) at the bottom of the pack with a Price/Sales of 0.9. Thus, GGG is certainly not a screaming bargain by this parameter.
Looking back at Yahoo for some additional statistics, we find that the company has 68.70 million shares outstanding. As of 9/12/05 there were 1.51 million shares out short representing 2.20% of the float or 9.1 trading days of volume. This is a fairly significant chunk of shares out short (imho), as I use a 3 day short ratio as a cut-off. Thus, we could have some short-sellers feeling a "squeeze" and pushing the stock higher today.
The company does pay a small dividend of $.52/share yielding 1.56%. Yahoo reports that the company last split its shares on 5/31/04 with a 3:2 split.
And what does the chart look like? Taking a look at the
Graco "Point & Figure" chart from Stockcharts.com
: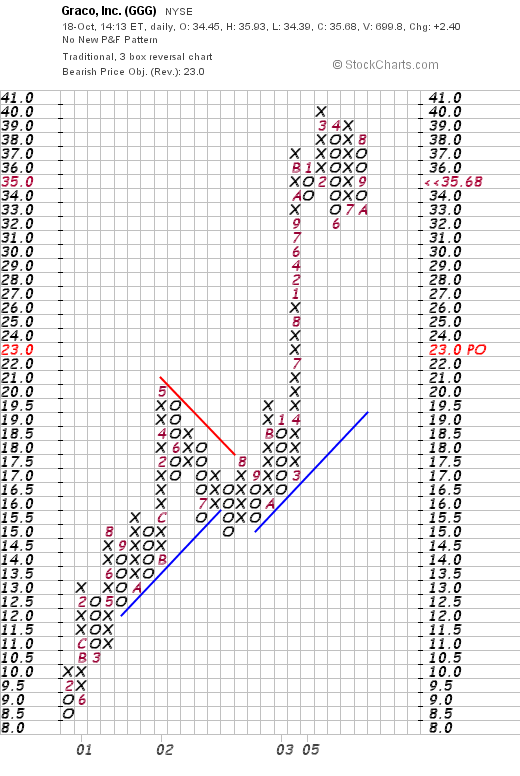 We can see that this stock has been a very strong performer for as long as this chart records, which is at least since February, 2001. With little interruption, the stock has been steadily moving higher.

So what do I think? Well, the latest quarter looks strong, the past five years the company has done well fundamentally with strong revenue and earnings growth, the company has solid free cash flow and a strong balance sheet. Technically, imho, the chart looks strong as well.

On the downside, valuation is a bit rich with a PEG at about 1.5, and the Price/Sales at the top of its group. However, the positives may well outweigh the negatives imho.

Thanks again for stopping by! I am glad to be back from my short hiatus from blogging! I hope you all had a great weekend and we have a reasonably good trading week ahead of us! If you have any questions or comments, please feel free to leave them right on the blog or email me at bobsadviceforstocks@lycos.com.

Bob