"Revisiting a Stock Pick" Pharmaceutical Product Development (PPDI)
Hello Friends! Thanks so much for stopping by and visiting my blog,
Stock Picks Bob's Advice
. As always, please remember that I am an amateur investor, so please remember to consult with your professional investment advisors prior to making any investment decisions based on information on this website.

I was looking through the
list of top % gainers on the NASDAQ
today and came across Pharmaceutical Product Development (PPDI) which as I write, is trading at $62.26, up $6.01 or 10.68% on the day, in an otherwise down market. I do not own any shares or options on this stock but
have
owned shares in the past.
PPDI is an old favorite of mine on this blog. I first
posted PPDI on Stock Picks Bob's Advice
on October 16, 2003, almost exactly two years ago (!) when the stock was trading at $29.16. Thus, I have a gain on the stock pick of $33.10 or 114% (!) since that selection. Now, if I had only hung on to my shares :(.
According to the
Yahoo "Profile" on PPDI
, the company "...and its subsidiaries provide drug discovery and development services, and products primarily in the United States and Europe."
What drove the stock higher today, in a negative trading environment, was the release yesterday, after the close, of the
3rd quarter 2005 earnings results
. For the quarter ended September 30, 2005, net revenue came in at $273.3 million, a 26.6% increase over the prior year's revenue figure of $215.8 million. Net income increased sharply to $38.4 million, from $25.0 million the prior year, an increase of over 50%, and diluted net income pere share came in at $.66, 50% increase over the $.44 reported last year during the same period. These great results were enough to propel the stock higher in trading today!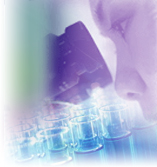 Looking longer-term at the
Morningstar.com "5-Yr Restated" financials
, we can see a beautiful picture of steady revenue growth with $372.7 million in revenue reported in 2000 and $934.6 million reported in the trailing twelve months (TTM).
Earnings have been a bit erratic per Morningstar, increasing from $.64/share in 2000 to $.94/share, then declining to $.72/share in 2002. However, since that time, earnings have grown steadily with $1.92/share reported in the TTM.
Free cash flow has also been a tad inconsistent with a drop from $71 million in 2002 to a negative $(18) million in 2003. However, the company has reported $94 million in free cash flow in the TTM.
The balance sheet, likewise is solid with $288.1 million in cash and $314.9 million in other current assets reported against $315.8 million in current liabilities and only $33.4 million in long-term liabilities.
Looking at
Yahoo "Key Statistics" on PPDI
for some valuation numbers, we find that this is a large cap stock with a market capitalization of $3.59 billion. The trailing p/e is a bit rich at 32.55, with a better forward p/e of 24.46. The PEG isn't too bad at 1.26 (5 yr expected).
Looking at the price/sales ratio as an effort to determine relative valuation to other similar companies, I have started routinely using the
Fidelity.com eresearch website
. Here we can see that PPDI is rather reasonably priced relative to other companies in the "Medical Labs and Research" industrial group. Topping off this list in terms of richness in valuation relative to the price/sales ratio is OSI Pharmaceuticals (OSIP) with a price/sales ratio of 16.7. This is followed by Array Biopharma (ARRY) at 5.4, Pharmaceutical Product Development (PPDI) at 3.5, Laboratory Corp. (LH) at 2.2, and Quest (DGX) at 1.9.
Referring back to Yahoo, we see that there are 57.61 million shares outstanding with only 755,390 shares out short as of 9/12/05. This is only 1.50% of the float or a short ratio of 3. This doesn't look like much of an issue on this stock.
The company does pay a small dividend of $.05/share yielding 0.10%. The last stock split was a 2:1 split on 5/14/01.
How does the chart look? If we review a
"Point & Figure" chart on PPDI from Stockcharts.com
: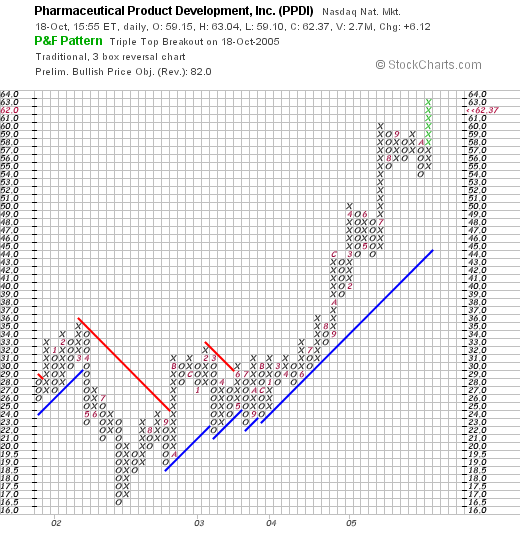 We can see that the stock was trading sideways between late 2001 and mid 2002. This would correlate with the earnings/revenue "hiccup" noted above. Since mid-October, 2002, the stock broke through resistance at the $24 level and has been trading higher since. The chart looks strong to me.

So what do I think? Well, let's review. First of all, the report yesterday was absolutely outstanding. Great revenue growth with great earnings reported. Looking at Morningstar.com, we saw the superby revenue/earnings picture, the solid free cash flow performance, and the nice balance sheet. The company even pays a dividend.

Valuation-wise, the p/e isn't really cheap, but with a PEG of about 1.25, it isn't that bad either especially with the recent strong earnings report. Price/sales-wise, the company is priced midway among its peers. In addition, the chart looks great. There really isn't that much not to like!

Anyhow, that's my take! I hope you enjoyed that review and it helped you take a look at the stock and others like it as well. If you have any questions or comments, please feel free to leave them right here on the blog or email me at bobsadviceforstocks@lycos.com.

Bob