October 19, 2005 The Cheesecake Factory (CAKE)
Hello Friends! Thanks so much for stopping by and visiting my blog,
Stock Picks Bob's Advice
. As always, please remember that I am an amateur investor, so please remember to consult with your professional investment advisors prior to making any investment decisions based on information on this website.
I have a delicious stock pick for you :). The Cheesecake Factory (CAKE). Looking through the list of
top % gainers on the NASDAQ
today, I came across The Cheesecake Factory (CAKE), which closed at $34.88, up $3.89 on the day or 12.55%. I do not own any shares or options on this stock although I must confess I have eaten there once or twics :).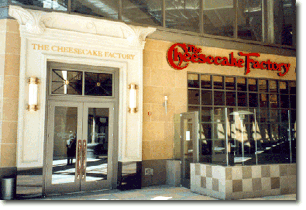 According to the
Yahoo "Profile" on CAKE
, the company "...operates upscale, full-service, and casual dining restaurants in the United States. The company operates its restaurants under The Cheesecake Factory and Grand Lux Cafe trademarks."
What drove the stock higher today, was an earnings report released yesterday after the close of the market. The
3rd quarter 2005 results
released on October 18, 2005, reported on results for the quarter ended September 27, 2005.
During the quarter revenues increased 18% to $292.8 million. Net income jumped 43% to $21.9 million and diluted net income per share climbed 42% to $.27/share. However, same store sales, which in my humble opinion are quite significant for future company growth, came in at an anemic increase of 0.9% at The Cheesecake Factory and a more healthy 3.8% at the Grand Lux Cafe. Behind the nice move today were
upgrades
by both Piper Jaffrey and Bear Stearns who raised their assessment of the stock to "Outperform".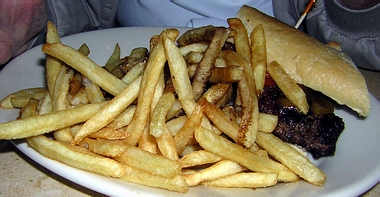 Looking longer-term at the
"5-Yr Restated" financials from Morningstar.com
, we can note the steady revenue growth from $.4 billion in 2000 to $1.1 billion in the trailing twelve months (TTM).
During this same time period, earnings have also been consistently rising from $.44/share in 2000 to the $.94/share in the TTM.
Free cash flow, while a bit erratic, has once again turned positive after a negative dip to $(12) million in 2004, but $14 million in the TTM.
The balance sheet is satisfactory with cash of $78.1 million and other current assets of $68.6 million; enough to cover the $114.5 million in current liabilities and start to pay down the $110.5 million in long-term liabilities.
Taking a look at
Yahoo "Key Statistics" on CAKE
, we find that this is a mid cap stock on the larger side of things with a market capitalization of $2.73 billion. The trailing p/e is a bit rich at 37.30, the forward p/e is better at 26.63, and the PEG isn't too bad at 1.31.
Using the
Fidelity.com eresearch website
, we can see that CAKE is in the "Restaurants" industrial group. Within this group, at least by the Price/Sales ratio evaluation, this stock looks pricey.
Leading the group in terms of Price/Sales ratio, The Cheesecake Factory (CAKE) sits at the top with a Price/Sales ratio of 2.3. Trailing this, Yum! Brands (YUM) is at 1.6, Applebee's (APPB) at 1.5, Wendy's(WEN) 1.4, Brinker International (EAT) at 0.9, and Darden (DRI) also at 0.9.
Looking once again at Yahoo, we can find that there are 78.37 million shares outstanding. Currently 5.24 million of the float is out short, representing 7.10% of the float or 7.7 trading days. Anything over 3.0 days needs to be taken seriously. The last stock split was 12/9/04, when CAKE underwent a 3:2 split.
What about the chart? Taking a look at the
Stockcharts.com "Point & Figure" chart on CAKE
, we can see that the stock was moving fairly horizontally between late 2000 and into late 2001. After bottoming at $13.50, the stock broke through resistance in late 2001, when the price surpassed $17, only to keep climbing to the current $35 level.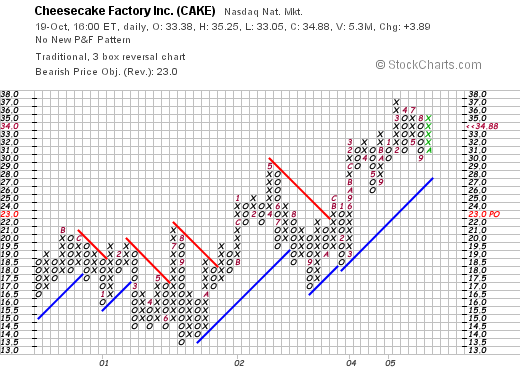 Overall, the price chart doesn't look that bad nor does the price appear over-extended.

So what do I think? Well first of all I like their food. That is about as far as a Peter Lynch as I can stretch myself :). The latest quarter was fairly solid although I have some concerns about the paltry less than 1% same store sales gain for the flagship The Cheesecake Factory" stores. In addition, the P/E is over 30, the PEG is over 1.25, and the Price/Sales places this stock at the top of its peer group of restaurant companies. This does not mean that the stock will not move higher from here. It is what they call "priced for perfection" and any disappointment may well drive marginal investors from this stock.

Thanks again for stopping by! If you have any questions or comments, please feel free to leave them on the blog or email me at bobsadviceforstocks@lycos.com.

Bob