"Revisiting a Stock Pick" K-Swiss (KSWS)
Hello Friends! Thanks so much for stopping by and visiting my blog,
Stock Picks Bob's Advice
. As always, please remember that I am an amateur investor, so please remember to consult with your professional investment advisors prior to making any investment decisions based on information on this website.

Looking through the
list of top % gainers on the NASDAQ
today, I came across K-Swiss (KSWS) which, as I write, is trading at $32.71, up $2.59 or 8.60% on the day. I do not own any shares nor do I have any options on this company.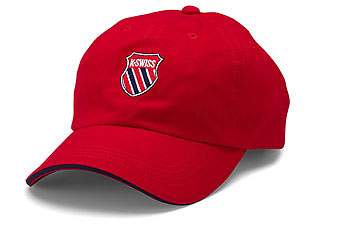 I first
posted K-Swiss (KSWS) on Stock Picks Bob's Advice
on July 3, 2004, when it was suggested to me by a reader named Leon. Hey Leon, if you're out there, that was truly a great stock pick!
At that time, KSWS was trading at $20.68, so since then, KSWS has appreciated $12.03, or 58.2% to the current price today!
According to the
Yahoo "Profile" on K-Swiss
, the company "...engages in the design, development, and marketing of athletic footwear for sport, fitness activities, and casual wear in the United States and internationally."
On July 28, 2005, KSWS reported
2nd quarter 2005 results
. For the quarter ended June 30, 2005, total worldwide revenues increased 17.2% to $126.5 million, compared to $107.9 million in the prior year same quarter. Net earnings climbed to $16.8 million from $13.2 million the prior year, and diluted earnings per share were up 34.3% to $.47/share from $.35/share the prior year same period.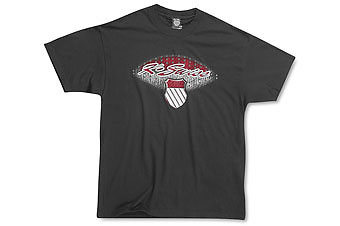 Looking longer-term at a
"5-Yr Restated" financials
from Morningstar.com, we can see a nice picture of steadily increasing revenues from $223.1 million in 2000 to $503.8 million in the trailing twelve months (TTM).
Earnings have
also
steadily increased without interruption from $.49/share in 2000 to $2.22/share in the TTM. The company has increased dividends as well from $.02/share in 2000 to $.13 reported in the TTM. The number of shares outstanding has also been
declining
(!) from 41 million in 2000 to 34 million in the TTM.
Free cash flow has been solidly positive, with $25 million in 2002, increasing to $80 million in the TTM.
The balance sheet is also gorgeous with $134.6 million in cash alone, enough to pay the combined $50.7 million in current liabilities
and
the $15.1 million in long-term liabilities more than two times over. In addition, the company, according to Morningstar, has an additional $152.7 million in other current assets.
Looking at
Yahoo "Key Statistics" on KSWS
, we find that the company is a mid cap stock with a market capitalization of $1.11 billion. The trailing p/e is a reasonable 14.70, with a forward p/e (fye 31-Dec-06) of 15.0. The PEG is reasonably priced at 1.11.
Evaluating the Price/Sales ratio, using the
Paul Sturm approach from Smart Money
, I like to compare this value to other companies in the same industrial group. In the case of K-Swiss, using the
Fidelity.com eresearch website
, we find that KSWS is in the "Textile-Apparel Footwear/Accessories" industrial group. Within this group, KSWS is moderately priced in terms of Price/Sales. Topping this group is Coach (COH), another favorite of mine, at 7.4, next is K-Swiss (KSWS) at a Price/Sales of 2.1, Nike (NKE) at 1.6, Timberland (TBL) at 1.4, Wolverine World Wide (WWW) at 1.2 and Reebok (RBK) at 0.9.
Going back to Yahoo for some more numbers, we can see that there are only 34.05 million shares outstanding. As of 9/12/05, there were 1.69 million shares out short representing 5% of the float or 6.9 trading days of volume (the Short Ratio). Using my own proprietary "3 day rule" on short interest, this looks significant and could be driving the stock higher!
Yahoo reports that the company does pay a small dividend with a trailing rate of $.15/share yielding 0.70%. The last stock split was 12/29/03, when the stock split 2:1.
What about a chart? Looking at a
Stockcharts.com "Point & Figure" chart on KSWS
: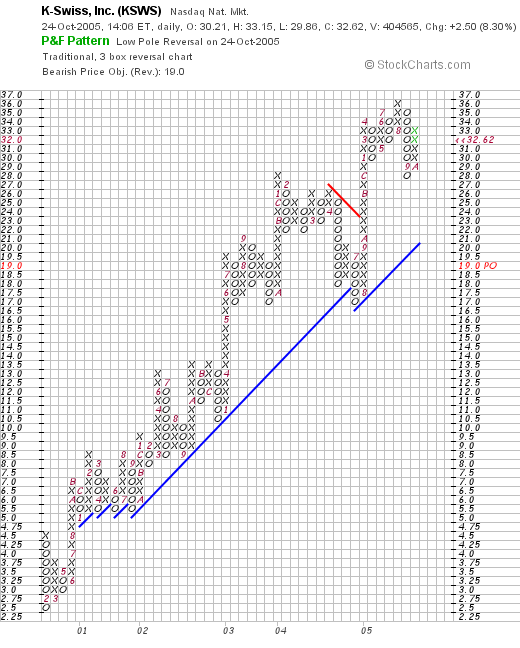 We can see an absolutely beautiful chart with the stock showing persistent strength since February, 2000, when it was trading down around $2.50, climbing to its current level around $32.62 without breaking-down below the support line! I like the chart.

So what do I think? Well, first of all I don't own the stock. Next, I thank Leon, who wrote in bringing this up last year in the first place. The latest quarterly report was solid. The Morningstar.com analysis looks great with solid five year revenue and earnings growth, nice free cash flow, a great balance sheet, and valuation that looks reasonable. Finally the chart looks terrific. I mean the company even pays a dividend! What is there not to like?

Now, if I just had the "entitlement" to be purchasing a stock today (that is, if I had sold some shares of an existing position at a gain), I might just be nibbling on this one!

Thanks so much for stopping by! If you have any questions or comments, please feel free to leave them right on the blog or email me at bobsadviceforstocks@lycos.com.

Bob










Posted by bobsadviceforstocks at 1:27 PM CDT |
Post Comment
|
Permalink
Updated: Monday, 24 October 2005 3:27 PM CDT