October 25, 2005 Rimage (RIMG)
Hello Friends! Thanks so much for stopping by and visiting my blog,
Stock Picks Bob's Advice
. As always, please remember that I am an amateur investor so please remember to consult with your professional investment advisors prior to making any investment decisions based on information on this website.

Looking through the
list of top % gainers on the NASDAQ
today, I came across Rimage (RIMG) which closed at $28.62, up $2.42 or 9.24% on the day even though the overall market was relatively anemic. I do not own any shares of this company nor do I own any options.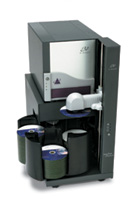 According to the
Yahoo "Profile" on Rimage
, the company "...engages in the development, manufacture, and distribution of CD-Recordable (CD-R) and DVD-Recordable (DVD-R) publishing and duplication systems."
What drove the stock higher today, was the release of
3rd quarter 2005 earnings results
shortly before the start of trading this morning. For the quarter ended September 30, 2005, revenue grew 56% to $28.0 million from $17.9 million in the same period in 2004. Net income was up 94% to $4.09 million from $2.11 million last year, and income per diluted share was up sharply to $.39/share, up from $.21/share last year same period.
Looking longer-term at the
Morningstar.com "5-Yr Restated" financials
, we can see that the company did have a dip in revenue from $49.8 million in 2000 to $38.9 million in 2001. However, since that time, there has been a steady growth in revenue to $82 million in the trailing twelve months (TTM).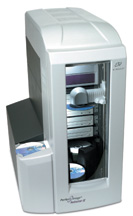 Likewise, earnings dipped to $.51/share in 2001 from $.85/share in 2000. However, since then earnings have steadily grown to the $1.01/share in the TTM.
Free cash flow, while erratic, has remained positive fluctuating from $8 million in 2002 to $5 million in the TTM.
Looking at the balance sheet, as reported by Morningstar, the company has $56.1 million in cash, more than enough to cover the combined $11.6 million in current liabilities and the $.1 million in long-term debt, more than 4x over. In addition, the company has an additional $21 million of other current assets beyond the cash already discussed.
Checking
Yahoo "Key Statistics" on RIMG
, we find that this company is almost too small to be considered a small cap stock (under $250 million in market capitalization may be considered a "micro" cap stock) with a market capitalization of only $272.86 million. The trailing p/e isn't too bad at 28.20 and the forward p/e (fye 31-Dec-06) is nicer at 21.52. Thus, with the quick growth estimated, the PEG comes in at only 1.14.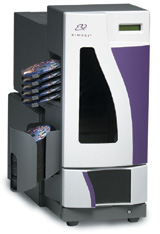 Using the
Fidelity.com research on RIMG
, we can see that this stock is in the "Computer Peripherals" industrial group. Within this group, the company is moderately priced relative to its Price/Sales ratio.
Topping the list of companies in this group is Foundry Networks (FDRY) with a Price/Sales ratio of 4.6. Emulex (ELX) is next at 4.5, and Secure Computing follows with a ratio of 4.5 as well. Rimage (RIMG) is below this at 3.3, Nice Systems (NICE) at 3.1, and at the bottom of this group is Lexmark (LXK) with a Price/Sales ratio of only 1.0.
Going back to Yahoo for some additional 'numbers' on the stock, we can see that there are only 9.53 million shares outstanding. As of 9/12/05, 2.20% of the float was out short amounting to 7.6 trading days of volume (short ratio). This appears significant, even though this is only actually 194,680 shares out short.
No cash dividend is paid and the last stock split was a 3:2 split on April 10, 2000.
What about a chart? Looking at a
"Point & Figure" chart on RIMG from Stockcharts.com
: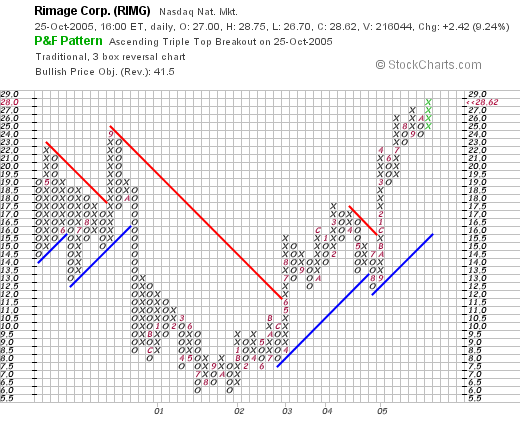 We can really see the big change in the company's fortunes from its declining stock price from $26-$28 in April, 2000, to its bottom at around $6 in July, 2001. Since that time the company and the stock turned around rising strongly to its current level of around $28/share.

So what do I think? The earnings report today was fabulous! The Morningstar write-up is impressive with steady five-year growth in both revenue and earnings, nice free cash flow, a solid balance sheet, and reasonable valuation. On top of this the chart looks very strong as well! Now, if only I were in the market to be buying a stock :(. But I shall be sitting on my hands until such time as a sale in one of my stocks on "good news" entitles me to add a position!

Thanks again for stopping by. If you have any comments or questions, please feel free to leave them on the blog or email me at bobsadviceforstocks@lycos.com.

Bob