"Revisiting a Stock Pick" Digital Insight (DGIN)
Hello Friends! Thanks so much for stopping by and visiting my blog,
Stock Picks Bob's Advice
. As always, please remember that I am an amateur investor, so please remember to consult with your professional investment advisors prior to making any investment decisions based on information on this website.
I was looking through the
list of top % gainers on the NASDAQ
this morning, and noticed that Digital Insight (DGIN) had made the list. As I write, DGIN is trading at $28.99/share, up $2.07 or 7.69% on the day. I do not own any shares of DGIN nor do I own any options on this stock.
I first
posted DGIN on Stock Picks Bob's Advice
on June 25, 2003, when it was trading at $17.96/share. Thus, we have a 'gain' on this selection of $11.03 or 61.4% since I first posted this stock almost 2 1/2 years ago!
According to the
Yahoo "Profile" on Digital Insight
, the company "...provides outsourced online banking applications and services to banks, credit unions, and savings and loan associations."
As we often see around here, what drove the stock higher today, was the announcement after the close of trading yesterday of
3rd quarter 2005 earnings results
. For the quarter ended September 30, 2005, revenues increased 12% to $53.2 million from $47.5 million for the same quarter last year. Net income for the quarter climbed 65% (using GAAP...generally accepted accounting practices as the news story states), to $6.8 million or $.19/diluted share, up from $4.1 million or $.12/diluted share the prior year. In addition, at least according to the headline of the article, the company increased 2005 eps guidance. I don't see any details on this guidance change within the article itself.
How about longer-term results? Looking at the
"5-Yr Restated" financials from Morningstar.com
we can see a very pretty picture of sustained revenue growth from $54.4 million in 2000 to $200.4 million in the trailing twelve months (TTM).
Earnings-wise, the company was losing money at $(2.35)/share in 2000, turned profitable in 2003 at $1.38, dropped to $.47/share in 2004 and has increased to $.57/share in the TTM. Hopefully, this inconsistent earnings picture, not very unusual in these small companies, will change into a more steady picture of both revenue and earnings growth.
According to Morningstar.com, free cash flow has been postive and steadily increasing the past few years with $11 million reported in 2002 increasing to $40 million in the TTM.
The balance sheet is also very solid with $82.2 million in cash, enough to pay off both the $43.4 million in current liabilities and the $7.4 million in long-term liabilities combined almost twice over. In addition, the company has $53.1 million in other current assets per Morningstar.
Looking for some valuation parameters from
Yahoo "Key Statistics" on DGIN
, we can see that this company is a smallish mid cap stock with a market capitalization of $987.94 million. The trailing p/e is a bit rich at 51.35, and the forward p/e (fye 31-Dec-06) is a tad better at 29.60. The PEG also suggests a rather rich valuation with a 1.78 statistic.
Looking at the
Fidelity.com eresearch website for DGIN
, we find that the company has been assigned to the "Consumer Services" industrial group, and within this group DGIN tops out the list with a Price/Sales ratio of 4.8. This is followed by 4Kids Entertainment (KDE) at 2.4, Chemed (CHE) at 1.3, Ace Cash Express (AACE) at 1.1, and Central Parking (CPC) at 0.5. I am not sure that these particular companies are necessarily a good comparison for DGIN, but that is the grouping by Fidelity!
Looking for some additional numbers from Yahoo, the company has 34.06 million shares outstanding. Currently, there are 1.53 million shares out short, representing 5% of the float or 4.2 trading days of volume (the short ratio). Thus, using my 3 day rule, this is a bit of a factor supporting the stock price, especially with the good news on earnings released.
No cash dividend, and no stock dividends are reported by Yahoo.
What about a chart? Taking a look at the
"Point & Figure" chart from Stockcharts.com on DGIN
: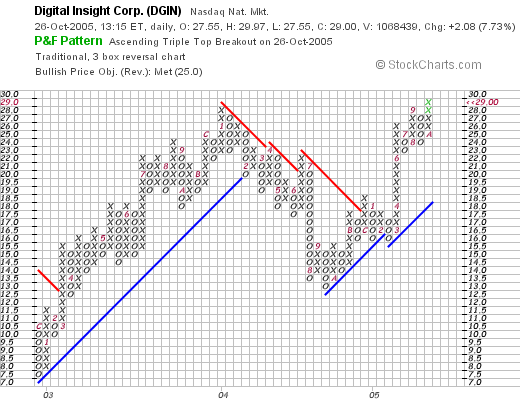 We can see that the stock was moving ahead steadily December, 2003, when it was trading at around $7.00/share to an intermediate top around $28 in January, 2004. The stock subsequently declined to $13 level in September, 2004, and has been trading higher once again, exceeding its prior high price with the current level of around $29. It is interesting to see the tracking between the decline in earnings in 2004 to the sell-off in the stock price, and once again, as earnings resume their rise, the stock moves ahead with the news!

So what do I think? Well, I find the entire field of internet banking intriguing. Apparently this stock is in the middle of this phenomenon. The latest earnings were great, the five year Morningstar view on revenue growth was great, the free cash flow is nice, the balance sheet is solid, and the chart looks encouraging.

However, on the downside, the p/e is certainly rich at just over 50, the PEG is also high just under 2.0, and the Price/Sales is at the tops of its particular (?) industrial group. Thus, I am not the first to discover this stock :(. However, the opportunity still looks attractive, and as long as the company continues to grow earnings and revenue at the nice clip it is currently doing, well, valuation might even start coming into line!

Thanks so much for stopping by! I hope you find my chatter informative; please do let me know what you think of what I write! If you have any conmments or questions, please feel free to leave them right on the blog or email me at bobsadviceforstocks@lycos.com.

Bob