November 2, 2005 Aspect Medical (ASPM)
Hello Friends! Thanks so much for stopping by and visiting my blog,
Stock Picks Bob's Advice
. As always, please remember that I am an amateur investor, so please remember to consult with your professional investment advisors prior to making any investment decisions based on information on this website.

Sometime around noon, I was scanning the
list of top % gainers on the NASDAQ
today, and found Aspect Medical (ASPM) on this list. The stock looks like a good fit to what we do here. Unfortunately, with all of the other stocks doing well late in the day, the stock was no longer on the list of top gainers! However, it is still worth a look. I do not own any shares nor do I have any options on this stock.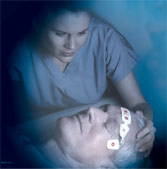 Aspect had a great day today, closing at $35.40, up $2.92 or 8.99% on the day. According to the
Yahoo "Profile" on Aspect Medical
, the company "...and its subsidiaries engage in the development, manufacture and marketing of an anesthesia monitoring system called the BIS system. The company's BIS system provides information that enables clinicians to assess and manage a patient's level of consciousness in the operating room and intensive care settings, and administer the amount of anesthesia needed by each patient."
I recently wrote up a similar company,
Somanetics
, on Stock Picks Bob's Advice, that is also in the anesthesia monitoring business. This must be an important growth area in the medical field.
Trying to avoid sounding like a broken record, what drove the stock higher today was the
announcement of 3rd quarter 2005 results
. Revenue came in at $19.6 million for the quarter ended October 1, 2005, an increase of 44% (!) over the $13.6 million reported in the third quarter of 2004. Net income came in at $2.6 million or $.11/share on 24.2 million diluted shares, up about 400% from $520,000 or $.02/share on 22.4 million diluted shares last year. This was $.04 ahead of analysts estimates of $.07/share and ahead of revenue estimates of $19.3 million for the quarter. In addition, the company guided estimates for earnings higher for the upcoming fourth quarter. The combined strong earnings/revenue results that also exceeded estimates along with the raised guidance was enough to push the stock price higher!
How about 'longer-term'? Looking at the
Morningstar.com "5-Yr Restated" financials on ASPM
, we can see that except for a small dip in revenue from $36 million in 2000 to $35.8 million in 2001, the company has grown revenue steadily to $65.2 million in the trailing twelve months (TTM).
Aspect has been improving its earnings picture, from a loss of $(1.01) in 2001, the company turned profitable at $.01/share in 2004, with $.19/share in the TTM.
Free cash flow, which was also negative at $(6) million in 2002, improved to a negative $(2) million in 2004 but a positive $5 million in the trailing twelve months.
The balance sheet, as reported on Morningstar, looks excelent with $40.2 million in cash alone, enough to cover both the $13.9 million in current liabilities
and
the $4.7 million in long-term liabilities over two times over. In addition, the company has an additional $15 million in "other" current assets.
Looking at
Yahoo "Key Statistics" on Aspect Medical
for some valuation numbers, we can see that this is a mid cap stock with a market capitalization of $765.24 million. The trailing p/e is an astronomic 202.29, with a forward p/e of 66.79 (fye 31-Dec-06). This is not of much concern to me as the company is growing earnings rapidly and just turned profitable.
The company also looks richly priced in terms of Price/Sales with a statistic of 11.9 at the top of the group of "Medical Appliances/Equipment" according to
Fidelity.com eresearch on ASPM
. Following Aspect is St. Jude (STJ) with a Price/Sales of 7.1, Medtronic (MDT) at 6.6, Zimmer Holdings (ZMH) at 5, Biomet (BMET) at 4.6, and Edwards Lifesciences (EW) at 2.7. Thus, the stock isn't a "bargain" based on this particular parameter also.
Going back to Yahoo, we can see that they are reporting 21.62 million shares outstanding with 1.45 million shares out short as of 10/11/05. This is 7.00% of the float or 8.7 trading days of volume. The "shorts" might have been "squeezed" today as the stock moved higher on great news. No cash dividend is reported on Yahoo, and no stock dividends are noted as well.
What about a chart? Taking a look at the
Stockcharts.com "Point & Figure" chart on ASPM
: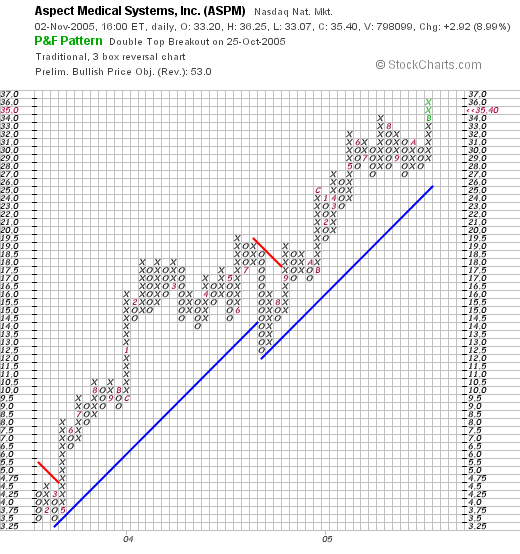 We can see what is an absolutely gorgeous graph! In May, 2003, the stock broke through a resistance level at $4.75 and has been trading strongly higher ever since! You won't see too many stronger graphs, imho, on this blog!

So what do I think? Frankly, I like this stock. It is a small company with a phenomenal quarter a provocative product, a nice Morningstar.com report with steady revenue and improving earnings. The company is just turning profitable as well as turning free cash flow positive. In addition the company has a solid balance sheet. On the downside, with the recent turn to profitability the company has an astronomic p/e but this should be dropping quickly. The Price/Sales ratio is also steep. Finally, the graph is spectacular :).

Too bad I don't have a signal to be buying some stock :(. I know where I would be shopping today!

Thanks so much for stopping by! If you have any questions or comments, and if you don't mind me writing up a response on the blog, please drop me a line at bobsadviceforstocks@lycos.com. Or you could always leave your comments right on the blog itself! Regards to all of my friends!

Bob