November 28, 2005 Lamson and Sessions (LMS)
Hello Friends! Thanks so much for stopping by and visiting my blog,
Stock Picks Bob's Advice
. As always, please remember that I am an amateur investor, so please remember to consult with your professional investment advisors prior to making any investment decisions based on information on this website.
***Listen HERE FOR MY PODCAST ABOUT THIS ENTRY
***

There was a good bit of profit-taking in the market as the Dow closed at 10,890.72, down 40.90, and the NASDAQ closed at 2,239.37, down 23.64 on the day. But for me, it is another day at the market, scanning the top % lists for another pick for the blog!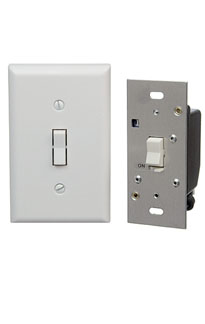 In the face of all of this bearish trading action, Lamson & Sessions (LMS) made the
list of top % gainers on the NYSE
today, closing at $23.70, up $.62 or 2.69% on the day. I do not own any shares nor do I have any options on this company.
According to the
Yahoo "Profile" on LMS
, the company
"...engages in the manufacture and distribution of thermoplastic electrical, consumer, telecommunications, and engineered sewer products in the United States and Canada. It operates in three segments: Carlon, Lamson Home, and PVC Pipe. Carlon segment sells various products, including electrical and telecommunications raceway systems, as well as nonmetallic enclosures, electrical outlet boxes, and fittings to electrical contractors and distributors, original equipment manufacturers, electric power utilities, cable television, and telephone and telecommunications companies."
When looking at a new stock for possible inclusion in this blog, one of the first place I check is the latest quarterly results. I am looking for a solid picture of revenue growth combined with earnings growth.
On October 27, 2005, LMS
reported 3rd quarter 2005 results
. The company reported net sales of $128.1 million, a 22.1% increase over the $104.9 million reported in the third quarter of 2004. Net income for the company rose to $5.4 million or $.35/diluted share, an increase of over 500% from the $833,000 or $.06/diluted share reported in the same period of 2004. In the same announcement the company
raised
guidance for the fourth quarter of 2005 to sales of $110-$115 million and full year 2005 to a range of $460-$465 million, representing an increase of 18-20% over the $387 million reported in 2004. The company also raised earnings guidance from $3.5-$3.8 million or $.23-$.25/share, to $4.6-$5.0 million or $.30-$.33/share. This combined solid earnings report with increased guidance was helpful in powering the stock price higher.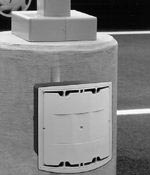 How about longer-term? Looking at the
Morningstar.com "5-Yr Restated" financials on LMS
, we can see that revenue was fairly stagnant between 2000 and 2002, actually declining from $347.3 million in 2000 to a low of $312.4 million in 2002. However, since 2002, the company has been steadily growing its revenue to $447.9 million in the trailing twelve months (TTM).
Earnings also deteriorated between 2000 when they were $1.53/share, to a low of a loss of $(2.99)/share in 2002. Since then, the company has also been steadily improving its earnings results. Free cash flow dropped from $23 million in 2002 to $1 million in 2003 but has been positive and growing since, with $15 million of free cash flow reported in the TTM.
The balance sheet looks adequate with $1.7 million in cash and $122.5 million in other current assets. This easily covers the $73.6 million in current liabilities and makes a nice 'dent' in the $101.6 million in long-term liabilities.
What about some valuation statistics? Taking a look at
Yahoo "Key Statistics" on LMS
, we can see that according to the
Ameritrade definitions
, Lamson & Sessions is a small cap stock with a market capitalization of only $343.39 million. The trailing p/e is a moderate 24.84 and the forward p/e (fye -1-Jan-07) is even nicer at 17.43. No PEG ratio is reported.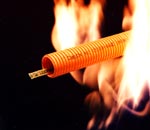 And what does the Price/Sales ratio tell us about the relative valuation of this company? According to the
Fidelity.com eResearch website
, Lamson & Sessions is in the "Diversified Electronics" industrial group. Within this group, LMS has the lowest Price/Sales ratio at 0.8. Topping this list is JDS Uniphase (JDSU) at 4.9, International Game Technology (IGT) at 4.5, WMS Industries (WMS) at 2.3, Amphenol (APH) at 2.2 and Molex (MOLX) at 2. Thus, LMS looks very reasonably priced by this parameter as well!
Going back to Yahoo for a few additional numbers on this stock, we find that the company has only 14.49 million shares outstanding. As of 10/11/05, according to Yahoo, there were 387,960 shares out short representing 3.30% of the float or only 2 trading days of volume. This is not significant from my perspective. No cash dividend and no stock splits are reported.
What about a chart? Looking at a
Stockcharts.com "Point & Figure" chart on LMS
: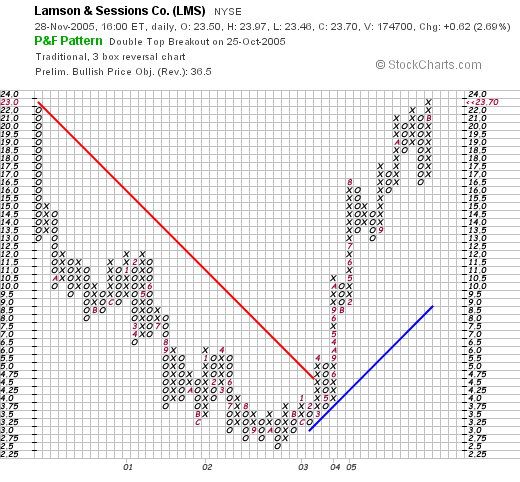 We can see how the company's price performance has mirrored its financial results. The company peaked in 2000 at $23.00/share, and dropped to a low of $2.50/share in October, 2002. The company, almost parallel to its improved financial results, made a "V" shaped turn to the upside and is now trading strongly higher to the current level of $23.70.

So what do I think? Well, this is a small company with a limited float. But the earnings and revenue report in the latest quarter were excellent. I especially appreciate the raised guidance. Morningstar.com demonstrates the turn-around in fortunes of this company the last few years. The company is growing its free cash, has a reasonable balance sheet and is reasonably priced in both p/e as well as price/sales perspectives. Finally, the chart looks strong. What else could an investor want?

Thanks so much for stopping by and visiting my blog. Always remember that I am truly an amateur investor. If you have any comments or questions, please feel free to email me at bobsadviceforstocks@lycos.com, or leave them right on the blog.

Bob



Posted by bobsadviceforstocks at 9:50 PM CST |
Post Comment
|
Permalink
Updated: Monday, 28 November 2005 11:49 PM CST