November 29, 2005 Orasure Technologies (OSUR)
Hello Friends! Thanks so much for stopping by and visiting my blog,
Stock Picks Bob's Advice
. As always, please remember to check with your professional investment advisors prior to making any decisions based on information on this website as I am an amateur investor.
***CLICK HERE for my PODCAST on this subject

I was looking through the
list of top % gainers on the NASDAQ
today and came across Orasure Technologies Inc. (OSUR) which last traded at $13.24, up $1.26 or 10.525 on the day. I do not own any shares nor do I have any options in this company.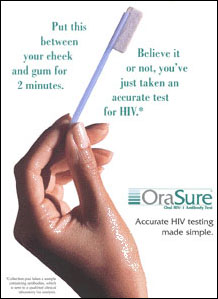 According to the
Yahoo "Profile" on Orasure
, the company
"...engages in the development, manufacture, and marketing of oral specimen collection devices. Its products include Q.E.D. Saliva Alcohol Test and Intercept, a laboratory-based oral fluid drug test; OraSure HIV-1 oral fluid specimen device, a collection device that collects oral fluid to test for antibodies to the HIV-1 virus; OraQuick Rapid HIV-1 antibody test, a point-of-care test to aid in the diagnosis of infection to HIV-1 using a fingerstick and venipuncture whole blood specimen; Toxicology kits for use in testing blood, urine, hair, oral fluid, sweat, and other forensic samples. "
On November 9, 2005, Orasure
announced 3rd quarter 2005 results
. For the quarter ended September 30, 2005, revenues grew 28% to $18.1 million compared with $14.2 million the same quarter last year. Net income came in at $3.8 million or $.08/share, up from a net loss of $(294,000) or $(.01)/share for the same quarter last year. In addition, the company
increased
guidance for the full-year.
How about longer-term results? Looking at the
Morningstar.com "5-Yr Restated" financials for OSUR
, we can see the steady growth in revenue from $28.8 million in 2000 to $65.5 million in the trailing twelve months (TTM).
Earnings have been improving since 2000 when the company reported a loss of $(.36)/share. The company just turned profitable in the TTM with earnings of $.15/share. Free cash flow has also been improving, from a negative $(2) million in 2002, to a positive free cash flow of $8 million reported in the TTM.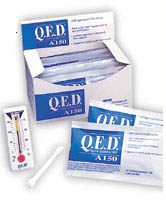 What about valuation? Looking at
Yahoo "Key Statistics" on OSUR
, we can see that this is a mid cap company with a market capitalization of $604.57 million. Since the company is
just
turning profitable, the Price/Earnings is a anear-astronomic 92.22. The forward p/e (fye 31-Dec-06) is a bit better at 60.36. The PEG is a bit rich as well with a value of 2.85. The Price/Sales statistic is also a bit rich at 8.32.
Yahoo reports 45.53 million shares outstanding with 2.73 million shares out short as of 10/11/05. This amounts to a hefty 6.205 of the float or 10.1 trading days of volume. This appears to be a significant short interest on this stock.
No cash dividends and no stock splits are seen on Yahoo.
If we take a look at a
"Point & Figure" chart on OSUR from Stockcharts.com
: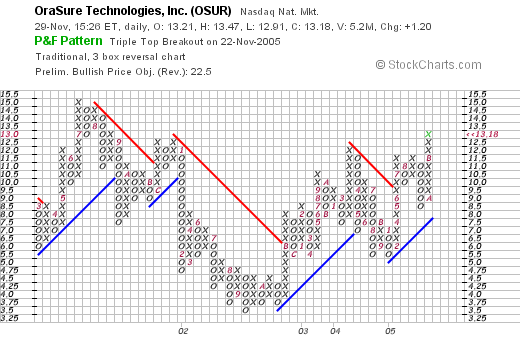 We can see that the stock has gone almost nowhere since peaking at $15 in July, 2001. The stock bottomed at $3.50 in September, 2002, and has subsequently been trading higher. The stock looks modestly optimistic and certainly not overextended.

So what do I think? Well, I think that AIDS is a huge problem and that an easy diagnostic test such as an oral swab, may have tremendous potential in the medical treatment and evaluation market. The latest quarterly result was solid, Morningstar.com looked reasonable, valuation is difficult to assess as the company is just turning profitable. The chart is encouraging and not overextended.

Now, if I only had a signal to give me the green light to buy some shares. Meanwhile, I am still sitting on my hands, awaiting a sale at a gain before a purchase of an additional position.

Thanks so much for stopping by! If you have any questions or comments, please feel free to email me at bobsadviceforstocks@lycos.com or go ahead and leave them on the blog!

Bob










Posted by bobsadviceforstocks at 3:45 PM CST |
Post Comment
|
Permalink
Updated: Tuesday, 29 November 2005 10:10 PM CST