"Revisiting a Stock Pick" Matrixx Initiatives (MTXX)
Hello Friends! Thanks so much for stopping by and visiting my blog,
Stock Picks Bob's Advice
. As always, please remember that I am an amateur investor, so please consult with your professional investment advisors prior to making any investment decisions based on information on this website.

Looking through the
list of top % gainers on the NASDAQ
, I came across Matrixx Initiatives (MTXX) an old stock pick of mine, that is trading at $20.63, up $1.52 or 7.95% on the day as I write. I first
posted Matrixx on Stock Picks Bob's Advice
on December 29, 2003, almost two years ago (!), when it was trading at $18.28. The stock actually declined significantly
after
my post, dropping to as low as $8 in July, 2004, before climbing back to its current level.
Matrixx has recently been plugged by Jim Cramer on
Mad Money
. While I do not always see 'eye to eye' with Jim in his approach, I respect his stock-picking talents, and if we can find a stock that is also on his list, all the more power to us I guess. However, this type of media attention on a stock will only add to its volatility. By the way, I do
not
own any shares of this stock nor do I have any options or other leveraged positions involving this company.
To get a description of this company, I like to refer to the
Yahoo "Profile" on Matrixx Initiatives
:
"Matrixx Initiatives, Inc. engages in the development, production, marketing, and sale of over-the-counter pharmaceutical products. The company, through its subsidiary, Zicam LLC, produces and markets various products, including Zicam Cold Remedy nasal gel, a homeopathic remedy that reduces the duration and severity of the common cold; two related nasal swab cold remedy products, Zicam Cold Remedy Swabs and Zicam Cold Remedy Swabs Kids Size; three homeopathic oral delivery cold remedy products...."
Going through my usual regimen of checking out a company, I first inspected the
news on Matrixx
, which revealed that the company was
raising guidance
for 2005! The company now expects revenue for 2005 to grow 45-50%, and fully diluted eps to improve 35-45%. This was an increase in the prior guidance which suggested revenue growth of 25-35% and a 10-20% increase in earnings. I always love to see guidance being raised; the stock price usually follows in the same direction!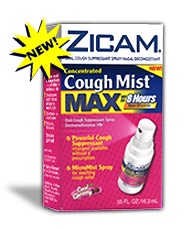 And how about the latest quarter results? On October 25, 2005, MTXX
reported 3rd quarter 2005 results
. For the quarter ended September 30, 2005, revenue climbed 49% to $25.2 million, compared to $16.9 million in the year ago same period. Net income came in at $5.6 million, or $.58/diluted share, up from $3.7 million or $.39/diluted share in the third quarter of 2004. These were solid results imho!
And what about longer-term? For that I like to turn to the
Morningstar.com "5-Yr Restated" financials on MTXX
where we can see that revenue has steadily grown from $10.8 million in 2000 to $73.4 million in the trailing twelve months (TTM).
During this period, earnings have been a bit erratic, climbing to $1.36/share from $(.91) between 2000 and 2001, then dropping to a loww of $.35/share in 2003, before climbing once again to the current result of $.80/share in the TTM.
Free cash flow, while small, has been positive recently with $0 reported in 2002, improving to $4 million in 2003, $7 million in 2004, and $5 million in the TTM.
And the balance sheet? As reported by Morningstar, this appears solid with $7.3 million in cash and $35.2 million in other current assets; this is plenty to cover both the $12.9 million in current liabilities and the $.9 million in long-term liabilities.
And how about some valuation numbers? Looking at the
Yahoo "Key Statistics" on Matrixx
, we can see that this is a very small company, actually a small cap stock with a market capitalization of $195.12 million. The trailing p/e is a moderate 25.57, with a forward p/e of 21.88. The PEG is a very nice 0.73. Any time we can get a stock with a PEG under 1.0, that means that the company is growing at a faster rate than the indicated price/earnings ratio.
Looking at the
Fidelity eResearch website
, we find that MTXX has been assigned to the "Drug Delivery" industrial group. Within this group of stocks, with Alkermes (ALKS) at the top with a Price/Sales ratio of 14.4, followed by Nektar (NKTR) at 11.6, Elan (ELN) following next with a Price/Sales ratio of 11.1, Biovail (BVF) at 4.3, Matrixx (MTXX) at 2.5, and Andrx (ADRX) at 1.2. Thus, the stock is reasonably priced by this statistic as well.
Back to Yahoo! This is a small company with only 9.59 million shares outstanding. Currently (11/10/05) there are 601,820 shares out short representing 6.805 of the float or 7.3 trading days of volume. Thus, this is significant using my 3 day short ratio cut-off of significance.
No dividend is paid and no stock splits are reported on Yahoo.
What about a chart? Taking a look at a
"Point & Figure" chart on MTXX
: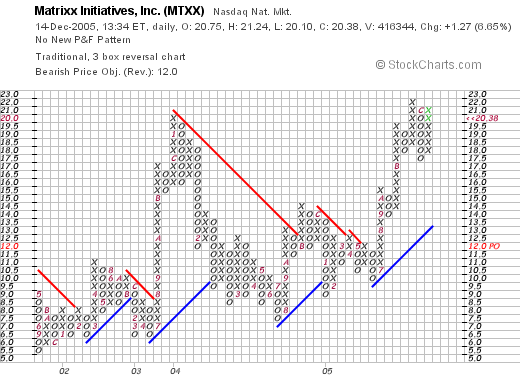 We can see that this stock has been slowly moving higher since mid-2001 when this chart starts. I say this due to the subtle pattern of higher lows and hnigher highs. Since July, 2005, this stock has broken out into higher priced territory at the $21 level. We should note that a similar pattern in early 2004 resulted in the stock price breaking back down to a low of $7 in July, 2004. Overall, the chart appears to be mildly optimistic.

So what do I think? Well I like this stock. I liked it back in 2003 (although the price declined after my pick; the situation continues to look solid. Let's review: first of all, this is a Cramer pick so that adds interest from all of his viewers, the company raised guidance, reported a solid latest quarter, has a five year history of fairly strong revenue and earnings growth, free cash flow is positive and steady, the balance sheet looks nice, and valuation, both with a PEG under 1.0, and a Price/Sales near the lowest in its group, appears reasonable. What is there not to like?

Thanks again for stopping by! Please be sure to check with your professional investment advisors! If you have any comments or questions, please feel free to leave them right on the blog or email me at bobsadviceforstocks@lycos.com.

Bob