December 16, 2005 Adobe Systems Inc. (ADBE)
Hello Friends! Thanks so much for stopping by and visiting my blog,
Stock Picks Bob's Advice
. As always, please remember that I am an amateur investor, so please remember to consult with your professional investment advisors prior to making any investment decision based on information on this website.

Looking through the
list of top % gainers on the NASDAQ
, I came across Adobe Systems Incorporated (ADBE) which closed at $38.82, up $3.89 on the day or 11.14% in price appreciation. I do not own any shares nor do I have any options on this company.
According to the
Yahoo "Profile' on Adobe Systems
, the comnpany
"...offers a line of software and services for public and private sectors worldwide. It operates through four segments: Creative Professional, Digital Imaging and Video, Intelligent Documents, and OEM PostScript and Other. The Creative Professional segment provides software tools for professional publishing,"
As is often the case, what drove the stock higher was the
announcement of 4th quarter 2005 results
after the close of trading yesterday. Revenue for the quarter gained 19% in the latest quarter to $510.4 million, up from $429.5 million in the same quarter the prior year. GAAP net income came in at $156.3 million for the quarter compared with $113.5 million in the same quarter in 204. GAAP diluted eps worked out to $.31/share, up from $.23/share in the same period in 2004.
How about longer-term? Looking at the
"5-Yr Restated" financials on Morningstar.com for ADBE
, revenue, which was flat between 2000 and 2002 at about $1.2-$1.3 billion, has subsequently increased to the upside in the following three years to $1.9 billion in revenue.
Earnings during this period were disappointing between 2000 and 2003 dropping from $.57/share to $.40/share, but have picked up subsequently to $.55/share in 2003, $.91/share in 2004 and $1.11/share in the trailing twelve months (TTM).
Free cash flow has also bee growing since 2002 when it was $298 million, this has increased steadily to $639 million in the TTM.
The balance sheet? Looks great with $1.9 billion in cash, more than enough to pay off both the $479.1 million in current liabilities
and
the $46.4 million in long-term liabilities combined more than three times over. In addition, Morningstar reports that Adobe has another $287.9 million in "other" current assets.
And "valuation"? Checking
Yahoo "Key Statistics" on ADBE
, we find that the company has a market cap of $19.18 billion, the trailing p/e is a moderate 35.10, the forward (fye 03-Dec-06) is a bit nicer at 27.15. However, the PEG is 1.86.
According to the
Fidelity eResearch website
, Fidelity is in the "Application Software" industrial group.
Even within this group ADBE looks pricey with a Price/Sales ratio of 9.4. This is followed by Oracle (ORCL) at 5.4, Seibel (SEBL) at 4.2, Cognos (COGN) at 3.5 and Hyperion Solutions (HYSL) at the bottom of this list at 3.
Going back to Yahoo for a few more numbers on this company, we find that there are 494.13 million shares outstanding but only 33.3 million shares are out short representing 6.80% of the float or 5.4 trading days of volume. This may be significant if you go along with my "3 day rule" of short interest.
The company does pay a small dividend of $.03/share yielding 0.10%. The last stock split was a 2:1 split in May 24, 2005.
What about a chart? Taking a look at a
"Point & Figure" chart on ADBE
: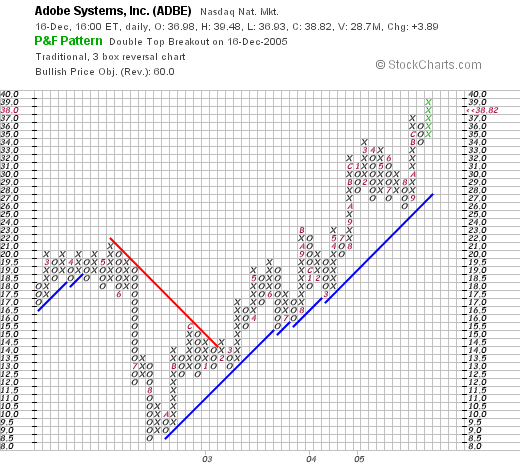 We can see that dip in price during 2002, as the company's financial report dipped, and the strong rise after 2002, after earnings and in particular revenue, climbed.

So what do I think? I like the latest quarterly report, the Morningstar.com report looks great with a turn around in earnings in revenue after 2002. Free cash flow is strongly positive and the balance sheet looks terrific. Valuation is a bit rich p/e wise, and the PEG is really out of this world! So this is at least a caution flag to observe as we go about our business.

Now, If only I had some cash to be buying some new sotkcs :). But that doesn't really matter, I shall be 'sitting on my hands' until I get the proper signal to make a new purchase from my own portfolio.

Regards and be sure to drop me a line at bobsadviceforstocks@lycos.com.

Bob




Posted by bobsadviceforstocks at 10:33 PM CST |
Post Comment
|
Permalink
Updated: Friday, 16 December 2005 10:40 PM CST