"Revisiting a Stock Pick" Headwaters Inc. (HW)
Hello Friends! Thanks so much for stopping by and visiting my blog,
Stock Picks Bob's Advice
. As always, please remember that I am an amateur investor and that you should consult your professional investment advisors prior to making any investment decisions based on information on this website.
We had a great day in the market today with the Dow up almost 100 points to close at 10,809.47, and the NASDAQ up 22.35 points to close at 2,283.00. It is during these strong market periods that the kind of stocks that I like to discuss tend to show up on the lists of top % gainers.

Generally, when looking for a new stock to discuss, I start with the top % gainers lists that are readily available online. In fact, looking through the
list of top % gainers on the NYSE
today, I came across Headwaters (HW), a stock that I have discussed before on Stock Picks. I actually do own 200 shares of HW in another managed account that I have farmed out to a professional manager. Headwaters closed today at $35.00, up $2.20 or 6.71% on the day.
Headwaters (HW) was an early selection of mine on this blog. In fact, I
posted Headwaters (HW) on Stock Picks Bob's Advice
on October 22, 2003, when the symbol was HDWR, and the stock was trading on the NASDAQ. HDWR was trading at $17.41 at that time. Since that listing, the stock has appreciated $17.59 or 101% since posting.
Let's take a closer look at Headwaters which now is on the NYSE and has the symbol HW. According to the
Yahoo "Profile" on Headwaters
, the company
"...through its subsidiaries, provides products, technologies, and services to the energy and construction materials industries in the United States. It operates in three segments: Construction Materials, Coal Combustion Products, and Alternative Energy. Construction Materials segment designs, manufactures, and markets shutters, gable vents, mounting blocks and tools, and architectural manufactured stones."
One of the first screens that I employ to "sift out" a suitable stock, is to look at the latest quarterly result. I am interested in a company with both increasing revenue and earnings. Headwaters
reported 1st quarter 2006 results
two days ago on 1/24/06. Revenue for the quarter rose 28% to $280.5 million from $218.4 million a year ago. Income climbed over 100% to $28.3 million or $.60/share, up from $11.1 million or $.30/share last year. These results exceeded analysts' expectations of $.55/share on revenue of $268 million.
After noting a positive quarterly report as we have just reviewed with Headwaters, I generally look to Morningstar.com to determine whether the company is demonstrating persistence of revenue growth, earnings growth, positive free cash flow, and a solid balance sheet.
Looking at the
Morningstar.com "5-Yr Restated" financials on Headwaters
, we can see the steady growth in revenue from $0 in 2001 to $.1 billion in 2002, $.4 billion in 2003, $.6 billion in 2004 and $1.1 billlion in 2005. During this same time earnings have also steadily grown from $.87/share in 2001 to $2.79 in 2005. On a negative note, the company
has
been diluting the shares somewhat with 23 million reported in 2001, increasing each year to 38 million shares in 2005 and 42 million in the trailing twelve months (TTM).
Free cash flow has been positive and growing the last several years. $47 million in 2003 growing to $95 million in 2005.
The balance sheet looks adequate if not terribly strong, with $13.7 million in cash, and $341.4 million in other current assets. This is plenty to cover the $237.7 million in current liabilities and enough to make a small dent on the $747.6 million in long-term liabilities.
My next step is to look for some valuation numbers and statistics on the stock. For this, I have been using Yahoo, reviewing the
"Key Statistics"
. Here we find that Headwaters (HW) is a mid-cap stock with a market capitalization of $1.47 billion. The trailing p/e is downright cheap at 12.56 and the forward p/e (fye 30-Sep-07) is even nicer at 11.48. Confirming the good valuation of this stock is a PEG (5 yr expected) which is reported under 1.0 at 0.53. Generally stocks that have PEG's near to or less than 1.0 are excellent values.
One thing that I picked up from my reading was an article by Paul Sturm at Smart Money Magazine who pointed out the usefulness of looking at Price/Sales ratios of companies relative to other companies in the same industrial group. Using the
Fidelity.com eResearch website
, we find that HW is in the "Industrial Metals/Mineral" group. Within this group, the Price/Sales ratio of 1.4 for Headwaters is at the bottom of the bunch, suggesting again an excellent value insofar as an investment is concerned. Topping this list is Peabody Energy (BTU) with a Price/Sales ratio of 2.8, Arch Coal (ACI) at 2.3, Inco (N) at 2.3, Consolidated Energy (CNX) at 1.9, Foundation Coal (FCL) at 1.6 and Headwaters (HW) at the bottom of the group at 1.4.
Looking back at Yahoo, we find that there are 41.94 million shares outstanding with 7.99 million shares out short as of 12/12/05. This represents 19.60% of the float (!) or 15.7 trading days of volume (!!). In addition, the short shares are up from 6.58 million the prior month. With the strong earnings report, I would not be surprised to learn that we have been witnessing a short squeeze on this stock.
No cash dividends and no stock dividends are reported.
Finally, let's take a look at a chart. I have found it helpful to review the "point & figure" charts on the stocks I write up. Bear with me. You will get used to the climbing columns of x's and the descending columns of o's. Looking at the
"Point & Figure" chart on Headwaters (HW)
: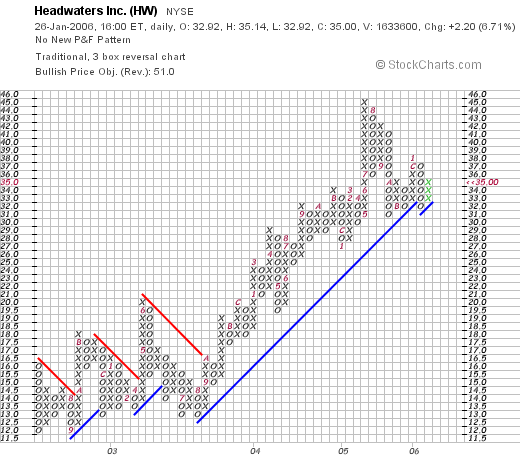 The chart looks quite strong with the stock rising from $12.00/share in September, 2002, to the current level of $35.00. The stock has been challenging the support level recently, but overall the graph looks nice.

So what do I think? Well, this is a stock I reviewed almost 2 1/2 years ago that has already doubled in price since that selection. The latest quarter was exceptionally strong and the past five years have shown steady growth. The company has been financing some of its growth with the sale of additional shares of stock. Otherwise, valuation is excellent, free cash flow is positive and growing and the balance sheet is reasonable. Valuation is downright cheap! And the chart looks nice. I still like this stock. I don't have any shares in my trading account but do own some HW in a managed account.

Thanks so much for stopping by! If you have any comments or questions, please feel free to leave them right on the blog or email me at bobsadviceforstocks@lycos.com.

Bob