Alliance Data Systems (ADS) Revisiting a Stock Pick
Hello Friends! Thanks so much for stopping by and visiting my blog,
Stock Picks Bob's Advice
. As always, please remember that I am an amateur investor, so please remember to always consult with your professional investment advisors prior to making any investment decisions based on information on this website.

The market was behaving a little better today with the DJIA actually closing up 25.05 and the NASDAQ, which traded as low as 2249 intraday, closed at 2,268.25, down (.13) or (.01)%, essentially unchanged on the day. I heard some analysts dissecting the day's performance and they actually were attributing some of the more positive action on the strength in the bond market, as well as the reversion of the
inverted yield curve
. In layman's talk (the only language I am able to speak), investor pessimism often develops when the long end of maturities (10yr or 30yr) bonds yield less than the short end (2 or 5 yr bonds). Historically, this inversion has preceded recessions, a development not at all good for stocks!
In any case, I hit the list of top % gainers and found an old favorite, Alliance Data Systems (ADS), on the
list of top % gainers on the NYSE
. ADS closed at $45.22, up $1.46 or 3.34% on the day. I do not currently own any shares of this stock, although I did own some shares in my trading portfolio as recently as 10/25/05, when the shares were sold after an 8% loss. This answers the perennial question I get on this blog about whether I will consider buying a stock after I sold it at a loss. The answer is "Yes!", but only if the stock hits the criteria to reach the blog.
So let's take another look at ADS and I will show you why I think it is worth another look by this blog. (I should point out that I first
reviewed Alliance Data Systems (ADS) on Stock Picks Bob's Advice
on August 1, 2003, when it was trading at $28.45. With the stock closing today at $45.22, this represents a gain of $16.77 or 58.9% since posting.)
First, what does ADS do?
According to the
Yahoo "Profile" on Alliance Data Systems
, the company
"...and its subsidiaries provide transaction services, credit services, and marketing services in North America. The company facilitates and manages transactions between its clients and their customers through multiple distribution channels, including instore, catalog, and the Internet."
And how about the latest quarterly report?
As documented on the company's website, they
reported 4th quarter 2005 results
on February 1, 2006. Revenue for the quarter ended December 31, 2005, grew 21% to $421.2 million, up from 4346.8 million in the fourth quarter of 2004. Net income climbed 96% to 431.3 million for the quarter, or $.38/diluted share, compared to $16.0 million or $.19/diluted share for the same quarter the prior year. This was a very strong quarter imho.
How about longer-term?
Reviewing the
Morningstar.com "5-Yr Restated" financials
, we can first see the steady growth in revenue from $.7 billion in 2000 to $1.3 billion in 2004 and $1.5 billion in the trailing twelve months (TTM).
Earnings have increased steadily from $.31/share in 2002 to $1.22/share in 2004 and $1.45 in the TTM. Free cash flow, while down a tad in the past twelve months, has grown strongly from $80 million in 2002 to $305 million in 2004 and $205 million in the TTM.
The balance sheet is just fair imho, with $157.8 million in cash and $592.7 million in other current assets, enough to cover the $692.3 million in current liabilities giving us a "current ratio" for this stock of just over 1.0. In addition, the company has $813.8 million in long-term liabilities not touched in any significant fashion with the current assets. I would suspect that with the strong free cash flow the past 12 to 18 months, that this balance sheet should be improving.
What about valuation numbers?
Reviewing the
Yahoo "Key Statistics" on ADS
, we can see that this is a large cap stock with a market capitalization of $3.71 billion. The trailing p/e is reasonable (imho) at 27.59, with a forward p/e based on estimates (fye 31-Dec-07) even nicer at 16.21. The PEG ratio (5 yr expected) is reasonable as well at 1.06.
According to the
Fidelity.com eResearch website
, ADS is also reasonable priced in relation to the Price/Sales ratio relative to other stocks in the "Information/Delivery Services" industrial group. Topping this group is FactSet Research (FDS) with a Price/Sales ratio of 6, followed by Jupitermedia (JUPM) at 4.8, Wright Express (WXS) at 4.3, then Alliance Data Systems (ADS) at 2.4, and DST Systems (DST) at the bottom of this group with a Price/Sales ratio of 1.8.
Going back to Yahoo for some more numbers, we find that there are 82.04 million shares outstanding with 67.77 million that float. Of these shares, 5.19 million shares are out short as of 2/10/06, representing 6.50% of the float or 5.6 trading days of volume. Since this is over 3 days worth of trading volume, I consider this significant and may result in some buying pressure if the stock price should rise (as it did today), creating a possible "squeeze" environment for the shorts.
No cash dividend and no stock splits are reported by Yahoo.
What about a chart? If we take a look at a
"Point & Figure" chart on ADS from StockCharts.com
: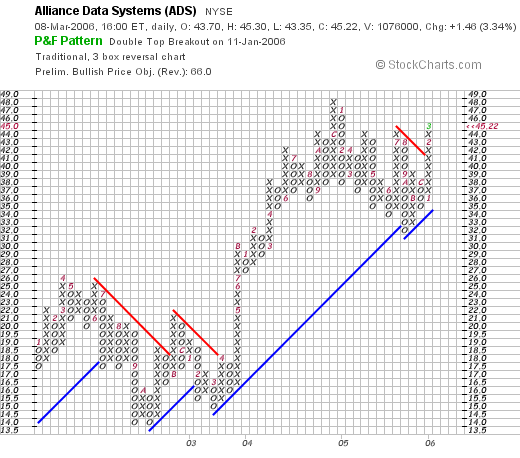 We can see that the stock which was trading rather poorly between January, 2002, and April, 2002, when it dropped from $26.00 down to $14, broke through resistance in April, 2003, at $17.00 and has moved strongly higher to a peak of $48 in December, 2004. The stock has been trading lethargically throught much of 2005, and only in January, 2006, has it broken through the new resistance levels around $41 and is trading higher currently. The chart looks reasonably strong to me.

So what do I think? Well, in review, the stock moved nicely higher today, had a very strong earnings report last month, has shown steady and strong revenue and earnings growth with impressive free cash flow. The balance sheet is a bit anemic with a significant debt load that appears manageable in light of the free cash flow. Valuation is reasonable with a p/e in the low 20's, a PEG just over 1.0 and a Price/Sales ratio near the lowest in its group. In addition, the chart looks reasonably strong recently, although the stock appears to have spent most of 2005 consolidating. Could be an interesting pick!

Thanks again for stopping by and visiting. If you have any comments or questions, please feel free to leave them on the blog or email me at bobsadviceforstocks@lycos.com.

Bob