March 10, 2006 Universal Security Instruments (UUU)
Hello Friends! Thanks so much for stopping by and visiting my blog,
Stock Picks Bob's Advice
. As always, please remember that I am an amateur investor, so please remember to consult with your professional investment advisors prior to making any investment decisions based on information on this website.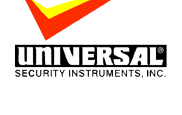 The market is bouncing back today which is always a relief! Looking through the
list of top % gainers on the AMEX
today I came across Universal Security Instruments Inc. (UUU) which as I write, is trading at $21.65/share, up $1.43 or 7.07% on the day. I do not own any shares nor do I have any options on this stock.

According to the
Yahoo "Profile" on UUU
, the company
"...engages in the design and marketing of various safety products consisting primarily of smoke alarms, carbon monoxide alarms, and related products. It markets a line of residential smoke alarms that include battery, electrical, and electrical with battery backup alarms, as well as outdoor floodlights under the name 'Lite Aide', carbon monoxide alarms, door chimes, and ground fault circuit interrupters."
Let's take a look at the key things that I used to include this stock in the blog this afternoon:
1) Latest quarterly result.
On February 13, 2006, Universal Security
announced 3rd quarter 2006 results
. For the third quarter ended December 31, 2005, sales climbed 26% to $7.4 million from $5.8 million in the same quarter the prior year. Earnings jumped 78% to $.80/diluted share, up from $.45/diluted share the prior year.
2) Longer-term results.
Reviewing the
"5-Yr Restated" financials from Morningstar.com
, we see that revenue has been growing steadily from $7.7 million in 2001 to $23.5 million in 2005 and $27.5 million in the trailing twelve months (TTM).
Earnings have also improved almost perfectly (except for a dip from $1.54/share in 2003 to $1.49/share in 2004) from a loss of $(.62)/share in 2001 to $1.94/share in 2005 and $2.42/share in the TTM.
Free cash flow has been less than perfect with $-0- reported in 2003 and $-0- reported in the TTM.
The balance sheet appears solid with $1.1 million in cash and $10.5 million in other current assets balanced against $3.0 million in current liabilites. This results in a 'current ratio' of almost 4. There are no long-term liabilities reported on Morningstar.

3. Valuation.
Looking at
Yahoo "Key Statistics" on UUU
, we can see that this is a TINY company with a market capitalization of only $36.65 million. The trailing p/e is nice at 8.95, and the price/sales ratio comes in at 1.24.
Referring to the
Fidelity.com eResearch website
, we find that UUU is in the "Electronics Wholesale" industrial group. Within this group, Universal Security is actually the richest in valuation when measured by Price/Sales ratios. Coming in at 1.3, this tops the group which is followed by W.W. Grainger (GWW) at 1.2, Wesco International (WCC) at 0.7, Arrow Electronics (ARW) at 0.4, Avnet (AVT) at 0.3 and Bell Microproducts (BELM) at 0.1.
Going back to Yahoo, we can see there are ONLY 1.69 million shares outstanding with 1.00 million of them that float. Of these 793 shares were out short as of 2/10/06, representing 0.1% of the float or 0.2 trading days of volume. This doesn't look significant to me. No cash dividend is reported and the last stock split was a 4:3 split 4/6/04.
4. The chart.
Looking at a
"Point & Figure" chart on UUU from StockCharts.com
: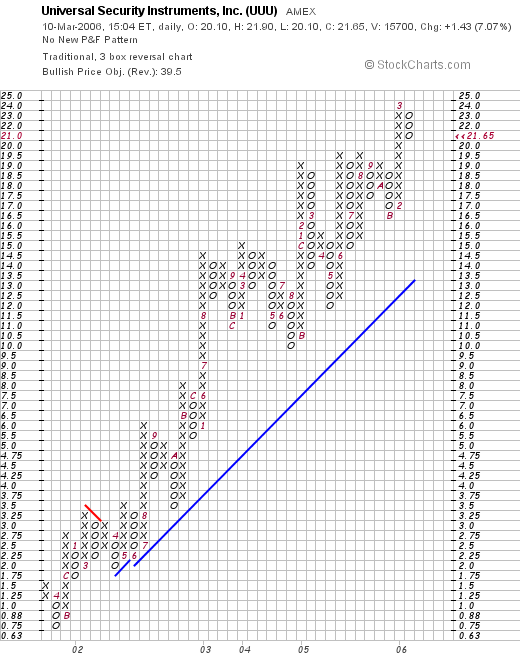 We can see what appears to me to be a phenomenal graph with the stock climbing from $.75/share in April, 2001, to the current $21 level. The chart is actually quite strong!


So in conclusion, what do I think about this stock? Well, the very small capitalization of a stock is always intriguing to me. What I do like about the stock is the very strong quarterly report, with solid growth in both revenue and earnings, the nice Morningstar report which shows historic revenue and earnings growth, and a solid balance sheet. Valuation is nice with a p/e under 10, but the Price/Sales is actually fairly high in its group. In addition, the chart is fabulous.

On a downside, the company is not generating any free cash as far as I can tell. But the rest of the financials are superb. Unfortunately, with a micro-cap stock like this, volatility is likely to be pretty significant. And I am not in the market to be buying anything anyhow :(, as I haven't sold any stocks to give me the 'permission' to purchase a new position.

Thanks so much for stopping by and visiting! If you have any comments or questions, please feel free to leave them on the blog or email me at bobsadviceforstocks@lycos.com. Have a great weekend!

Bob