Candela Laser (CLZR) Revisiting a Stock Pick
Click ***HERE*** for my PODCAST ON CANDELA
Hello Friends! Thanks so much for stopping by and visiting my blog,
Stock Picks Bob's Advice
. As always, please remember that I am an amateur investor, so please remember to consult with your professional investment advisors prior to making any investment decisions based on information on this website.

I was looking through the
list of top % gainers on the NASDAQ
today, and came across Candela Laser (CLZR) which as I write is trading at $20.68, up $1.48 or 7.76% on the day. I do not own any shares nor do I have any options on this stock.

I first
reviewed CLZR on Stock Picks Bob's Advice
on January 28, 2004, a bit over two years ago, when it was trading at $26.38. CLZR split 2:1 on 3/17/04, giving my pick an effective price of $13.19. With today's price of $20.68, this represents a gain of $7.49 or 56.8% since posting on the blog.
Let's take a closer look at this company and I will share with you my thinking as to why this stock deserves a second look.
First of all, what they do:
According to the
Yahoo "Profile" on Candela
, the company
"...engages in the research, development, manufacture, marketing, sale, and servicing of lasers and light-based products used to perform aesthetic and cosmetic procedures worldwide. Its product line includes GentleLASE family of lasers for the treatment of unwanted hair and for the treatment of vascular lesions, pigmented lesions, and wrinkles; Vbeam for the treatment of vascular lesions, wrinkles, psoriasis, and other conditions; ALEXLAZR for the treatment of pigmented lesions and tattoos; Smoothbeam diode laser for nonablative dermal remodeling of wrinkles, and the treatment of acne and acne scars; C-beam pulsed dye laser for treatment of psoriasis and surgical scars; and Ellipse Intense Pulsed Light system for the improvement of sun-damaged skin by photo rejuvenation through removal of both vascular and dyspigmentation."
And how about the latest quarterly result?
On January 31, 2006, Candela
reported 2nd quarter 2006 results
. For the quarter ended December 31, 2005, revenues came in at $37.7 million, a 34% increase over the $28.2 million reported in the year-earlier figure. Income from continuing operations climbed 158% to $4.5 million, from $1.75 million the prior year same period. On a per share basis, earnings grew 171% to $.19/share from $.07/share last year.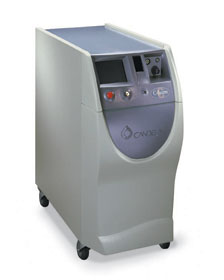 What about longer-term results?
Reviewing the
Morningstar.com "5-yr Restated" financials on CLZR
, we can see that revenue actually dipped from 2001 when it was $60.9 million to $58.7 million in 2002. However, since 2002, revenue has grown steadily and strongly to $123.9 million in 2005 and $139.1 million in the trailing twelve months (TTM).
Earnings have also been a bit erratic, dropping from $.11/share in 2001 to a loss of $(.11)/share in 2002, then climbing to $.36/share in 2004, dropping to $.32/share in 2005 and to $.40 in the TTM.
Free cash flow has also bounced around a bit, dropping from $10 million in 2003 to $0 in 2004, then has climbed strongly to $18 million in 2005 and $12 million in the TTM.
Reviewing the Morningstar.com balance sheet, we find that CLZR has $52.6 million in cash and $49.5 million in other current assets. When balanced against the $32.3 million in current liabilities, this yields a current ratio of of more than 3.0. (Stocks with a current ratio of 1.5 or higher are generally considered financially health at least in the short run.) In fact, the $52.6 million in cash is enough by itself to pay off the combined $32.3 million in current liabilities and the $5.6 million in long-term liabilities.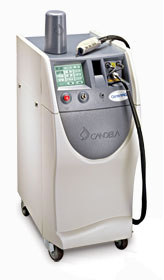 What about some 'valuation' numbers?
Looking at the
Yahoo "Key Statistics" on Candela Laser
, we can see that this is a small cap stock with a market capitalization of only $484.04 million. The trailing p/e is rich at 51.71, but the forward p/e is better at 23.47 (fye 02-Jul-07). With the rapid growth anticipated (5 yr expected), we have a PEG of only 0.90. (PEG's under 1.0 are downright cheap imho.)
Checking the
Fidelity.com eresearch website
, for the Price/Sales ratio assessment, we can see that Fidelity has assigned Candela Laser to the "Medical Appliances/Equipment" industrial group. Within this group, CLZR is moderately priced relative to the Price/Sales ratio. Topping the group is St. Jude Medical (STJ) at a Price/Sales ratio of 5.7. This is followed by Zimmer Holdings (ZMH) at 5.2, Biomet (BMET) at 4.4, then Candela (CLZR) at 3.2, Edwards Lifesciences (EW) at 2.8 and Medtronic, with a Price/Sales ratio of 0 (?) (Yahoo actually assigns Medtronic with a Price/Sales ratio of 5.84...which makes more sense to me!).
What about some other statistics on this stock?
Going back to Yahoo, we find that there are 23.17 million shares outstanding with 22.93 million of them that float. As of 2/10/06, there were 1.14 million shares out short, representing 5% of the float or 1.14 trading days of volume. (the short ratio).
No dividends are reported, and as noted above, the stock last split 3/17/04, when it declared a 2:1 split.
How about a chart?
Reviewing a
"Point & Figure" chart on Candela from StockCharts.com
: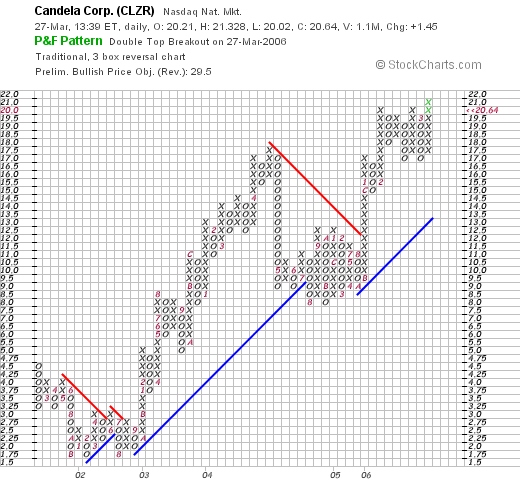 We can see that the stock traded weakly from May, 2001, when it hit $4.25, down to a low of $1.75 in February, 2002. Since then, the stock was trading strongly higher, until it hit a weak period between April, 2004, and November, 2004, when it hit an intermediate low at $7.50. After breaking through resistance in August, 2005, at around $12.50, the stock has been trading higher once again. Over-all the graph looks fine to me.

So what do I think?

Well, this is an interesting stock! I like the latest quarterly results, the Morningstar.com "5-Yr" wasn't bad, free cash flow is positive and the balance sheet is solid. The chart looks nice, and valuation-wise, we have a PEG under 1.0, and the Price/Sales in the midst of its industrial group. This stock is a very small cap company, so that imho means volatility, but also the possibility of sustained growth over the longer-haul.

Thanks so much for stopping by and visiting! If you have any comments or questions, please feel free to leave them on the blog or email me at bobsadviceforstocks@lycos.com.

Bob
Posted by bobsadviceforstocks at 1:32 PM CST |
Post Comment
|
Permalink
Updated: Monday, 27 March 2006 9:41 PM CST