April 6, 2006 Immucor (BLUD)
Click ***HERE*** for my PODCAST ON IMMUCOR
Hello Friends! Thanks so much for stopping by and visiting my blog,
Stock Picks Bob's Advice
. As always, please remember that I am an amateur investor, so please remember to consult with your professional investment advisors prior to making any investment decisions based on information on this website.

The market is in a bit of a correction today, but that doesn't stop me from looking for stocks of interest! In fact, looking through the
list of top % gainers
today, I came across Immucor (BLUD) which seems to fit the criteria on this blog quite well. I do not own any shares nor do I have any options on this stock. As I write, BLUD is trading at $30.76, up $2.00 or 6.95% on the day.
Let's run through this stock so that I can share with you my thinking on why it looks attractive.
First of all its business. According to the
Yahoo "Profile" on Immucor
, the company
"...engages in the development, manufacture, and marketing of immunological diagnostic medical products primarily in North America and Europe. It offers a line of reagents and automated systems that are used by hospitals, clinical laboratories, and blood banks in various tests performed to detect and identify various properties of cell and serum components of human blood."
It was the
announcement of 3rd quarter results
after the close of trading yesterday that resulted in the sharp rise of the Immucor stock price in today's trading. Immucor reported that for the third quarter 2006 ended February 28, 2006, revenues grew 24% to $47.1 million from $38.0 million in the same quarter last year. Net income came in at $11.7 million, up 81% from the $6.5 million the prior year same period. On a per share basis, this was $.25/share, up strongly from $.14/share on actually 500,000 fewer shares outstanding. In addition, the company provided strong guidance for the upcoming quarter:
"The company expects revenues for the fiscal year ending May 31, 2006 to range from $180.0 million to $183.0 million, an increase of approximately 24% to 26% over fiscal 2005 revenues. Gross margin is expected to be in the range of 65% to 66%. Net income is expected to be in the range of $38.3 million to $40.6 million, an approximate 62% to 70% increase over fiscal 2005. We expect to generate earnings per diluted share in the range of $0.81 to $0.85 for the fiscal year."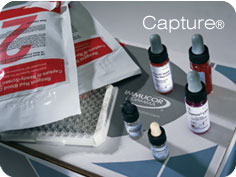 What about longer-term results?
For that, let's review the
"5-Yr Restated" financials on Morningstar.com on BLUD
.
First of all, looking at revenue growth, BLUD presents a very nice picture with steady growth from $69.8 million in 2001 to $144.8 million in 2005 and $166.5 million in the trailing twelve months (TTM).
The earnings picture is almost as nice, with a loss of $(.22)/share in 2001, improving to income of $.23/share in 2003. Earnings improved steadily except for a hiccup in 2004 when earnings dropped to $.27/share from $.31 the prior year. Otherwise, after that, earnings resumed their march higher with $.50/share reported in 2005 and $.65/share in the TTM. The number of shares, which grew from 37 million in 2002 to 45 million in 2005, has now dropped slightly to 44 million in the TTM. This was noted in the earnings report and is a nice development for Immucor.
Free cash flow has been positive and steadily increasing from $15 million in 2003 to $35 million in 2005 and $47 million in the TTM.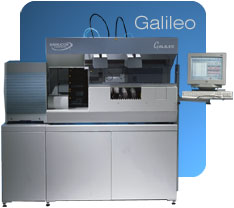 How about the balance sheet? Morningstar.com reports BLUD with $36.4 million in cash and $61.2 million in other current assets. This combined $97.6 million, when balanced against the $28.1 million in current liabilities yields a current ratio of greater than 3. Anything 1.5 or higher looks nice. This balance sheet is solid.
In addition, the company has $15 million in long-term liabilities.
How about some valuation numbers on this stock?
Reviewing
Yahoo "Key Statistics" on Immucor
, we can see that this is a mid-cap stock with a market capitalization of $1.37 billion. The trailing p/e is a bit rich at 47.59, but with the fast growth anticipated, the forward p/e (fye 31-May-07) is a more reasonable 27.20 and results in a PEG (5 yr expected) of only 1.15. Thus valuation from at least this perspective doesn't look too rich.
Examining the
Fidelity.com "eresearch" website
for some additional information, we can see that Fidelity assigns BLUD to the "Diagnostic Substances" industrial group.
Within this group, BLUD is moderately priced with a Price/Sales ratio of 8.2. Topping this group is Human Genome Sciences (HGSI) with a Price/Sales ratio of 71.5, followed by Myriad Genetics (MYGN) at 9.3. Immucor is next at 8.2, Digene (DIGE) at 6.1, QLT (QLTI) at 2.9 and Dade Behring (DADE) brings up the rear at 1.9. Thus, while no screaming bargain from this perspective, valuation does not appear to be out of line in terms of other stocks in the same group.
Going back to Yahoo for a few more numbers on this stock, we can see that there are 44.43 million shares outstanding with 43.88 million of them that float. Currently there are 1.72 million shares out short representing 5.7 trading days of volume. Using my own "3 day rule" on short interest, this looks significant and may well be adding to the buying pressure driving this stock higher. It does look like the short-sellers may be throwing in the towel on this company, for the prior month, the short interest was at 1.93 million shares.
No cash dividend is paid, and the last stock split was a 3:2 split on December 14, 2004.
What about the chart?
If we review a
"Point & Figure" chart on BLUD from StockCharts.com
, we can see that this stock, after consolidating at the $.50/share level in 2001, climbed strongly higher in 2002 to $5/share, and then surged ahead from July, 2002, to a high of $36 in June, 2005. The stock corrected down to a level of $22 in November, 2005, until once again moving higher to the current $31 level range. The chart looks strong as well!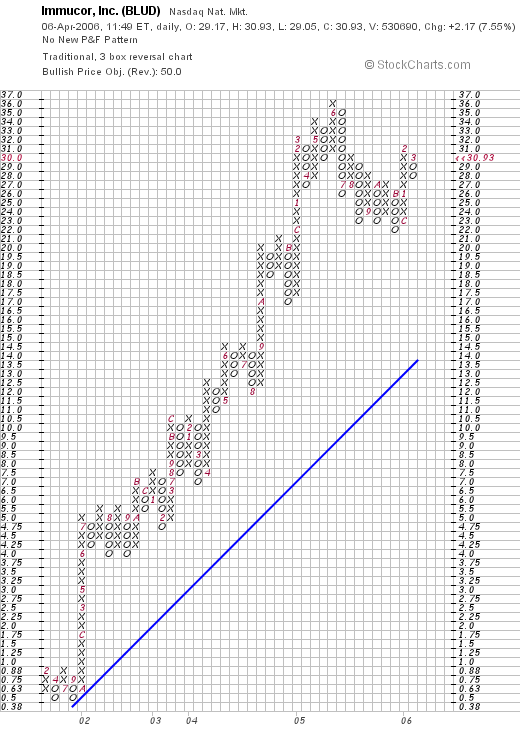 So what do I think? Well, I like this stock a lot. The latest quarterly result was superb, the Morningstar analysis looks terrific, free cash flow is positive and growing and the balance sheet is strong. While the p/e ratio is a bit high in the 40's, with the rapid growth, the forward p/e drops in to the 20's and the PEG is just over 1. Even the Price/Sales, which is also a bit richly valued may be worth it. Just my thought anyhow!

Unfortunately, I am not in the market to be buying any stocks. But if I were..... Anyhow, thanks so much for stopping by and visiting! If you have any comments or questions, please feel free to leave them on the blog or email me at bobsadviceforstocks@lycos.com.

Bob
Posted by bobsadviceforstocks at 11:13 AM CDT |
Post Comment
|
Permalink
Updated: Thursday, 6 April 2006 10:17 PM CDT