A Reader Writes "...what your thoughts are for GME at these prices."
Hello Friends! Thanks so much for stopping by and visiting my blog,
Stock Picks Bob's Advice
. As always, please remember that I am an amateur investor, so please remember to consult with your professional investment advisors prior to making any investment decisions based on information on this website.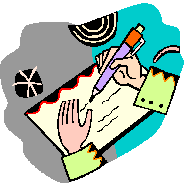 I had a nice email from Dave last week who inquired about my thoughts about some of his holdings. Dave wrote:
"hi,
i was curious what your thoughts are for GME at these prices. i tend to buy into stocks that i am willing to hold 3 yrs if neccessary. i currently hold mo, lm, mrh and gme.
tks,
dave"
Well first of all, thank you for writing! I haven't looked at GameStop (GME)recently, so this is a nice time to take a look at this company that I have reviewed previously on Stock Picks Bob's Advice. In fact, I
posted GameStop on Stock Picks
on November 14, 2004, when it was trading at $23.50. With GameStop closing Friday, April 13, 2006, at $46.85, this represents a gain of $23.36 or 99.4% since posting. I do not have any shares nor do I own any options on this stock.

But that wasn't you question was it? You didn't ask me if my stock pick has done well, but how is GME doing
now
? Well, let's take a fresh look at this company!
First of all, what do they do? According to the
Yahoo "Profile" on GameStop
, the company
"...operates as a retailer of video game and entertainment software worldwide. It has approximately 4,200 retail stores throughout the United States, Australia, Canada, Denmark, Finland, Germany, Italy, Ireland, New Zealand, Norway, Puerto Rico, Spain, Sweden, Switzerland, and the United Kingdom. GameStop sells new and used software, hardware, and game accessories for the PC and next generation video game systems from Sony, Nintendo, and Microsoft."
My first step at looking at a company remains looking at the latest quarterly results. On March 21, 2006, GameStop
reported 4th quarter 2005 results
. For the quarter ended January 28, 2006, sales grew 135.2% to $1.7 billion in the quarter compared to $708.7 million in sales in the prior year same quarter. This FABULOUS result needs to be taken with a 'grain of salt' because most of the gain was related to the addition of Electronic Boutique store sales, a chain that was acquired in October, 2005. More revealing, perhaps, is the same store sales figure which showed a
decrease
of 0.3% during the quarter. Earnings came in at $85.0 million, up from $34.5 million the prior year same period. Diluted earnings per share came in at $1.10/share in the quarter, up strongly from the $.64/diluted share in the same period last year. This exceeded prior guidance from the company.
So the company managed an apparently very successful acquisition with increased sales AND earnings although same-store sales actually declined. IMHO, it will be important to observe the same store sales numbers. The company cannot continue to report great sales and earnings growth long-term, unless the same store sales figures improves.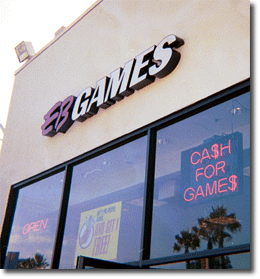 To assess longer-term results, let's take a look at the
Morningstar.com "5-Yr Restated" Financials on GameStop
.
First of all revenues have grown nicely from $1.35 billion in 2003 to $1.84 billion in 2005 and $2.02 billion in the trailing twelve months (TTM). Earnings have been a bit less impressive, at least as reported on Morningstar.com (which apparently does not take into consideration the latest quarter), with $1.06 reported in 2004, dropping to $1.05 in 2005 and back up to $1.14 in the TTM. These numbers should look nicer as soon as the site is updated (?) including the latest quarter (?). The number of shares is actually decreasing slightly with 56 million in 2004, 55 million in 2005, and 52 million in the TTM.
Free cash flow which came in at $53 million in 2003, dropped to $7 million in 2004, rebounded to $48 million in 2005 and now is at a negative $(3) million in the TTM.
The balance sheet is satisfactory with $99 million in cash and $309.1 million in other current assets. Balanced against the $281.9 million in current liabilities, gives us a 'current ratio' of 1.45. This is close to the arbitrary cut-off of 1.5 for determining a 'healthy' balance sheet, insofar as current assets and liabilities is concerned. The company also has a modest $59.7 million in long-term liabilities as reported on Morningstar.com.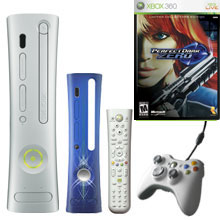 And how about some valuation numbers on this stock?
Reviewing the
"Key Statistics" on GameStop from Yahoo
, we can see that the market capitalization is a large cap $3.41 billion. The trailing p/e isn't bad at 29.05, and the forward p/e (fye 28-Jan-08) looks nicer at 18.67. The earnings are growing fast enough (5 yr expected) to give us a PEG of 1.10.
Taking a look at the
Fidelity.com eresearch website on GME
, we find that GameStop is in the "Electronics Stores" industrial group. Within this group, GME is actually near the top in valuation, with Best Buy (BBY) leading the way with a ratio of only 2.0. This is followed by GameStop (GME) with a ratio of 0.9, Radio Shack (RSH) with a ratio of 0.5, Circuit City (CC) with a ratio of 0.4, and Tweeter Home Entertainment (TWTR) at the bottom of the group with a Price/Sales ratio of only 0.2.
Reviewing some more data from the Yahoo "Key Statistics" page, we find that there are 72.80 million shares outstanding with 64.96 million that float. Currently there are 10.91 million shares out short representing 16.5 trading days of volume (the short ratio). This is as of 3/10/06, and is up from the prior month's 10.2 million share short interest. This is significant to me as I use a 3 day short ratio to determine significance. In the event of positive news, there could be a short squeeze on this stock. On the other hand, if negative news is released, as so many of these short-sellers must suspect, the stock may drop but these short-sellers will likely be buyers to support the price. In general, a large short-interest is bullish, but that is in the face of a large percentage gain when I am reviewing stocks.
And what about the latest chart? Does it look encouraging?
Reviewing the
"Point & Figure" chart on GameStop from StockCharts.com
: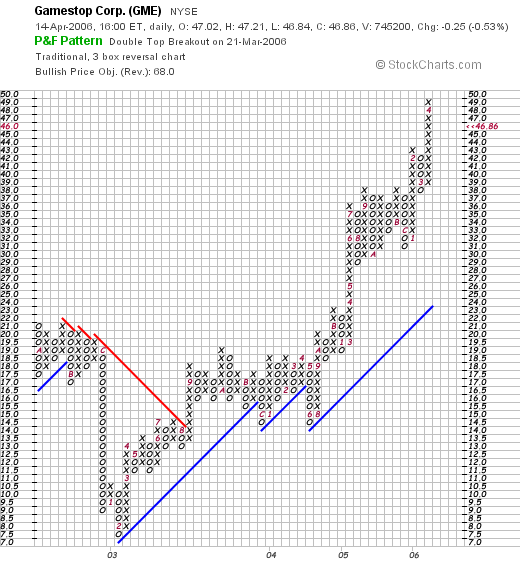 We can see that the price of GameStop stock actually broke down between September, 2002, when it was trading at $21/share, until February, 2003, when it bottomed at $7.50/share. The stock subsequently has been moving strongly higher to its current level of $46.86. The chart looks strong if a bit 'over-extended' (trading above its 'blue' support line) to me.

So what do I think?

Do I think the stock is a good buy at this price? Perhaps. The latest quarterly result was fabulous with what appears to be an excellent synergy between GameStop and the Electronics Boutique acquisition. The only disturbing thing on that report was the negative same store sales numbers, suggesting a declining retail report. This is overshadowed by the gigantic increase in overall sales and earnings, but is still of concern to me.

The Morningstar.com report looks nice, except for the negative free cash flow on the latest reporting period available on that page. I would monitor that number closely also.

The balance sheet is o.k., but is a bit heavy on current liabilities. Not much, but a little.

Valuation-wise, the company has a nice PEG, and the Price/Sales figure, while low absolutely, is still a bit high compared to other companies in the same industrial group. Finally, the chart looks very strong.

So would I buy at this figure. Probably not. I am stuck on that same-store-sales figure in the latest quarterly report and the negative free cash flow figure on the Morningstar page. When these two numbers turn around, which they may very well do, then I would be a strong advocate of this stock if it were found on the list of top % gainers.

I hope that helps :). Please remember that I am truly an amateur investor, so I use my basic analysis approach in trying to sort out good stocks for investment from others. I have written up GME in the past, it has performed well for me since on the blog, and I wish you the best of luck with your investments as well. Please let me know how they all work out for you.

If you have any comments or questions, please feel free to leave them on the blog or email me at bobsadviceforstocks@lycos.com. Please also remember to come visit my Stock Picks Bob's Advice Podcast Site, where you can hear me talk about many of the same stocks I blog about here!

Hope you all have a very Happy Easter!

Bob
















Posted by bobsadviceforstocks at 11:05 AM CDT |
Post Comment
|
Permalink
Updated: Friday, 14 April 2006 12:05 PM CDT