April 18, 2006 Franklin Electric (FELE)
CLICK HERE FOR MY PODCAST ON FRANKLIN ELECTRIC
Hello Friends! Thanks so much for stopping by and visiting my blog,
Stock Picks Bob's Advice
. As always, please remember that I am an amateur investor, so please remember to consult with your professional investment advisors prior to making any investment decisions based on information on this website.

Sure was a strong market today! Seemed like everything was moving higher. But that doesn't really affect my strategy. I am waiting for my stocks to hit their targets before selling anything and before adding a new position. But that doesn't mean I stop looking for new names to discuss here!
Scanning the
list of top % gainers on the NASDAQ
today, I came across Franklin Electric Co. (FELE) which had a great day as well, closing at $60.77, up $7.77 or 14.66% on the day. I do not own any shares nor do I have any options on this stock. Let me share with you why I like this particular company, a company I don't recall ever looking at before today!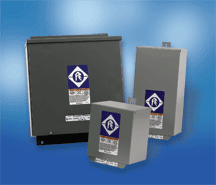 Let me take you some of the steps I use to identify my "stock picks" for this blog.
1. What does this company do?
According to the
Yahoo "Profile" on Franklin Electric
, the company
"...together with its subsidiaries, engages in the design, manufacture, and distribution of groundwater and fuel pumping systems, electronic controls, and related parts and equipment. The company offers submersible motors, drives, pumps, controls, and monitoring devices. Its motors and pumps are used in submersible applications for pumping fresh water, fuel, wastewater, and other liquids in various applications, including residential, industrial, agriculture, fueling, off-shore drilling, and mining."
2. How did the company do in the latest quarter?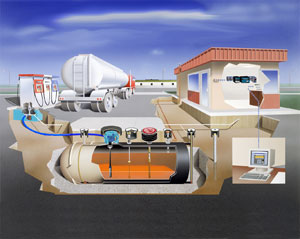 Well this is
exactly
what drove the stock higher today! Because, after the close of trading yesterday, the company
announced 1st quarter 2006 results
. For the quarter ended April 1, 2006, sales came in at $111.0 million, up 35% from $82.4 million in the same quarter the prior year. Net income grew 67% to $9.7 million from last year's $5.8 million. On a per share basis, this worked out to $.42/share, up 68% from $.25/share the prior year. This was a SOLID quarter imho.
3. How about longer-term results?
My favorite place to get this information is the
Morningstar.com "5-Yr Restated" financials on Franklin Electric
. Starting with revenue, we can see the steady growth in revenue from $322.9 million in 2001 to $439.6 million in 2005. Earnings/share also have increased in an extremely steady fashion from $1.20/share in 2001 to $1.98/share in 2005. The company
also
pays a dividend and has been
consistently
increasing that dividend each year from $.24/share in 2001 to $.38/share in 2005. Finally, looking at the number of shares outstanding, looking again for steady numbers, we can see that the company had 22 million shares in 2001 and kept the number steady, reporting 22 million shares in 2005.
Free cash flow is positive and growing with $32 million reported in 2003, growing to $56 million in 2005.
Finally, looking at the balance sheet, we find the company with $88.1 million in cash, enough to pay off all of the current liabilities as well as much of the $48.2 million in long-term liabilities. Calculating the "current ratio", which is a comparison of total current assets (the $88.1 million in cash
and
the $114.9 million in other current assets) compared with the $64 million in current liabilites gives us a ratio of 3.2. Using 1.5 as a signal of good health, this is a solid current ratio. The balance sheet also looks nice to me!
4. How about some valuation numbers?
Reviewing the
Yahoo "Key Statistics" on Franklin Electric
, we find that this company is a mid-cap stock with a market capitalization of $1.37 billion. The trailing p/e is a moderate 30.65 and the forward p/e (fye 31-Dec-07) is even nicer at 21.78. With the rapid growth anticipated, valuation looks even more reasonable with a PEG (5 Yr expected) of only 1.18.
Using the
Fidelity.com eresearch website
, we find that this company is in the "Industrial Electrical Equipment" industrial group. There is a wide range of valuation in this group on Price/Sales ratios, with Ballard Power (BLDP) topping the group with a ratio of 18. Franklin Electric (FELE) is next at 2.8, Emerson Electric (EMR) follows with 1.9, GREATBATCH (GB) is next at 1.8, ITT Industries (ITT) at 1.4, and Energizer (ENR) at 1.1. Thus by this ratio, Franklin is on the richer valuation end of the group.
Finishing up with Yahoo we find that there are 22.49 million shares outstanding with 18.19 million that float. As of 3/10/06, there were 800,160 shares out short, representing 15.9 average trading days of volume (the short ratio). If the shorts have not already covered (witness the large % gain today), there will be continued pressure on them to cover their sold shares to limit their losses as the stock price rises. This could be a significant factor in this stock.
As noted, the company pays a dividend of $.40/share yielding 0.80%. The last stock split was a 2:1 split on June 16, 2004.
What about a chart? Looking at the
"Point & Figure" chart on Franklin Electric Co. from StockCharts.com
, we can see that the stock has been gaining strength even as it rose during 2003, 2004 and 2005. Finally, in January, 2006, the stock moved sharply higher from the $40 level to $56, and now once again is on the upswing. The stock may be a bit over-extended by this certainly is a strong chart to me.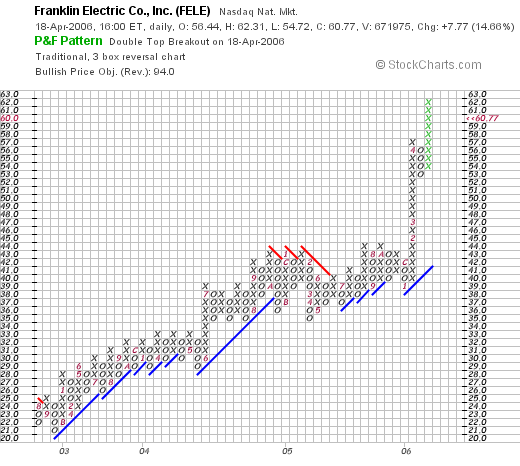 In summary, the stock had a strong move higher today, along with much of the entire stock market, yet still one of the top % gainers in the midst of all of the strong stocks today! They rose on the report of a SOLID quarterly report.

The company has had an extremely consist past five years. It is the consistency in growth that really attracts me to Franklin. Let's review the Morningstar once again: consistent revenue growth, consistent earnings growth, consistent dividend growth, steady free cash flow growth, unchanged # of shares, and a strong balance sheet. Valuation isn't too bad with a moderate p/e and a PEG just over 1.1. The Price/Sales is indeed a bit rich but then again, this one just might be worth it! On top of this, there are lots of shares out short and the chart is quite strong. What else could an investor want?

Thanks again for stopping by and visiting my blog. Please feel free to leave comments on the blog or email me with your comments or questions at bobsadviceforstocks@lycos.com Please be sure to visit my Stock Picks Bob's Advice Podcast Site!

Bob
Posted by bobsadviceforstocks at 9:53 PM CDT |
Post Comment
|
Permalink
Updated: Tuesday, 18 April 2006 11:17 PM CDT