Garmin (GRMN) May 3, 2006
Click HERE for my PODCAST ON GARMIN
Hello Friends! Thanks so much for stopping by and visiting my blog,
Stock Picks Bob's Advice
. As always, please remember that I am an amateur investor, so please remember to consult with your professional investment advisors prior to making any investment decisions based on information on this website.

This evening, looking through the
list of top % gainers on the NASDAQ
, I came across Garmin (GRMN) which deserves a place in this blog. Garmin closed at $96.43, up $8.51 or 9.68% on the day. Now the funny thing is, I am sure I have looked at this stock before, but I cannot find any entry :). (That is a sure sign I need that remodeling job that I am exploring even as I write!) I do not have any shares nor do I own any options on this stock.
Let me run you through the key points that impressed me when I was looking at this stock.
1. What does the company do?
According to the
Yahoo "Profile" on Garmin
, the company
"...through with its subsidiaries, engages in the design, manufacture, and marketing of navigation, communications, and information products, which are enabled by global positioning system (GPS) technology worldwide. It operates in two segments, Consumer and Aviation."
2. How about the latest quarterly result?
In fact, it was the
announcement of 1st quarter 2006 results
which pushed the stock higher today.
The company reported strong results with revenue climbing 67% to $322.3 million from $192.7 million in the same period a year earlier. Net income almost doubled to $87.5 million from $47.4 million the prior year same period. On a per share basis this worked out to $.80/share, up from $.43/share last year. As part of the "trifecta", exceeded analysts expectations:
"In a Thomson Financial poll, analysts forecast profit of 67 cents on sales of $256 million."
To top off the report, the company raised guidance. Analysts have been expecting 2006 profit of $3.22 on sales of $1.32 billion. The company guided higher:
"Garmin said it is looking for per-share earnings to top $3.40 this year and revenue to exceed $1.4 billion. The company projected sales growth of between 10 percent and 20 percent in its aviation, outdoor fitness and marine businesses. The automotive segment is forecast to see sales surge more than 75 percent this year."
I guess the only other thing a company can announce to push the price higher and attract interest is a stock dividend, and Garmin didn't disappoint, and announced a 2:1 stock split payable December 15th. What else could an investor want?
3. How about longer-term results?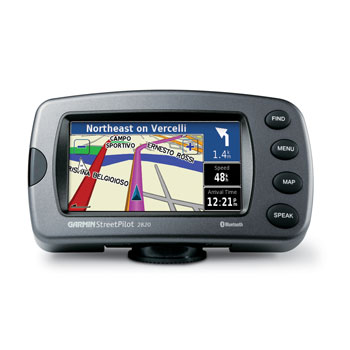 For this information, I like to review what I consider to be an important page of information, the
Morningstar.com "5-Yr Restated" financials on Garmin
. Starting first with revenue growth, I am very impressed with the consistent increase from $369 million in 2001 to $1.028 billion in 2005. Earnings/share have increased steadily as well from $1.05/share in 2001 to $2.85/share in 2005. In addition, the company started paying a $.50/share dividend in 2003 and has paid this $.50/share in 2004 and 2005. An additional point from this page is the consistency in the number of shares outstanding with 108 million reported in 2001, and 108 million in 2005.
And the free cash flow? This has been positive and essentially growing from $141 million in 2003 to $131 million in 2004 and $220 million in 2005.
The balance sheet looks strong to me with $366.4 million in cash which by itself could pay off both the $195.5 million in current liabilities and the negligible $9.5 million in long-term liabilities combined more than 1.5x over. If we combine the current assets, we can calculate a current ratio of 4.1. (over 1.5 is healthy).
4. What about some valuation numbers on this stock?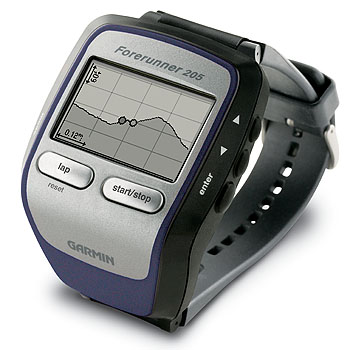 reviewing the
Yahoo "Key Statistics" on Garmin
, we can see that this is a large cap stock with a market capitalization of $10.43 billion. The trailing p/e is 33.81, with a forward p/e (fye 31-Dec-07) of 26.56. The PEG is a bit rich as well at 1.81.
Garmin is also priced richly by the Price/Sales ratio, which is reported at 9.3 for this company by the
Fidelity.com eresearch website
. Topping this industrial group of "Scientific/Tech. Instruments" is SiRF Technology (SIRF) with a Price/Sales ratio of 11.5. This is followed by Garmin at 9.3, Flir Systems (FLIR) at 3.9, Fisher Scientific (FSH) at 1.7 and Beckman Coulter (BEC) at 1.4.
Finishing up with Yahoo, we can see that therer are 108.21 million shares outstanding with only 59.96 million of them that float. As of 4/10/06 there were 8.07 million shares out short representing 13.0% of the float. This is a significant short interest imho, with a short ratio of 8.3. The shares out short could well have been part of the strong price rise today on the announcement of fabulous earnings news! As noted, the company pays a $.50/share dividend yielding 0.60%. No prior stock splits are reported on Yahoo...except the current anticipated slip in December, 2006.
5. What about a chart?
Reviewing the
"Point & Figure" chart on Garmin from StockCharts.com
: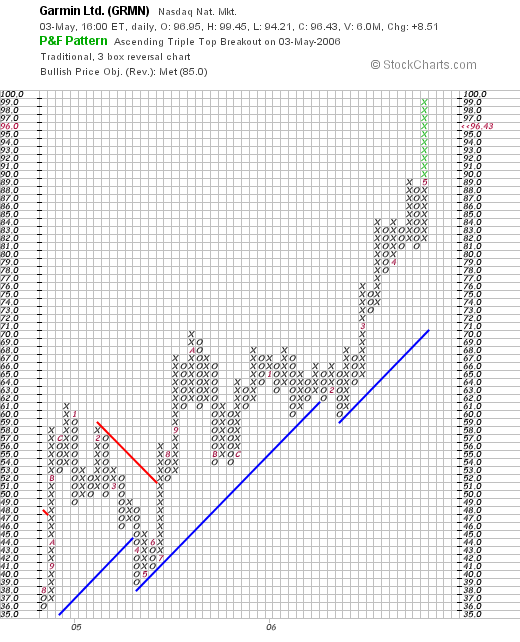 We can see what I would have to call a gorgeous chart with a steady increase from $35 in August, 2004, to the current level of $96.43. The chart appears quite strong to me.

6. Summary. What do I think?

Let's review, the company reported what I would call an impeccable earnings report today before the open of trading with extremely strong revenue and earnings growth. They beat expectations. They raised guidance. They are splitting the stock! WOW.

The Morningstar.com report is also gorgeous with steady and strong revenue and earnings growth, the company pays a small dividend and has been holding the line on the number of shares outstanding. The company is showing increasing free cash flow and the balance sheet is strong with loads of cash and little debt. Valuation-wise, the PEG is over 1.5 but under 2, and the Price/Sales ratio is also rich. So this isn't priced on sale...but still.... The company has a significant number of shares out short and the chart looks nice. There are a lot of things going for this company and this stock. Now, if I were only in the market to buy some shares.

You will note that I haven't been talking about the products. The fish-finders. The GPS systems. THAT is the 'story' behind the company. What makes me tick are all those fundamental stuff that imho makes the stock move. Not the story. Doesn't really matter to me!

Thanks so much for stopping by and visiting. If you have any comments or questions, please feel free to leave them on the blog or email me at bobsadviceforstocks@lycos.com. Please be sure to visit my Stock Picks Bob's Advice Podcast Website where you can download an mp3 of me commenting on many of these same stocks in my blog!

Bob