Happy Birthday to Me! (Stock Picks Bob's Advice)
Hello Friends! Just a quick note to let you know that I am now celebrating my third birthday on Stock Picks Bob's Advice!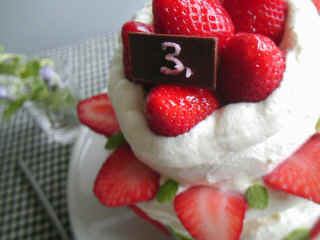 Please enjoy a slice of my birthday cake!

On May 12, 2003, I posted St Jude Medical on Stock Picks Bob's Advice with the following entry:
"St Jude Medical
This is one I picked up today. STJ is the stock symbol. I do not as I write and publish this own any shares. Am thinking about suggesting this to my stock club. Company had a great day today with a nice move on the upside. Last Quarter was good and the past five years have been steady growth. Closed at $55.30 up $2.92. So the daily momentum helped it make the list."
And how did that pick do? Well, St. Jude
has
been under pressure recently. But with the 2:1 stock split on November 23, 2004, my pick price was actually $27.65. With STJ closing at $35.38 on 5/19/06, this still represents a gain of $7.73 or 28% since posting. Not fabulous, but not that bad either :).
And by the way, since the original post in May, 2003, I have now had 1,216 entries on this blog! My visit count is now up to 63,805, with 186 visits per day on the average. Just this past week I had 1,303 visits to my blog.
Other facts: I have a '
Xanga Shadow Blog
, where I post almost all of my blogs from Tripod. In addition, I now have a
podcast website
, where for the past six months, my first podcast was on November 27, 2005, and where I now rank in the top ten podcasts out of over 8,500 podcasts on Podomatic! It has been a blast!
Thanks so much for visiting my blog and making all of this possible. If you have any comments or questions, please feel free to leave them on the blog or email me at bobsadviceforstocks@lycos.com.
Bob