"Revisiting a Stock Pick" Diodes (DIOD)
CLICK HERE FOR MY PODCAST ON DIODES
Hello Friends! Thanks so much for stopping by and visiting my blog,
Stock Picks Bob's Advice
. As always, please remember that I am an amateur investor, so please remember to consult with your professional investment advisors prior to making any investment decisions based on information on this website.
The last month has been very hard on my portfolio and I am sure very hard on yours! I stick to my trading strategy and shall continue to sell stocks that hit my targets for selling and defer buying any new stocks until I have a signal to buy, which means either I am at my minimum number of positions (6) and have sold one of my remaining positions, or I have sold a portion of an existing position at a targeted gain. My positions are still rather extensive, numbering numbering 16 positions, so this isn't likely soon. And I don't have any stocks near sell-points on the upside. So I sit tight and wait for the selling to conclude; monitoring my stocks and selling anything that hits a selling price on the way down.
In the midst of this negative environment, we can still be looking for new names in the market. There are always some stocks moving higher when the rest are moving in the other direction. It is my challenge to monitor these stocks and find possible investments that could be considered if I did have the appropriate buy signal.

Looking through the
list of top % gainers on the NASDAQ
today, I came across an old favorite of mine, Diodes (DIOD) which closed at $38.39, up $4.94 or 14.77% on the day. I actually
do
own 240 shares of this stock in a managed IRA account that I do not control or direct. I first
posted Diodes (DIOD) on Stock Picks Bob's Advice
on June 14, 2005, almost exactly one year ago, when the stock was trading at $33.30/share. The stock split 3:2 on December 1, 2005, giving my stock pick an effective price of $22.20. Given today's close at $38.39, this gives my pick from one year ago an appreciation of $16.19 or 72.9% since posting!
Let's take a closer look at this stock and I will share with you my observations on the characteristics that make this stock still attractive to me!
1. What does this company do?
According to the
Yahoo "Profile" on Diodes
, the company
"...engages in the design, manufacture, and marketing of discrete and analog semiconductor products worldwide focusing on various end user applications in the consumer electronics, computing, industrial, communications, and automotive sectors."
2. Is there any news to explain today's big move?
Checking Yahoo
"Healines" on Diodes
, I noted a couple of stories regarding company guidance. In a
story from the AP
, the company is reported to have guided its second quarter revenue
higher
with revenue growth of 10 - 12%
sequentially
up from prior guidance of 3 - 6% revenue growth. As noted in the article, this works out to expected revenue of $81-$82.4 million up from the first quarter revenue of $73.6 million. This is also higher than analysts were expecting which was revenue of $77 million. In addition, the company expects second-quarter profit margin to increast "slightly" from 32.9% in the first quarter. Thus, not only is revenue to grow faster than expected, the margin on the revenue is also increasing which should also lead to even higher earnings. This was a win-win announcement that led to the stock moving higher in fact of a lousy trading environment!
3. How did the company do in the latest reported quarter?
Diodes
reported 1st quarter 2006 results
last month on May 4, 2006. As reported:
"- Revenues increased 51% year-over-year and 20% sequentially to
$73.6 million

- Operating income increased 19% to $10.8 million; pro forma up 36% to
$12.4 million

- Net income increased 29% to $9.3 million, or $0.34 per share"
These were nice results especially with the sequential growth reported. The latest news about increased guidance for the upcoming quarter combined with the last quarter's report is terrific!
4. How about longer-term results?
Reviewing the
Morningstar.com "5-Yr Restated" financials
we see a steady pattern of revenue growth from $93.2 million in 2001 to $214.8 million in 2005 and $239.8 million in the trailing twelve months (TTM).
Earnings which were just break-even in 2001, grew to $.29/share in 2002, and $1.29/share in 2005 with $1.32/share reported in the TTM.
During this time, the company has rather aggressively increased its float from 14 million shares to 23 million shares in 2005 and 26 million in the TTM. This almost doubling of shares outstanding was still outpaced by the rapid growth in earnings and revenue with revenue more than doubling, and earnings more than quadrupling since 2002.
And the free cash flow? Morningstar reports DIOD with $3 million in 2003, $3 million in 2004, $31 million in 2005 and $27 million in the TTM. Clearly this trend at least recently looks nice.
How about the balance sheet? This looks great to me. The company has $99.5 million in cash. I like it when a company can pay off all of its libilities: short and long-term combined with cash alone. And DIOD does this with only $68.6 million in current liabilities and $10.0 million in long-term liabilities reported. What about the "current ratio"? If we add together the $99.5 million in cash with the $108.3 million in other current assets, this gives us a total of $207.8 million in total current assets, which, if compared to the $68.6 million in current liabilites, yields a current ratio of 3.03. Generally current ratios, as I understand them, are considered "healthy" if 1.5 or higher.
5. What about some valuation numbers on this stock?
Looking at
Yahoo "Key Statistics" on Diodes
, we find that this company has a market capitalization of $980.06 million which makes it a mid-cap stock. The trailing p/e is moderate at 29.22. However, the anticipated growth is so strong that the forward p/e (fye 31-Dec-07 estimated) is only 18.91. This rapid anticipated growth gives us a PEG (5 yr expected) of only 0.98. Generally PEG ratios, imho, between 1.0 and 1.5 are fairly valued. Those under 1.0 are "cheap" and should be considered a good buy from a growth at a reasonable price (GARP) perspective.
Using the
Fidelity.com eresearch website
for some relative valuation numbers, we find that DIOD is in the "Semiconductor-Integrated Circuit" industrial group. Within this group, DIOD is moderately priced with a Price/Sales ratio of 3.9. Topping the group is Marvell Technology (MRVL) with a ratio of 8.2, Broadcom (BRCM) at 5.9 and Semtech (SMTC) at 4.8. Priced cheaper than DIOD is RF Micro Devices (RFMD) with a Price/Sales ratio of only 1.6 and Skyworks Solutions (SWKS) at 1.1.
If we compare profitability by examining the Return on Equity (ROE) within this group we find that Diodes (DIOD) leads the pack with a ROE of 17.7%. Following DIOD is BRCM at 15.6%, MRVL at 11.7%, SMTC at 9.9%, RFMD at 2.9% and SWKS at 2%. Certainly by this measure, Diodes looks quite nice as well.
Returning to Yahoo, we can see that there are only 25.53 million shares outstanding with 19.21 million that float. As of May 10, 2006, there were 1.63 million shares out short, representing 6.5% of the float or 5 trading days of volume (the short ratio). I use a 3 day cut-off for significance in this ratio. This is just my own personal cut-off. If we do use this 3 day rule, the 5 days is a bit heavy on short-sellers who are betting against this company with the superb numbers. I suspect these short-sellers had a rude wake-up call today as the company and the stock climbed in the face of a really weak trading environment?
The company does not pay a dividend, and as I noted above, the stock last split 3:2 on 12/1/05.
6. What does the chart look like?
If we take a look at the
Diodes "Point & Figure" chart from StockCharts.com
: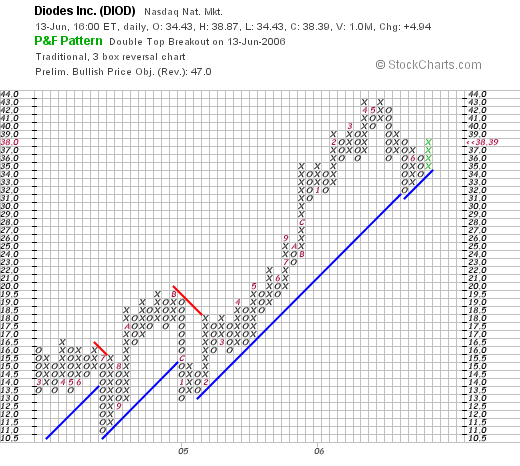 We can see that the stock after dipping from $16 in June, 2004, to a low of $11.00 in June, 2004, started climbing in a very strong fashion to a high of $43 in May, 2006. The stock subsequently came down to a low of $31 in late May, 2006, and has been powering higher since. The chart looks quite strong to me.

7. Summary: What do I think?

Needless to say, I like this stock a lot. Let me explain why and review some of the findings in the above review. First of all the company guided higher for the upcoming quarter. This was enough to drive the stock higher in a weak market. The latest quarter was strong with both solid revenue and earnings growth both year over year and sequentially. Looking at Morningstar.com, we find that the company has indeed been steadily growing its revenue AND earnings. They have been floating a few more shares than I like but even with this, earnings per share have grown steadily!

Free cash flow is positive and growing. The balance sheet is solid with enough cash to pay off all liabilities!

Valuation-wise the p/e is a bit rich but with the rapid growth expected the PEG is under 1.0. Looking at similar companies, we find that the Price/Sales ratio puts the company right in the middle of its industrial group. However, the company is the top in profitability as measured by ROE which is a plus. On top of this there are a lot of short-sellers which may be feeling the squeeze of a rapidly climbing stock. To top it off, the chart looks nice to me. In other words, the stock price is moving higher on the chart :).

Anyhow, that's my pick this evening. A stock that I do own some shares in a managed account. However, I picked this stock a year ago and the stock has subsequently performed magnificently. Hopefully, this can continue.

If you have any comments or questions, please feel free to email me at bobsadviceforstocks@lycos.com or just leave your comments on the blog. Please also be sure and stop by and visit my Stock Picks Bob's Advice Podcast Site.

Bob

Posted by bobsadviceforstocks at 9:32 PM CDT |
Post Comment
|
Permalink
Updated: Wednesday, 14 June 2006 1:01 AM CDT