NeuroMetrix (NURO)
Hello Friends! Thanks so much for stopping by and visiting my blog, Stock Picks Bob's Advice! As always, please remember that I am an amateur investor, so please remember to consult with your professional investment advisors prior to making any investment decisions based on information on this website.
Earlier today I noted that NeuroMetrix (NURO) was behaving well in an otherwise anemic market. (The market is consolidating today after several days of price appreciation and in the face of an otherwise weak retail report). As I write, NURO is trading at $20.50, up $1.76 or 9.39% on the day. I do not have any shares or options on this stock.
I would like to briefly share with you some of my thoughts on this stock and why I have chosen it for this blog.
As I do with all of my picks, I start with the stocks that are moving strongly higher that day. NURO made the list of top % gainers on the NASDAQ today with its strong move to the upside.
According to the Yahoo "Profile" on NeuroMetrix, the company
"...engages in the design, development, and sale of proprietary medical devices used to diagnose neuropathies. The company offers NC-stat System, a neuropathy diagnostic system that provides physicians the ability to diagnose patients with neuropathies at the point-of-service."
Reviewing the latest quarterly report, on July 27, 2006, NURO reported 2nd quarter 2006 results.
For the quarter ended June 30, 2006, revenue came at $14.0 million, a 73% increase over the $8.1 million reported in the second quarter of 2005. Net income worked out to $1.36 million or $.13/share, as compared with a loss of $(636,500) or $(.05)/share the prior year. The report notes that results would have been even better minus the stock-based compensation reporting requirements.
Loking longer-term at the Morningstar.com "5-Yr Restated" financials, we can see the steady increase in revenue from $3.5 million in 2001 to $34.3 million in 2005 and $45.2 million in the trailing twelve months (TTM). Net income has improved from a loss of $(10) million in 2001, improving to a profit of $1 million in 2005 and improving to $3 million in the TTM. On a per share basis, results were first reported in 2005 when $.07/share were reported. This has sharply improved to $.25/share in the TTM.
The free cash flow trend is encouraging with $(4) million in free cash flow improving to $(3) million in 2004, $1 million in 2005 and $3 million in the trailing twelve months.
The Morningstar.com balance sheet looks solid with the company reported to have $34.7 million in cash, enough to pay off both the $6.0 million in current liabilities and the $1.2 million in long-term liabilities combined...more than 4x over.Calculating the 'current ratio', with the total current assets working out to $45 million, when compared to the $6 million in current liabilities, this works out to a ratio of 7.5 which is quite solvent.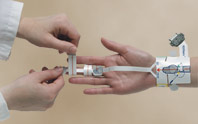 Reviewing Yahoo "Key Statistics" on NURO, we find that this stock is a small cap stock with a market capitalization of only $262.73 million. The trailing p/e is a very rich 87.09, but the forward p/e is a bit better (fye 31-Dec-07) at 38.87, but still rich. Thus, the PEG at 1.51 is not a steal, but with the rapid growth anticipated, the current p/e may not be as bad as it looks at first glance.
Reviewing the Fidelity.com eresearch website, we can see that this company is in the "Medical Instruments/Supplies" industrial group. It tops the group in terms of the Price/Sales ratio with a ratio of 5.4. NURO is followed by Cytycf (CYTC) at 5.3, Stryker (SYK) at 4, Boston Scientific (BSX) at 3.2, Becton Dickinson (BDX) at 3.1 and Baxter (BAX) at 3.
Also, in terms of profitability, as measured by Return on Equity (ROE), NURO is less than stellar with Becton Dickinson at the top at 20.4%, Cytyc at 20.1%, Stryker at 19.9%, Baxter at 19.7% and NeuroMetrix at 8.7%, only followed by Boston Scientific at (55.7)%. Clearly, this stock is not an intrinsic bargain, but investors are paying for the future rapid growth and the possibilities that this investment represents, not the actual current performance.
Returning to Yahoo, we can see that there are 12.52 million shares outstanding and 11.88 million that float. Of these, 24.9% were out short as of 8/10/06, representing 2.86 million shares or 10.1 trading days of volume. I use a 3 day rule and this is triple my level for significance. There does appear to be quite a few shares sold short on this company and what we are witnessing today may well represent part of a squeeze on the shorts.
No dividend is paid and no stock splits are reported by Yahoo.
What about the chart? If we review a "Point & Figure" chart from StockCharts.com on NURO, we can see that the company which was trading strongly higher from $8.50 in September, 2004, broke through resistance and peaked at $41 in April, 2006. Indeed the chart looks like the stock 'rolled over' and the price declined to the recent low of $18. Today's nice move to $20.41 does not really break this trend. Hopefully, the upcoming quarter will be strong and the shorts will once again be 'squeezed' if we are to see this stock turn around and move to new highs. It would be nice to see this stock trading above $32 before I could feel more comfortable suggesting that this stock should be bought in here.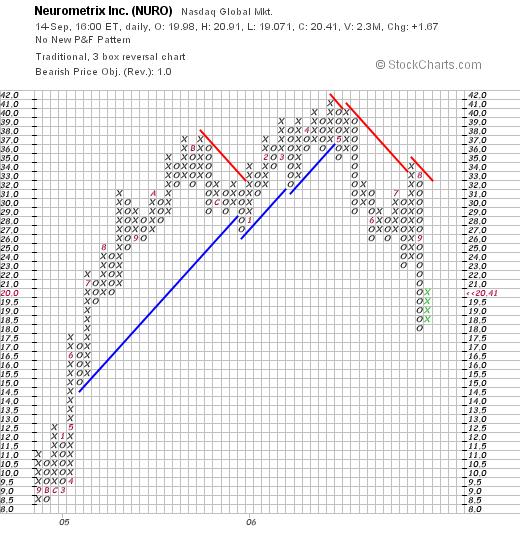 Thanks again for stopping by and visiting! If you have any comments or questions, please feel free to leave them on the blog or email me at bobsadviceforstocks@lycos.com. Also, be sure and stop by and visit my Stock Picks Podcast Website.
Bob