Angeion Corp. (ANGN)
CLICK
HERE
FOR MY PODCAST ON ANGEION!
Hello Friends! Thanks so much for stopping by and visiting my blog, Stock Picks Bob's Advice! As always, please remember that I am an amateur investor, so please remember to consult with your professional investment advisors prior to making any investment decisions based on information on this website.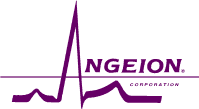 This afternoon, while looking through the list of top % gainers on the NASDAQ I came across Angeion (ANGN) which appears to fit most of the criteria that I use to pick a stock for this blog. I do not own any shares of Angeion nor do I have any options on this stock. ANGN closed at $10.75, up $1.18 or 12.33% on the day. Let's take a closer look at this stock and I shall show you why I think it deserves a spot here!
1. What exactly does this company do?
According to the Yahoo "Profile" on Angeion, this company

"...through its subsidiary, Medical Graphics Corporation, engages in the development, manufacture, and marketing of noninvasive cardio-respiratory diagnostic systems used in the management and improvement of cardio-respiratory health."

and

"It also sells health and fitness products through health and fitness clubs, personal training studios, weight loss centers, and other retail outlets."
2. Was there any news to explain today's move higher?
I did not see any news from Yahoo or on the Company's website to explain any interest in the stock today.
3. How did the company do in the latest reported quarter?
On September 11, 2006, Angeion reported third quarter 2006 results. For the quarter ended July 31, 2006, revenue came in at $8.8 million, up 45.2% over the same quarter in 2005. Net income came in at $655,000 or $.17/diluted share compared with a net loss of $(268,000) or $(.07)/diluted share last year.
4. What about longer-term financial results?
Reviewing the Morningstar.com "5-Yr Restated" financials on ANGN, except for a dip between 2000 and 2001 when revenue dropped from $17.1 million to $16.7 million, the company has been steadily growing its revenue with $24 million reported in 2005 and $30 million in the trailing twelve months (TTM).

Earnings have improved from a loss of $(1.86)/share in 2001 down to a loss of $(.25)/share in 2005. The company turned profitable in the TTM with $.41/share reported. The company has kept its 4 million shares outstanding stable from 2001 to the latest report.

Free cash flow, which has been negative at $(1) million in 2003-2005, turned positive with $2 million reported in the TTM.

Insofar as the balance sheet is concerned, this appears solid to me with $2.5 million in cash and $11.9 million in other current assets. When compared to the $6.1 million in current liabilities, this yields a current ratio of 2.36. In addition, the company has $1.1 million in long-term liabilities which could easily be covered by the $14.4 million in total current assets.
5. How about some valuation numbers on this stock?

Examining the Yahoo "Key Statistics" on ANGN, we find that this is a tiny stock with a market capitalization of only $39.02 million. Generally, stocks with market caps under $50 million are considered Nano-Cap stocks. The trailing p/e appears to be a reasonable 26.41. No forward p/e and no PEG ratio is found on the Yahoo site. Probably because the company is too small to have many analysts following the stock.
Reviewing the Fidelity.com eresearch website, we can see that Angeion is in the "Medical Instruments/Supplies" industrial group. Within this group, Angeion appears very reasonably valued with the lowest Price/Sales ratio in the group at 0.1. Leading this group is Boston Scientific (BSX) at 2.9, followed by Baxter International (BAX) at 1.4, Becton Dickinson (BDX) and Cytyc (CYTC) at 1.0, and Stryker (SYK) at 0.6. Angeion is at the bottom of the list at 0.1.
Insofar as profitability is concerned, as measured by return on equity (ROE), Angeion looks less impressive with a ROE of 10.2%. Leading this group is Becton Dickinson at 20.4%, Cytyc at 20.1%, Stryker at 19.9%, Baxter at 19.7% and Angeion at 10.2%. At the bottom of the group is Boston Scientific with a ROE of (55.7)%.
Finishing up with Yahoo, we find that the company has only 3.63 million shares outstanding with 3.61 million that float. As of 9/12/06, there were only 168,170 shares out short, representing 4.70% of the float or 0.7 trading days of volume (the short ratio). No dividend is paid and no stock splits are reported.
6. What does the chart look like?
Reviewing the Angeion "Point & Figure" chart from StockCharts.com, we can see what appears to be a very strong chart with the company climbing $.25/share in July, 2002, to the recent level of $4.00 in September, 2006. The company's stock broke out to the upside, more than doubling to its current level of $10.75. The chart looks surprisingly strong to me!
7. Summary: What do I think about this stock?
Let's review some of the things I discussed in this entry. First of all, the company had a very nice move higher today. It is just barely over $10 so price-wise it is near my limit of purchaseable stocks. The last quarter was strong with steady revenue and earnings growth. Perhaps more significantly, the company completed its steady stream of improving results, finally moving from a loss to a profitable position. Looking back over the past several years, the company has steadily been growing its revenue and improving its earnings results. The company also has reduced its negative free cash flow and turned positive. The balance sheet is solid.

Valuation-wise, the p/e is just in the mid-20's. The Price/Sales ratio is the lowest in its group at 0.1. And the ROE is fair...which isn't bad considering the company is just turning profitable. Finally the chart looks very strong with steady price improvement over the past four years.

Frankly, except for the fact that this is a company with a market cap under $50 million, I like this stock just fine. If I were in the market to be buying a stock, this is the kind of company I would be buying. I suspect that the company may well show price volatility, and after its huge recent upswing may be at risk for a correction. Just a thought I guess :).
Thanks again for stopping by and visiting! If you have any comments or questions, please feel free to email me at bobsadviceforstocks@lycos.com. Please also feel free to visit my Stock Picks Podcast Site where I discuss many of the same stocks I write about here on the blog.
Bob
Posted by bobsadviceforstocks at 9:43 PM CDT |
Post Comment
|
Permalink
Updated: Monday, 16 October 2006 10:38 PM CDT