A Reader Writes "How much money do you put in each stock?"
Hello Friends! Thanks so much for stopping by and visiting my blog, Stock Picks Bob's Advice! As always, please remember that I am an amateur investor, so please remember to consult with your professional investment advisors prior to making any investment decisions based on information on this website.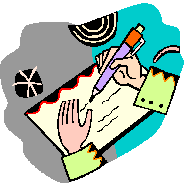 One of my favorite things about blogging about stocks is the chance to hear from people who have been reading what I write and have questions of their own. If you have any comments or questions and wouldn't mind me blogging them, please drop me a line at bobsadviceforstocks@lycos.com. I read all of my email and try to answer as many letters and comments as possible.
Yesterday I received a nice letter from Sunil V. who wrote:
"Hi Bob,

I really liked reading your blogs on tripod. Curious about how it began I started reading from May 2003! I am just beginning and having some saved money wanted to get started in investing. I really liked the strategy you use in buying and selling the stocks. I also plan to have a discipline and a good strategy as i build my portfolio.

I had a very basic question. How much money do you put in each stock? I mean if i have a plan of 25 stock over a period of time, what should be the starting amount for each stock. If you have any benchmark you use please let me know. My idea as of today is $1000 per stock and increase this as i gain more knowledge in investing.

I have a link to your blog, so it would be ok if you give a reply on the blog or give me a seperate mail.

Thanks in advance for your reply and keep writing.

Sunil."
Sunil, thank you for writing to me! I am grateful for your loyalty reading the blog since May, 2003! I hope that what I have written has been helpful to you in understanding the market, at least from my particular perspective. Please be sure to read about investing from as many different writers and bloggers as possible. I have links to many terrific blogs on the main page along the left column.
To get back to your question, how much money I put into each investment--currently I have been adding about $5,000 for each position. My last purchase, Precision Castparts was actually about an $8,000 purchase. I have not been totally consistent with my purchases, but would like to see about a $5,000 position in each holding.
You mentioned about 25 positions...something that is my goal as well. Currently I have only 11 positions, far from the maximum. As you know, I let the trading activity of my existing holdings in my portfolio determine whether I shall be adding a new position or not. I have advocated starting at 1/2 of the maximum number, but you don't have to do that all at once.
For instance, let's presume you are starting from "scratch". Perhaps you can afford to add $300 to your account each month. I would wait until you hit $2,500 to add my first position. I would then wait until I had another $2,500 saved up to add a second position. I would continue adding positions until I hit my "neutral" position. That is, if you are aiming for 25 holdings, I would continue this process until I got to 12. This could indeed take several years or more to accomplish. But there is no rush in all of this. Successful investing is about a patient, methodical approach to building and managing your portfolio.
I would manage those first holdings as I manage all of my stocks. If the stock dropped 8% I would sell the holding. But instead of sitting on my hands, since I hadn't got to "neutral", I would replace that stock as long as I had $2,500 in cash including my sale. I would also start selling 1/6th of my holdings as they hit appreciation targets as I have detailed elsewhere. But I would not automatically add a new position, unless I had the $2,500 available for my minimum buy.
As soon as you got to 12 positions, I would continue the monthly addition of $300 or whatever amount you could afford. Then I would implement the portfolio management strategy of buying new positions only when selling on good news and then sitting on my hands, so to speak, whenever I sold on bad news....which would be a sale either on fundamental negative news, or on a decrease in the stock price so that it hit a sale point.
Of course, I have my "minimum" portfolio size, which I would suggest to be 1/2 of the number of the "neutral" position. Thus, if 12 was "neutral", then 6 would be the minimum number of stocks in my portfolio. Whenever a stock was sold when I was at the minimum, I would replace that stock and not let the number drop below 6. I would suggest adding a new stock whenever any of the six holdings hit a sale at an appreciation target.
After reaching 25 (or whatever maximum you had planned), I would not add any new positions, and instead would direct new contributions and partial sales into a cash portion of the portfolio. Then if the portfolio dropped to 24, and then I got a "buy" signal, I would try to start increasing the size of the positions, by investing a larger amount.
Does this answer your question? I hope so. There aren't any right answers to your questions. The size of your positions will depend on the amount of money you have available. I would suggest going slower building your portfolio rather than use smaller positions and building your portfolio quicker!
Good-luck and thanks again for being a loyal reader! I look forward to your comments in the future!
Bob