Best Buy (BBY) "Revisiting a Stock Pick"
Hello Friends! Thanks so much for stopping by and visiting my blog, Stock Picks Bob's Advice! As always, please remember that I am an amateur investor, so please remember to consult with your professional investment advisors prior to making any decisions based on information on this blog.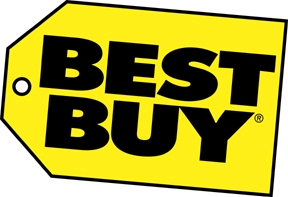 I was looking through the list of top % gainers on the NYSE and noticed that Best Buy (BBY), a stock that I have previously reviewed on the blog, was moving strongly higher. In fact, BBY closed at $55.01, up $1.90 or 3.58% on the day.
I first posted Best Buy on Stock Picks Bob's Advice on March 31, 2004, more than two years ago, when it was trading at $51.65. BBY split 3:2 on August 4, 2005, making my effective stock pick price actually only $55.01 x 2/3 = $36.67. Thus with today's close at $55.01, this represents an appreciation of $18.34 or 50% since posting.
Let's take another look at this stock and I shall show you why I believe it still deserves a spot on this blog!
1. What exactly does this company do?
According to the Yahoo "Profile" on Best Buy, the company

"...operates as a specialty retailer of consumer electronics, home-office products, entertainment software, appliances, and related services. It operates retail stores and commercial Web sites under the brand names Best Buy, Future Shop, Magnolia Audio Video, and Geek Squad."
2. Was there any news to explain today's move higher?
Best Buy, and some of the other retail chains, are generating some buzz with the game consoles coming out tomorrow. PS3, Sony's game platform, is expected to sell out its initial shipment in a matter of hours. At our local store, I saw kids camping out front last night, others were camping at Target, which apparently will also be receiving its shipment of consoles. In any case, this is the only news I could see which might be adding some interest to this stock.
3. How about the latest quarter?
On September 12, 2006, Best Buy announced 2nd quarter fiscal 2007 results. Revenue for the quarter ended August 26, 2006, increased 13% to $7.6 billion from $6.7 billion in the prior year. Earnings per diluted share increased 27% to $.47/share from $.37/share. Net earnings climbed to $230 million from $188 million a year earlier. The company beat expectations of earnings of $.44/share on revenue of $7.54 billion. Same store sales during the quarter improved 3.7%. The company maintained guidance of $2.65 to $2.80/share for the full year of fiscal 2007.
4. How about longer-term results?
Examining the Morningstar.com "5-Yr Restated" financials on BBY, we can see a nice picture of steady growth in revenue from $17.7 billion in 2002 to $30.8 billion in 2006 and $32.6 billion in the trailing twelve months (TTM). Earnings, which dropped from $1.18/share in 2002 to $.20/share in 2003, have subsequently steadily improved to $2.27/share in 2006 and $2.50/share in the trailing twelve months (TTM).

Per Morningstar, the company initiated dividends in 2004 at $.27/share. They have grown their dividends to $.31/share in 2006 and $.32/share in the TTM. The presence of dividends is always a 'plus' to me; and a company that can steadily increase its dividend makes it that much more attractive to investors.

The company has maintained its number of shares outstanding, with 475 million shares in 2002, 489 million in 2006, dropping to 480 million in the TTM.

Free cash flow has been nicely positive with $842 million in 2004, $1.04 billion in 2006 and $1.2 billion in the TTM.

The balance sheet is solid with $2.668 billion in cash and $5.22 billion in other current assets yielding a total current assets of $7.89 billion. When compared to the current liabilities of $6.37 billion, this yields a current ratio of a healthy 1.24. There are enough current assets to cover both the $6.37 billion in current liabilities and the $.6 billion in long-term liabilities combined. The balance sheet appears just fine to me!
5. What about some valuation numbers?
Looking at Yahoo "Key Statistics" on BBY, we can see that this is a large cap stock with a market capitalization calculated at $26.42 billion. The trailing p/e is a reasonable 21.96, with a forward p/e (fye 25-Feb-08) of 17.03. With the steady growth expected for the next five years, the PEG works out to a nice 1.12.

Using the Fidelity.com eresearch website, we find that BBY is in the "Electronics Stores" industrial group. All of the firms sell at 'reasonable' Price/Sales ratios, however, GameStop carries the highest valuation relative to Price/Sales with a ratio of 1. Best Buy (BBY) follows at 0.8, Guitar Center (GTRC) is at 0.7, RadioShack (RSH) is at 0.5, and Circuit City is the cheapest in the group with a Price/Sales ratio of 0.3.

Insofar as profitability is concerned, examining the Return on Equity (ROE) of each of these stocks finds Best Buy most profitable by this measure with a ROE of 10.2%, followed by Guitar Center at 9.8%, Circuit City at 4.1%, GameStop at 3.3%, and Radioshack at 2.1%.

Finishing up some of the Best Buy numbers on Yahoo, we can see that there are 480.25 million shares outstanding with 401.44 million that float. Of these, as of 10/10/06, there were 18.18 million shares out short representing 4.5% of the float or 3.7 trading days of volume. While the 18+ million shares out short seems a lot, there are actually 5.1 million shares traded on an average day, so this short interest, or short ratio of 3.7, isn't as significant as it appears on first glance.

As I noted above, the company pays a 'forward' annual dividend at a rate of $.40/share yielding 0.8%. The last stock split was a 3:2 split on 8/4/05.
6. What does the chart look like?
If we examine the "Point & Figure" chart on Best Buy from StockCharts.com, we can see what appears to be a fairly strong improvement in stock price from February, 2003, when the stock was trading at $17/share to a high of $59/share in April, 2006. The stock has pulled back recently to the $44 level, although it is now appearing to have consolidated, and is moving higher at least right now from my perspective.

7. Summary: What do I think about this stock?
Let's review some of the things I have just written. First of all, the company is in the retail sweet spot of consumer electronics in the age of ever-improving game platforms from Sony, Nintendo, and Microsoft. They also sell all of the game software for these platforms as well. Latest quarter was strong with ok same store sales growth in the 3+% range. They beat expectations on earnings and revenue but maintained guidance.

The Morningstar.com report looked nice with steady revenue growth and fairly steady earnings improvement. The company, it should be noted, does pay a small dividend and has been increasing it each year. In addition, the number of shares, which is large, has been held fairly constant and more recently, BBY appears to be buying back shares. Valuation-wise, BBY looks pretty good with a p/e in the low 20's, a forward p/e in the teens, and a PEG just over 1.1. Price/sales is ok, and the ROE is tops in its group.

BBY has been a good retail pick for me having appreciated nicely since I posted it about 2 1/2 years ago. I don't think teens and grown-up kids like me will ever stop being fascinated by electronic devices, software, flat-screen TV's, and digital cameras and imaging devices. Now with Best Buy looking to expand into China, this may well be another frontier for this company to expand its retail presence. I still like Best Buy, and as my kids will tell you, I am an inveterate shopper there!
Thanks so much for stopping by and visiting here! If you have any comments or questions, please feel free to leave them on the blog or email me at bobsadviceforstocks@lycos.com. Also, be sure and visit my Stock Picks Podcast Site where you can listen to me discuss many of the same stocks and topics I write about here.
Bob