Airgas (ARG)
Hello Friends! Thanks so much for stopping by and visiting my blog, Stock Picks Bob's Advice! As always, please remember that I am an amateur investor, so please remember to consult with your professional investment advisors prior to making any investment decisions based on information on this website.

I was looking through the list of top % gainers on the NYSE and came across Airgas (ARG), which as I write is trading at $41.61, up $1.63 or 4.08% on the day. I do not own any shares nor do I have any options on this stock.
I would like to briefly share with you my thinking as I believe this stock deserves a place on my blog!
According to the Yahoo "Profile" on Airgas, the company
"...and its subsidiaries distribute industrial, medical, and specialty gases and hardgoods primarily in the United States. Its products and services include packaged and small bulk gases, gas cylinder, and welding equipment rental, and hardgoods."
On October 25, 2006, Airgas reported 2nd quarter earnings results for the quarter ended September 30, 2006. Net sales for the quarter grew to $790.7 million from $702.2 million in the same quarter the previous year. Net earnings increased to $39.5 million this year vs. $29.6 million last year, or $.49/share this year, and $.38/share last year on a diluted basis. The company exceeded analysts' expectations of $.47/share on net sales of $790 million. In addition, the company raised guidance to $.47 to $.49/share for the third quarter, while analysts have forecast $.47/share.
Looking longer-term at the Morningstar.com "5-Yr Restated" financials on ARG, we see a steady increase in revenue from $1.6 billion in 2002 to $2.8 billion in 2006 and $2.9 billion in the trailing twelve months (TTM). Earnings also show steady improvement, and the company started paying a dividend of $.16/share in 2004 and has been increasing the dividend on a regular basis. The number of shares outstanding has grown from 69 million in 2002 to 78 million in the TTM. Free cash flow has been positive and steady and the balance sheet is adequate with $33.1 million in cash and $447.8 million in other current assets, adequate to cover the $433.2 million in current liabilities. There is another $1.1 billion in long-term debt on the balance sheet.
Looking at the Yahoo "Key Statistics" on ARG, we see that this is a mid-cap stock with a market capitalization of $3.25 billion. The trailing p/e isn't bad at 23.41, the forward p/e is 18.46 (fye 31-Mar-08), however the 5 yr expected growth is such that the PEG is quite high at 5.76.
Reviewing the Fidelity.com eresearch website, we can see that Airgas (ARG) is in the "Industrial Equipment Wholesale' industrial group. Within this group ARG is moderately priced with a Price/Sales ratio of 1.1. Topping this group is MSC Industrial (MSM) at 2.1, and the cheapest in the group is CE Franklin (CFK) at 0.4.
Airgas actually has the lowest return on equity (ROE) of its group at 15.15. Topping the group is DXP Enterprises (DXPE) with a ratio of 40.1%.
Finishing up with Yahoo, we can see that this company has 78.01 million shares outstanding with 70.39 million that float. Of these, 643,520 were out short as of 10/10/06 representing .9% of the float or 1.4 trading days of volume. The forward dividend is $.28 representing a .7% yield, and the stock last split 4/16/96 with a 2:1 split.
Airgas has a very pretty "Point & Figure" chart. The stock has climbed from a low of $6.50 in February, 2001, and has not broken down in price since. Currently the stock is pushing into new high territory at the $42 level.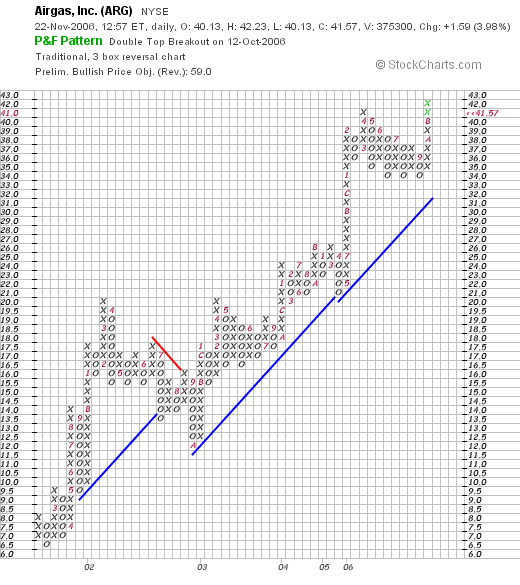 To summarize, this has been a great stock to own the past several years. The company's stock moved higher today on the announcement of an acquisition of Linde's bulk gas unit for $495 million. The latest quarterly report was strong with the company beating expectations and raising guidance. The Morningstar evaluation looked nice with steady revenue and earnings growth, and an increasing dividend. The number of shares outstanding has been growing slowly. Free cash flow is positive and the balance sheet appears adequate. Valuation has been o.k. with a reasonable p/e but a PEG over 5.0. Finally, the chart looks terrific.
This is an interesting stock to consider. It isn't a perfect picture imho, but most of the numbers are in line and the price performance of the stock in the market has been superb!
Thanks again for stopping by! If you have any comments or questions, please feel free to drop me a line at bobsadviceforstocks@lycos.com. Also, please be sure to drop by and visit my Stock Picks podcast site, where I discuss many of the same stocks and topics that I write about on the blog.
Bob