St Jude Medical (STJ) "Long-Term Review" A New Entry in Stock Picks!
Hello Friends! Thanks so much for stopping by and visiting my blog, Stock Picks Bob's Advice! As always, please remember that I am an amateur investor, so please remember to consult with your professional investment advisors prior to making any investment decision based on information on this website.
This blog is now over 3 1/2 years old! It is walking and talking and I hope you enjoy my entries! I do a weekend review on the blog, and I am a bit over a year out from those reviews. It occurred to me that I needed to once again dig back into the early entries, and try to find out how these stocks are doing. I want to try to keep these reviews briefer (is it possible) and mostly just examine the price and the latest stock chart. Let's at least start out that way.
This blog commenced on May 12, 2003, when I wrote up St Jude Medical (STJ). I wrote:
"This is one I picked up today. STJ is the stock symbol. I do not as I write and publish this own any shares. Am thinking about suggesting this to my stock club. Company had a great day today with a nice move on the upside. Last Quarter was good and the past five years have been steady growth. Closed at $55.30 up $2.92. So the daily momentum helped it make the list."
Wouldn't it be nice if all of my entries were that short! You of course, can examine and review all of my entries by date by 'clicking' on the dates along the left side of the blog.
STJ actually had a 2:1 stock split on November 23, 2004, making my effective stock pick price actually $27.65. STJ closed at $37.55 on December 15, 2006, giving my first pick an appreciation of $9.90 or 35.8% since posting.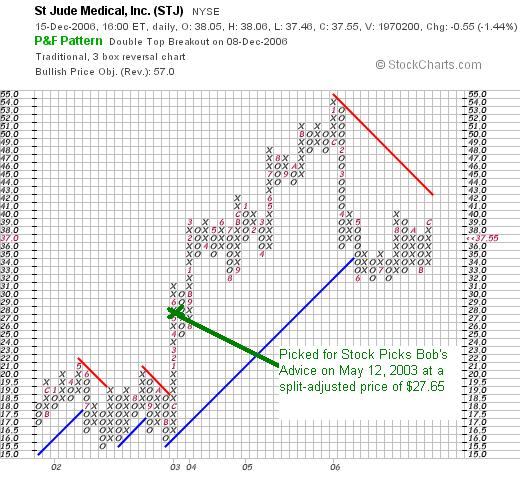 I hope these longer-term views of past stock picks....I shall try to do them in the order they are posted as long as they are still traded....and write them up on intervals.
Thanks again for visiting! If you have any comments or questions, please feel free to leave them on the blog or email me at bobsadviceforstocks@lycos.com. If you get a chance, be sure and visit my Stock Picks Podcast Site where I discuss many of the same stocks and investing issues that I review here on the blog!
Have a great week investing everyone!
Bob
Posted by bobsadviceforstocks at 10:12 PM CST |
Post Comment
|
Permalink
Updated: Monday, 18 December 2006 7:44 AM CST