A Reader Writes "...it is almost impossible to beat the market"
Hello Friends! Thanks so much for stopping by and visiting my blog, Stock Picks Bob's Advice! As always, please remember that I am an amateur investor, so please remember to consult with your professional investment advisors prior to making any investment decisions based on information on this website.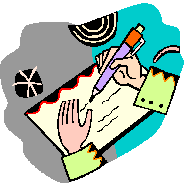 I had the pleasure of getting a comment from a very important reader of my blog, my son Ben, who is also is a very critical thinker. I am proud that he is willing to think out loud and challenge even his poor dad who is blogging away at picking stocks :).
Ben writes:
"Two comments:

I'm curious what you think about this slate.com article which attempts to show that after costs, it is almost impossible to beat the market: http://www.slate.com/id/2158085/
With that 23% gain on Oakley, I recommend selling a chunk of your position and purchasing a pair of glasses for yourself. If you don't wear sunglasses, I'm sure your son will love them!

Go Devils!

-Ben
Let me try to answer your astute question. I very much enjoyed the link and would encourage all of my readers to also review that article which challenges conventional stock-picking ideas.
Perhaps just as interesting is Mr. Blodget's history that I found summarized well in Wikipedia:
"Henry Blodget's predictions made him one of the most influential stock marketeers of the time. In December 1998, his unprecedented prediction that Amazon.com's stock price would hit $400 landed him a prized position at Merrill Lynch. In early 2000, days before the dot-com bubble burst, Blodget personally invested $700,000 in tech stocks, only to lose it most of it in the years that followed. By 2001, he accepted a buyout offer from Merrill Lynch and left the firm. By 2002, Eliot Spitzer had published Merrill Lynch e-mails which gave the public the graphic examples of an alleged fraud behind certain analysts' published stock recommendations. In 2003, he was charged with civil securities fraud by the U.S. Securities and Exchange Commission. He settled without admitting or denying the allegations and is banned from the securities industry for life"
But I do not want to "shoot the messenger". Mr. Blodget is an intelligent and experienced 'stock-picker' himself. And his experience is something we can all learn from.
Quite frankly, I do not know if I can beat the market in my pursuit of stock picks. And you know how scrupulously honest I try to be in all of my writing on this blog. I pride myself in transparency; letting people know which stocks I own, when I trade, and whether I hold shares in stocks I discuss. I don't know how to do this any better. I personally do not ever want to mislead anyone.
I believe it is possible to do better than the market in picking stocks and managing a portfolio. I believe this is possible because for one thing, not everyone does believe that it is possible--any many investors are happy to invest in broad index investments that create baskets of different stocks.
My particular approach is designed to reduce my own attempt at thinking about which stocks are good or bad. I let the market present these stocks to me. This is what I call my "zen" of investing approach. It isn't magical; it simply requires me to observe what stocks are rising the most and evaluating them on some fundamental financial figures that I, also not a certified financial planner, can understand and explain to readers.
When managing my portfolio, I do not ever think I know which stock I should be holding and which I should be selling.
Again, I allow the stock price movement to determine that for me. I operate under the philosophy if I aggressively sell my losing stocks, and meekly sell my gaining stocks, that bias will result in a winning portfolio. Time will tell if I am right.
Also, in portfolio management, I allow my own portfolio to determine my stance in the market. If my stocks are doing well, then I use my stock performance to indicate to me to increase my exposure to equities by adding a new position. Likewise, if they are doing poorly, I allow the sales on losses to tell me to 'sit on my hands'.
Is this the best way? Is this going to be successful? I don't really know. I guess that is why I blog. Because I believe I am onto something very important. I cannot do this privately, it is the effort of publishing my thinking and documenting my trading publicly that will verify my approach.
And if I am successful, then maybe I shall have the money to buy you a new pair of Oakley's. How about for graduation from Duke? Or are you still going to go for the 'set of wheels'?
Bob Freedland
(Ben's Dad)
Posted by bobsadviceforstocks at 3:21 PM CST |
Post Comment
|
Permalink
Updated: Tuesday, 23 January 2007 3:25 PM CST