Agree Realty (ADC) "Long-Term Review #5"

Hello Friends! Thanks so much for stopping by and visiting my blog, Stock Picks Bob's Advice! As always, please remember that I am an amateur investor, so please remember to consult with your professional investment advisers prior to making any investment decisions based on information on this website.
As of today, I now have 1,400 entries in this blog! To say that it is becoming unwieldy would be to underestimate the problem! Recently, to try to add to the value of this website, and to find out how some of the really longer-duration stock picks have turned out, I have been trying to go literally into the earliest posts on stocks, reviewing them in order. About three weeks ago, I reviewed AMN Healthcare (AHS), which was first posted on May 15, 2003. Let's take a look at Agree Realty (ADC) which I posted on Stock Picks Bob's Advice on May 16, 2003. On that date I wrote:
"May 16, 2003 Agree Realty Corporation (ADC)

It is 1:13 Central Time here in Wisconsin and the market is fighting back to even. Unfortunately hit my 8% stop in my own portfolio and went ahead and sold my BBA shares (Bombay). Since I am in margin, went ahead and applied the proceeds to my margin account....will wait for a 40 or 50% gainer to sell a little and add a position.

Interestingly, looking through the biggest percentage gainers, we have come across a REIT. These are the Real Estate Investment Trust type companies that own properties such as apartment buildings and retail/office space. This company reported the first quarter results on April 22nd, with a 15.5% increase in net income and a 13.8% increase in revenues and declared a $.48 dividend as well. The company yields a nice 8.57% (!!) dividend as well. I do not own any shares and do not plan at this time on acquiring any. (you know how the portfolio rules go....around here).

Agree is trading as I write at $23.41/share up $1.00 on the day (a 4.46% rise). Stock by the way has a p/e of 11.04 and a market cap (tiny) of $104.9 million. There are ONLY 4.48 Million shares outstanding and of these only 3.90 Million 'float'..

Looking at Morningstar, we see a nice trend with 19.7 Million in revenue in 1998, 21.9 million in 1999, 23.7 million in 2000, 24.7 million in 2001, and 25.8 million in 2002. Not meteoric, but consistent. Looking at the last quarter revenue of just over 7 million, we can anticipate, if things hold true...a 28 million revenue in 2003. Not too shabby.

I don't like the small float on this one and thus the lack of attention the street pays....but with an 8.5% dividend, when money funds are generating about 0.9%....what the heck! This stock is worth a shot...but hang onto the 8% stop loss if you choose to invest. Good luck! And have a great weekend!

Bob"
Let's take a closer look at this stock pick, again assuming a "buy and hold" approach to this stock and find out how the fundamental information may have changed since that entry almost four years (!) ago.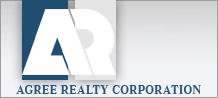 First of all, Agree Realty (ADC) closed at $34.62 on February 23, 2007, for an appreciation of $11.21 or 47.9% since posting. I do not, and in fact have never, had any shares of this company, nor do I own any options.
How did they do in the latest quarter?
On October 31, 2006, Agree reported 3rd quarter 2006 results. For the quarter ended September 30, 2006, funds from operations (as the report relates) came in at $4.90 million, vs. funds from operations in the same quarter in 2005 of $4.95 million. Diluted funds per share were $.59 vs. $.59 in the same period last year. Net income was $3.4 million or $.44/diluted share, compared with $3.5 million or $.45/diluted share the prior year. Total revenues did increase 5.4% to $8.1 million, compared with total revenues of $7.7 million in the 3rd quarter of 2005. Thus while revenue did increase modestly year-over-year, earnings were flat to mildly lower this year.
What does the Morningstar.com report look like?
As is the case with REIT's, the Morningstar.com data is incomplete. We do know that revenue has increased steadily from $22 million in 2001 to $32 million in 2005, an approximately 50% increase in revenue. Earnings have increased modestly from $1.83 to $2.14 between 2001 and 2005, but have shown a dip of a penny to $2.13/share in the TTM, likely explained by that $.44/share vs $.45/share the prior year noted in the above discussion on latest earnings. Dividends have been boosted slightly from $1.84/share to $1.96/share from 2001 to 2005. Also of note, is the 60% increase in outstanding shares from 5 million in 2003 to 7 million in 2005 and 8 million in the TTM. Free cash flow and balance-sheet figures aren't reported on Morningstar. (But I believe that this is due to the type of company rather than anything else.....probably why I avoid stocks with gaps like this currently).
What does the chart look like?
If we take a look at a "Point and Figure" Chart on Agree Realty (ADC) from StockCharts.com, we can actually see what appears to be a still-strong picture of a steadily appreciating price performance for this REIT.

Summary: What do I think?
Well this is an interesting stock, but not one that I would be writing up today! I now depend more on Morningstar.com figures and insist on increasing revenue, increasing earnings, and information on the balance sheet and free cash flow. But the stock did do well after posting!
Thanks again for visiting! If you have any comments or questions, please feel free to leave them on the blog, or email me at bobsadviceforstocks@lycos.com. Have a great weekend everyone!
Bob
Posted by bobsadviceforstocks at 3:48 PM CST |
Post Comment
|
Permalink
Updated: Saturday, 24 February 2007 3:49 PM CST