Jones Soda (JSDA)
Hello Friends! Thanks so much for stopping by and visiting my blog, Stock Picks Bob's Advice! As always, please remember that I am an amateur investor, so please remember to always consult with your professional investment advisers prior to making any investment decisions based on information on this website.

Earlier today I reported how I was able, due to a partial sale of my Bolt (BTJ) stock, to get a "permission slip" to add a new holding to my Trading Portfolio. Checking through the list of top % gainers on the NASDAQ, I came across Jones Soda (JSDA) which has been on the list several times the last week and I decided to take a closer look at this company. I liked what I saw and I decided to use this opportunity to add a position in Jones to my portfolio. This morning I purchased 300 shares of Jones (JSDA) at $18.18. JSDA closed at $18.67, up $1.54 or 8.99% on the day today.
I would like to take a brief opportunity to point you in the direction of the factors that led me to make this purchase.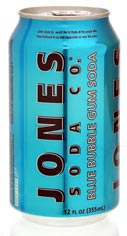 If you review the Yahoo "Profile" on Jones, you will see that this company is a premium beverage producer and distributor. I became familiar with Jones during my visits to my local Panera store where Jones sodas have been stocked.
Last Thursday, on March 8, 2007, Jones announced 4th quarter 2006 results for the quarter ended December 31, 2006. Revenue climbed 15% to $10 million from $8.8 million last year. Earnings jumped 179% to $1.7 million. Net income was up 256% to $2.1 million vs. $.6 million last year and diluted eps were up 167% to $.08/share from $.03/share last year.
Just as important, the company beat estimates of $.01/share on sales of $9.8 million for the quarter.
The Morningstar.com "5-Yr Restated" financials are solid with revenue, after dropping to $19 million in 2002, climbing to $34 million in 2005 and $38 million in the trailing twelve months (TTM). Earnings have been steadily improving from a loss of $(.09) in 2001 to $.13/share in the TTM. The company has increased the # of shares from 19 to 25 million. Free cash flow which was a negative $(1) million in 2004, came in at $1 million in 2005 and $4 million in the TTM.
The balance sheet is solid with total current assets of $42.6 million, compared to the $6.0 million of current liabilities yielding a current ratio of just over 7. No long-term liabilities are reported.
The stock is a small cap stock according to the Yahoo "Key Statistics" with a market capitalization of $474.48 million. It is richly priced with a trailing p/e of 144.73 (!). With the rapid growth, the forward p/e (fye 31-Dec-07) is estimated at 50.46. Still, the PEG works out to a rich 2.58 (5 yr expected). The price/sales is reported at 11.54.
Yahoo shows 25.41 million shares outstanding with 23.28 million that float. As of 2/12/07 there were 4.04 million shares out short representing 17.3% of the float or a significant 6.7 trading days of volume. In the face of good earnings, this sharp rise in the stock price may well represent a squeeze of the short-sellers.
Looking at a "Point & Figure" chart on Jones from StockCharts.com, we can see that the stock has had a very steep rise since mid 2003 climbing from literally $.20/share to a level of $19.00/share in 2007. If anything, the stock appears to be a bit over-extended technically.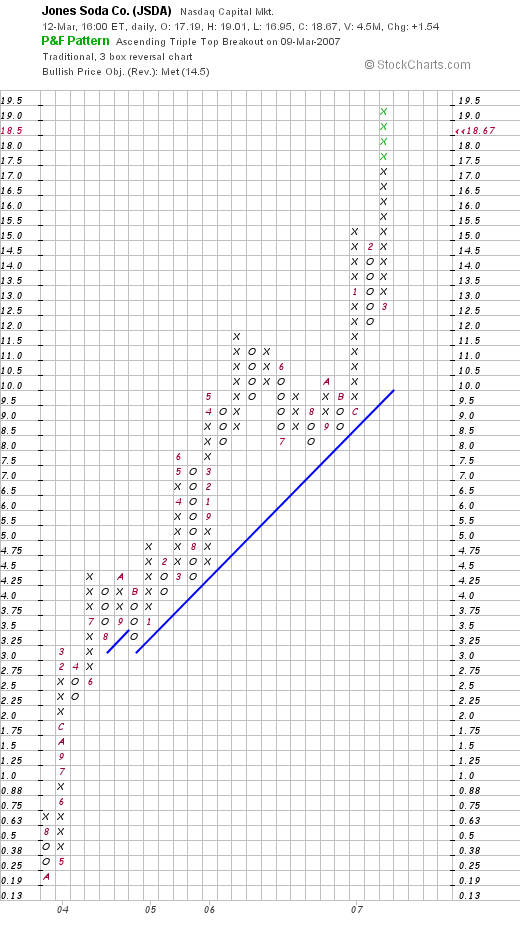 To summarize, I purchased shares of Jones Soda (JSDA) earlier today as a result of my partial sale of my Bolt (BTJ) shares. The stock is a very fast growing soft drink producer and is showing very strong price momentum. Earnings have been strong, free cash flow is improving, and the balance sheet is solid. Valuation, however, is priced for perfection with a p/e literally nearly 150. There are lots of short-sellers betting against this company. With any more good news stories, the short-sellers will be squeezed anew and the stock may well rise further. On the other hand.....
Thanks so much for visiting! I just wanted to get a quick note off on this stock tonight before crashing for the evening. If you have any comments or questions, please feel free to leave them on the blog or email me at bobsadviceforstocks@lycos.com.
Bob