My Second Worst Stock Pick!
I thought I would share with you the other stock in the sub-prime lending market that made its way onto this blog. While it may be that you could have ridden the stock up to a gain, the stock has recently been under increasing selling pressure. Here is my entry, again back in 2003 when I was just 'getting going' here on Stock Picks.
Monday, 9 June 2003

June 9, 2003 Accredited Home Lenders Holding Co. (LEND)
It is Monday morning. I was GOING to update the main page on this site....but didn't get to it. This weekend was graduation weekend for my senior and well.....enough excuses!

Anyhow, market a little soft today, getting a bit of a rest. This stock showed up on the NASDAQ top gainers and is worth a look. I have never heard of it before, it is actually a relatively new issue, and nobody in my family including me has any shares.

LEND is according to CNN.money, "a nationwide mortgage banking company that originates, finances, sells, securitizes and services subprime mortgage loans secured by single-fammily residences." Sounds a little like our New Century Finance...and look how well THAT one has done.

The stock is currently trading at $19.58 up $1.63 on the day or 9.08% to the upside.

On April 29th, LEND reported first quarter results. As noted on the news report from NYTimes on the web, LEND was founded in 1990, and came public in the first quarter of the year.

Total revenues for the quarter increased by 111% to $79.1 million from $37.5 million for the prior year (!). Net income was $14.8 millionl, or $.85/share, a 170% increase from the $37.5 million for the comparable quarter in 2002 (!!!).

Morningstar shows a steady improvement in annual revenue from $12.6 million in 1997, $18.3 million in 1998, $39.3 million in 1999, $56.6 million in 2000, and $96.5 million in 2001. Based on the $79.1 million in revenue for the first quarter, 2003 could bring in up to $300 million. This is a very pretty progression!

Morningstar is a bit spotty on the results regarding free cash flow and assets/liabilities...but watch this site for updates as the company is public longer.

The stock jumped today on guidance from the company, with second quarter eps raised to $1.20-$1.25 and full year eps guidance raised to $3.50-$3.75.

This is a very interesting stock, and if it performs anything like NCEN, represents a good buying opportunity right here.

Bob
It is interesting if you look at the LEND chart, you will see that if you had purchased shares in LEND, and sold at intervals, and sold when the stock declined you probably would have done real well following this pick advice. However, it also shows the problems of 'buying and holding' without managing your stock holdings.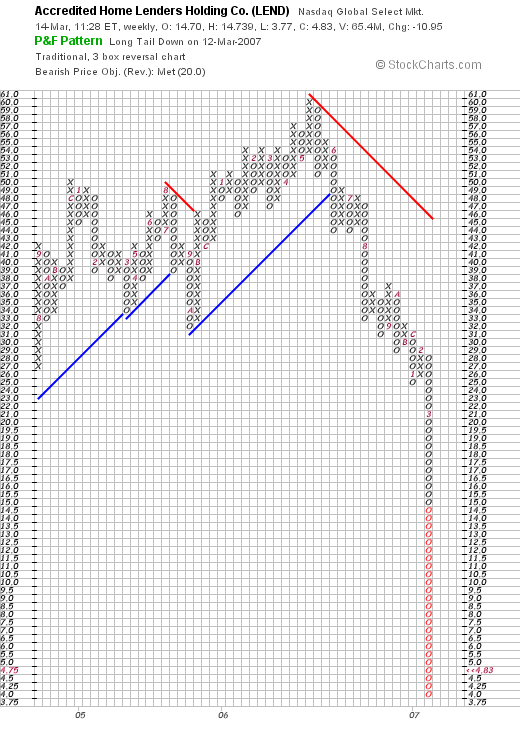 Thanks so much for stopping by and visiting! If you have any comments or questions, please feel free to leave them on the blog or email me at
bobsadviceforstocks@lycos.com
.
Bob