A Reader Writes "...but do you ever revisit a stock?"
Hello Friends! Thanks so much for stopping by and visiting my blog, Stock Picks Bob's Advice! As always, please remember that I am an amateur investor, so please remember to consult with your professional investment advisers prior to making any investment decisions based on information on this website.
Absolutely one of my favorite things about writing a blog is to receive comments and emails from readers. If you are interested in dropping me a line, please feel free to just leave comments write under the entries on the blog and I shall try to respond. If you would prefer, you can drop me a line at bobsadviceforstocks@lycos.com. While I cannot promise to get to every email I receive, I shall try to respond to as many as possible. If you would, please include your first name and where you are writing from.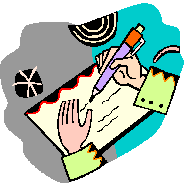 I received another email from Marcus A.L. who writes from Knoxville, Tennessee with a good question. Marcus wrote me yesterday:
"Hi Bob,
Do you trade on "news?" VCA Antech (Woof) should benefit from all the poisoned pet food frenzy that is gaining momentum in all forms of media. I know you have a strict rule of cutting your loses at 8%, but do you ever revisit a stock under any circumstances? Now that we're on the subject of news; do you follow the daily news of the market in general? Do you watch CNBC or read the Wall Street Journal to keep the temperature of the market?


Thanks,
Marcus A. L."
Marcus, you have written a great comment and let me try to respond. As you know, I recently wrote up and purchased shares in VCA Antech, a company that I greatly admire for many of the reasons I pick stocks. Great earnings, and great news. However, I hit my 8% loss and sold my shares, no matter how reluctantly.
I do revisit stocks and occasionally will purchase shares again. Currently I hold Kyphon (KYPH) which I initially sold at a loss, only to have the opportunity to repurchase a position. There are other stocks like Hibbett (HIBB) that I don't own, but would love to find the opportunity to re-establish a position. The same goes with WOOF.
I suspect that VCA Antech will benefit in some fashion from this rat poison in the food problem. But I doubt that will be significant for them. The real prognosticator for this stock will be their ability to continue to generate outstanding financial results quarter after quarter. I suspect they will indeed be able to do this, but time will tell.
My purchases of new positions (or re-establishing old positions) is dictated by my rigid trading indicators. I need to sell a portion of an existing position at a gain (my so-called 'good news' event), be under my 25 position maximum, and identify a stock that is THAT DAY on the top % gainers list that also meets my particular criteria.
So even if I wanted to add VCA Antech today if I had a sale that permitted me to expand my portfolio, if VCA Antech was not on the top % list that day....well I wouldn't be 'able' to pick it. Sounds terribly limiting and arbitrary doesn't it? But it seems to work.
This technique forces me to look at new names all the time. Instead of limiting my choices to stocks I am familiar with, I am continuously scanning the top % gainers list and reviewing the Morningstar.com facts and figures. However, if I am indeed interested in re-establishing a position in WOOF, then it is likely that the 'stars will all be aligned' and it will happen :). I hope.
I personally follow the market by listening to CNBC and watching CNBC when I get a chance, read the Investors Business Daily on occasion, and the business section from the NYTimes. I also like to scan through the stories on Marketwatch, I love to read Kiplinger's, Money Magazine, Fortune, Forbes, Smart Money, and rarely will pick up a copy of the Wall Street Journal.
But the temperature of the market is of relatively little importance to my trading strategy which depends on the activity within my own portfolio to determine my own actions.
I hope that my idiosyncratic methods are not too difficult to understand. However, they certainly aren't likely to be the best way to do things. They are just the way that I have found that has been working for me! Let me know how you have chosen to manage your own portfolio when you get a chance!
In fact if any of you have actually employed any of my strategies I discuss here, I would love to hear from you and hear how you have used them, improved upon them, and whether they have facilitated your success or have been unsuccessful for you.
Bob