Another Look At Selling Strategy: Selling 1/7th of my holdings at intervals!
Hello Friends! Thanks so much for stopping by and visiting my blog, Stock Picks Bob's Advice! As always, please remember that I am an amateur investor, so please remember to consult with your professional investment advisers prior to making any investment decisions based on information on this website.
Over the years I have developed my own idiosyncratic system for dealing with stocks in my portfolio. For many of you it must seem quite foreign and contrary to what you may have read about owning and selling stocks elsewhere. I would like to share with you my own thoughts on this process so that you will better understand my perspective, and appreciate the process that I go through.
Here is a beautiful picture of New York from Alfred Stieglitz: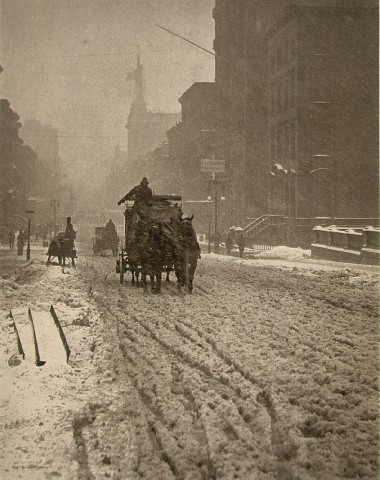 My goal in investing and building a portfolio is not to squeeze the very last nickel out of every investment but to find a system of buying, holding, and selling stocks that will be profitable. There are likely many ways to buy stocks that are more profitable. There are many investors and analysts with more insight than I possess, but I hope that through this process, I shall have found something that may work for me and if others find it helpful as well, for that I may be grateful.
I quickly understood the importance of selling losing stocks quickly. I have been using the 8% loss limit proposed by William O'Neil. I have parted ways with many stocks at this point, some went on to move back higher--even much higher. But with this 8% loss limit, I do not allow my portfolio to be exposed to the possibility of large individual losses that might otherwise be prevented. Certainly, if a stock plunges, or gaps much lower, then there is little that can be done to prevent a larger than 8% loss.
However, selling a losing stock is only one part of the formula.
A larger question is when to sell a gaining stock. Unlike O'Neil, I do not recommend averaging up on a stock that moves higher. Certainly that is a good strategy and you might wish to employ that technique. Instead, I have chosen to sell small portions of gaining stocks.
Initially I started selling 1/4 of a stock at about a 33% gain. Mathematically, I figured 3/4 x 4/3 would still yield 3/3 of the stock....sort of selling off the gaining portion. Unfortunately, after the first sale, continuing sales of 1/4 of the remaining shares was radically reducing my equity and this wasn't working. I tried to figure out the proper percentage to sell 1/4 of my holding. But rather than start using some 'artificial' % points, I chose to sell less each sale. Instead of 1/4 of my holdings, I sell 1/6th.
After 4 sales at 30, 60, 90, and 120% levels, the stock price has now doubled and I chose to increase the interval to 60%....thus the fifth sale is at a 180% level, then 240, 300, and 360%. After that I go by 90% intervals x 4, then plan on 120, 150, 180, etc. Is this the best way? I don't really know. It just seems to work for me.
Let me illustrate what happens after a few sales of a hypothetical stock that I purchased 1,000 shares at $10. For an initial purchase of $10,000 of stock.
At the first sale point, a 30% gain, the stock hits 1.3 x $10 or $13. The value of the stock is now $13,000, I sell 166 shares at $13 = $2,158 of stock. I still own 1,000 - 166 = 834 shares x $13 = $10,842.
Second sale: stock reaches a 60% gain, or 1.6 x $10 = $16. I sell 1/6th of my 834 shares or 139 x $16 = $2,224, and I have 695 x $16 = $11,120 of stock remaining.
Third sale: stock reaches a 90% gain, or 1.9 x $10 = $19. I now sell 1/6th of my 695 shares, or 115 shares x $19 = $2,185, leaving 580 shares x $19 = $11,020.
Fourth sale: stock reaches a 120% gain or 2.20 x $10 =$22. I now sell 1/6th of my 580 shares or 96 shares at $22 = $2,112, leaving 484 shares x $22 = $10,648.
Fifth sale, I now start using 60% intervals. Waiting for a 180% gain, I sell shares when the stock hits 2.80 x $10 = $28, selling 1/6th of my 484 shares or 80 shares at $28 = $2,240, leaving 404 shares at $28 = $11,312.
Sixth sale, at a 240% gain, I sell shares at 3.40 x $10 = $34, selling 1/6th of my 404 shares or 67 shares at $34 = $2,278, leaving 337 shares at $34 or $11,458 in stock.
Seventh sale at a 300% gain, I sell shares at 4.00 x $10 =$40. I sell 1/6th of my 337 shares or 56 shares x $40 = $2,240, leaving 281 shares x $40 = $11,240.
Eighth sale, at 360%, I sell shares at 4.60 x $10 = $46. I sell 1/6th of 281 shares = 46 shares x $46 = $2,116 leaving 235 shares x $46 = $10,810.
Ninth sale, intervals increase to 90%, meaning next sale point at a 450% gain or 5.50 x $10 = $55. I sell 1/6th of my 235 shares or 39 shares at $55 = $2,145, leaving 196 shares at $55 = $10,780.
Tenth sale, at a 540% gain, 6.40 x $10 = $64. I sell 1/6th of my 196 shares or 32 shares x $64 = $2,048, leaving 164 shares x $64 = $10,496.
Eleventh sale at 630% gain, 7.30 x $10 = $73. I sell 1/6th of my 164 shares or 27 shares x $73 = $1,971. Leaving 137 shares x $73 = $10,001.
Twelfth sale at 720% gain, 8.20 x $10 = $82. I sell 1/6th of my 137 shares or 22 shares x $82 = $1,804. Leaving 115 shares x $82 = $9,430.
Thirteenth sale at a 840% gain, 9.40 x $10 = $94. I sell 1/6th of my 115 shares or 19 shares x $94 = $1,786, leaving 96 shares x $94 = $9,024 worth of stock.
Clearly, I am still selling stock too aggressively.
I like these 30, 60, 90, and 120% targeted gains. But I need to sell less.
I shall not do all the math at this time, but from here on out, I am now down to selling 1/7th of my holding at the same intervals. Smaller sales should yield growing holdings. Without changing the signals I am so used to.
Thanks so much for stopping by and visiting! I hope that my thinking out loud is helpful to all of you. I sure enjoy your visits and your occasional sharing of feedback. Drop me a line at bobsadviceforstocks@lycos.com if you have any comments or questions or leave them right here on the blog.
Bob
Posted by bobsadviceforstocks at 3:52 PM CDT |
Post Comment
|
Permalink
Updated: Saturday, 7 April 2007 3:53 PM CDT