Core Laboratories N V (CLB)
CLICK HERE FOR MY PODCAST ON CORE LABORATORIES
Hello Friends! Thanks so much for stopping by and visiting my blog, Stock Picks Bob's Advice! As always, please remember that I am an amateur investor, so please remember to consult with your professional investment advisers prior to making any investment decisions based on information on this website.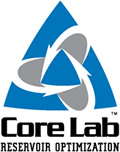 I was looking through the list of top % gainers on the NYSE this evening and came across Core Laboratories (CLB) which closed at $98.62, up $7.53 on the day or 8.27%. I do not own any shares nor do I have any options on this stock.
However, I do like the numbers that I found when doing my 'homework' and thus,
CORE LABORATORIES N V (CLB) IS RATED A BUY
What exactly does this company do?
According to the Yahoo "Profile" on Core Laboratories, the company
"...provides reservoir description, production enhancement, and management services to the oil and gas industry worldwide. It engages in determining quality and measuring quantity of the fluids, such as natural gas, crude oil, and water and their derived products in the oil and gas fields."
How did the company do in the latest reported quarter?
On April 23, 2007, CLB reported 1st quarter 2007 results. Revenue for the quarter ended March 31, 2007, increased to $155.7 million, up 13% from $137.3 million in the same quarter in 2006. Earnings came in at $1.04/diluted share, up 79% from the year-earli results and also increased 6% sequentially from the 4th quarter of 2006. Net income climed 56% to $25.3 million from $16.1 million last year.

The company also raised guidance for the full year in the same report. In that report two months ago they guided to earnings of $4.30 to $4.50, and revenue in the $650 to $670 million range.

Yesterday, after the close of trading the company raised guidance further with 2nd quarter 2007 results expected now to come in between $1.15 and $1.17, ahead of prior guidance of $1.05 to $1.10. This would represent about a 66% increase year-over-year in earnings.

As was reported in the announcement:

"Core's anticipated quarterly results are due to even stronger than expected performances from each of its three operating segments. There is strong demand for the Company's Reservoir Description services, especially in the Middle East region, where Core continues to expand operations. The Company's Canadian operations, which generated 13% of the Company's revenue in 2006, are expected to post a strong quarter."

The company also raised full year 2007 guidace to revenue in the $660 million to $670 million range, up about 15% from the 2006 levels. 2007 earnings per share are now expected to come in at $4.50 to $4.70, an approximately 47% to 53% increase over 2006 results. The street liked what it heard yesterday and wasted no time bidding up the price of CLB today!
How about longer-term results?
Reviewing the Morningstar.com "5-Yr Restated" financials on Core Laboratories, we find that revenue has steadily grown from $331 million in 2002 to $576 million in 2006 and $594 million in the trailing twelve months (TTM).

Earnings during this period were less consistent, with a loss of $(.27) in 2002, increasing to a profit of $.60/share in 2003, then dropping to $.43/share in 2004. However, since then earnings have shown strong growth with $3.07/share reported in 2006 and $3.53/share in the TTM.

Free cash flow has been positive and growing with $43 million in 2004, $96 million in 2006 and $91 million in the TTM.

The balance sheet is solid with $29 million in cash and $184.1 million in other current assets. This total of $213.1 million in total current assets, when compared to the $83.4 million in current liabilities yields a current ratio of 2.56. In addition, the company is reported to have $349 million in long-term liabilities and $275.2 million in long-term assets.
What about some valuation numbers?
Reviewing the Yahoo "Key Statistics" on Core Laboratories, we can see that this is a mid cap stock with a market capitalization of $2.36 billion. The trailing p/e is 27.97 with a forward p/e (fye 31-Dec-08) estimated at 17.58. Earnings growth is expected to continue strong as the PEG ratio is a very reasonable 0.83 (5 yr expected).

According to the Fidelity.com eresearch website, the valuation is a bit rich with CLB having a Price/Sales ratio (TTM) of 3.74 compared to the industry average of 3.65. However, the company is also significantly more profitable than average with a Return on Equity (TTM) of 71.96%, compared to the industry average of 30.86% according to Fidelity.

Finishing up with Yahoo, we can see that there are only 23.91 million shares outstanding with 18.70 million that float. As of 5/10/07, there were 1.3 million shares out short, representing 5.8% of the float or 4 days of trading volume (the short ratio). In excess of my own '3 day rule', this short interest may well contribute to the price rise on good news today!

No dividend is reported on Yahoo, and the last stock split was a 2:1 split on December 22, 1997.
What does the chart look like?
If we review the StockCharts.com "point & figure" chart on Core Laboratories, we can see that the stock has exhibited a phenomenally strong chart since breaking out at the $12.50 level way back in July, 2003. The stock has moved almost vertical the past four years. I see no evidence of weakness although there is plenty of evidence that the chart may be over-extended.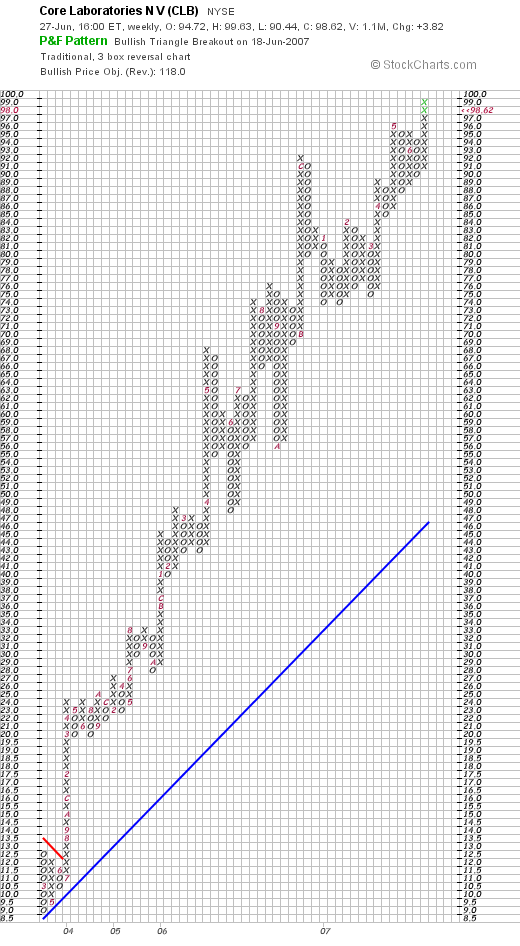 Summary: What do I think about Core Laboratories N V (CLB)?
As you might be able to tell I am practically infatuated with the company :). Seriously. This company reported a great quarter just a couple of months ago, raised guidance, and two months later, business is so strong they are raising guidance once again!

Longer-term, the Morningstar.com report is very nice except for some earnings weakness a few years ago, the company has shown incredible strength in delivering growth in both earnings and revenue.

They are solidly free cash flow positive, and have a solid balance sheet.

Valuation-wise, the p/e is a bit rich but the forward p/e is in the teens and the PEG is under 1.0. Price/sales is average for the business but the Return on Equity is 'head and shoulders' ahead of its competition. There are even a bunch of short-sellers waiting to buy shares and the chart is unbelievable. Unless something bad is announced and I see no sign of that, the company appears to be moving full steam ahead!
Anyhow, there's a new name for the blog and all of you readers.
If you have any comments or questions, please feel free to leave them on the blog or email me at bobsadviceforstocks@lycos.com. If you get a chance, drop by and visit my Stock Picks Podcast Website where you can listen to me discuss a few of the many stocks I write about here on the blog. If you are interested in a third party review of my accuracy and the results of my stock picks, at least for the last few months, drop by SocialPicks and you can see what they say about my blogging. Better yet, if you would like a review of my actual trading portfolio by a third party, visit my Covestor Page and see how Covestor rates my own actual holdings (Covestor only has records since June 12, 2007...it is quite new!)
Thanks so much for visiting! Have a great day trading tomorrow!
Bob
Posted by bobsadviceforstocks at 10:07 PM CDT |
Post Comment
|
Permalink
Updated: Thursday, 28 June 2007 9:42 PM CDT