A Reader Writes "What do you suggest....?"
Hello Friends! Thanks so much for stopping by and visiting my blog, Stock Picks Bob's Advice! As always, please remember that I am an amateur investor, so please remember to consult with your professional investment advisers prior to making any investment decisions based on information on this website.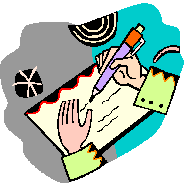 One of my favorite things about writing this blog is corresponding with fellow investors who have questions about investments and 'what to do...'. I have to emphasize that my advice should always be taken with a grain of salt. That is, remember that I am an amateur at all of this. I am not qualified to advise anyone regarding their own particular investments and am not trying to do so. I can only respond in telling people what I do in those situations. That doesn't mean that my response is correct for them; this is just to help all of us think about investing. My suggestion to consult with professional investment advisers holds.
That being said, I did receive a nice letter from Raj who had a good question for me. Raj wrote:
"Hi Bob,

Thanks for the great work you been doing in helping
new players in market. I am one such new player who is
losing a lot of money day by day on SYNL. I bought the
stock at 37$(100 shares) at the end of june and since
then its been following a down trend and i being a new
player was ignorant and added 75 more shares at
34$/share. Today it hit a low of 21.5/share and i am
at loss of 2500 $ totally. What do you suggest, should
i dispose it off or do you think it still would yield
something fruitful. Any help in this regard would be
greatly appreciated

Regards
Raj"
Raj, thanks so much for writing! The market has been very rough on investors, and I am sure there are many people who are facing this same problem every day. What to do with a stock that declines in a never-ending pattern. As I wrote above, I cannot tell you what is write with your particular situation. I don't know all of the facts and besides, I am an amateur myself. But let me tell you about what I do in similar situations.
After many years facing similar trading near-disasters like this, I have adopted, in a very disciplined fashion, my first rule of investing which is to limit your losses. Let me again repeat the first rule of investing, just in case my point has not been made. When I buy a stock, I set my maximum tolerated loss ahead of time (I do this with a 'mental' stop, but you could actually enter a real stop if your brokerage allows this.) For me, after a first purchase of an equity, I sell the stock, regardless of my own affection or interest in the equity, if the stock sells down or passes an 8% loss.
In your particular case, with a cost of $37, I would sell if the stock dropped to 92% of that level or .92 x $.37 = $34.04. I would not be owning the stock anymore at the $21.50 level. So when you ask me what to do at this level, I really don't have much recent experience with stocks losing so much recently. Because I would have and do sell those stocks that decline. By the way, as I write, SYNL is trading at $22.18, up $.41 or 1.88% in an otherwise weak market.
If I were owning a stock that declined, I would need to decide whether I wished to continue holding that stock if the facts were favorable, and if I hadn't done so, I would then set a stop of 8% under the current level and sell the stock at that price if it declined further. All of these losses must stop!
You probably really like this stock. Maybe I could say you love the stock because of what you have read and what you believe the company's prospects are. I haven't looked yet but shall in a moment review some of those facts. It doesn't matter. I strongly believe that managing your holdings is equally important to the process of a successful investment strategy as is picking the stocks to put into your portfolio. That is why, over and over again, I explain how I sell my losing stocks quickly and completely and my appreciating stocks slowly and partially. I do not know if this strategy works or is right for anyone else anyhow. But it seems to be working for me.
In addition, after selling a stock at a loss, it is important to avoid compounding that loss by immediately looking for a new stock to buy. And you guessed it, I did that many times, limited my losses then went and bought a new holding only to lose some more money.
Recently, I have been looking for the signals to help me make those investment decisions. I use sales of my own shares at appreciation points as a source of a 'good news' indicator that allows me to put a new position into my portfolio. Sales on the downside or on otherwise bad news, means that I should be 'sitting on my hands' as I like to explain.
Briefly about Synalloy (SYNL), checking the Morningstar.com "5-Yr Restated" financials, thinks look okay in the earnings department and revenue growth, except that the company in 2006 and the TTM has been cash flow negative. Otherwise, on July 19, 2007, the company reported a strong second quarter 2007 result. Sales climbed to $43.9 million from $36.7 million in the year ago same period. Diluted earnings more than doubled to $.50/share from $.24/share. However, in light of the cash flow being negative, the best I could do with this stock is
SYNALLOY (SYNL) IS RATED A HOLD
I am not sure if I answered your question. I hope so. And what is right for me may not be right for you. It is just that I have found something that works for me. You need to establish your own trading rules and stick to them. That, at least, is my take on all of this.
Good luck! Keep me posted and thanks for writing!
Bob
Posted by bobsadviceforstocks at 11:11 AM CDT |
Post Comment
|
Permalink
Updated: Friday, 27 July 2007 11:12 AM CDT