Watson Wyatt Worldwide (WW)
Hello Friends! Thanks so much for stopping by and visiting my blog Stock Picks Bob's Advice! As always, please remember that I am an amateur investor, so please remember to consult with your professional investment advisers prior to making any investment decisions based on information on this website.
It was a really lousy day in the market. But I bet you noticed. For the record, the Dow closed down 387.18 points at 13,270.68, and the NASDAQ was down 56.49 at 2,556.49. YIKES.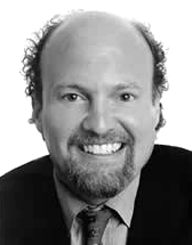 As the most entertaining Jim Cramer has said:
"I like to end every television and radio show I have with this signoff: "There is always a bull market somewhere, and I will try to find it for you." I say that because it's true."
I guess I am a little more of a Jim Cramer fan now. I don't always agree with his style but his comments on the seven million American homeowners who might lose their homes due to tight money struck a chord with me. Cramer had this to say:
"As someone who is a history buff, who's spent a lot of time analyzing what happened in the Depression, spent a lot of time analyzing 1987 and 1990, I felt that there were people who knew that things were breaking down in the depression," Cramer said. "They knew that the forgotten man was going to be forgotten. There were people who were quite aware of the stress in the system in 1987, 1990 and also in 1998."
I guess it isn't always about profits and booyahs with Jim.
So in the midst of this rout, let's discuss a stock that appears to be in a bull market of its own: Watson Wyatt Worldwide (WW). I do not own any shares of WW nor do I have any options. Watson Wyatt Worldwide closed at $47.38 today, up $4.38 or 10.19% on the day. This was enough to make the list of top % gainers.
WATSON WYATT (WW) IS RATED A BUY
Let's take a closer look at this stock.
What exactly do they do?
According to the Yahoo "Profile" on WW, the company
"...provides human capital and financial management consulting services worldwide. It designs, develops, and implements human resource strategies and programs in five principal practice areas, which include benefits; technology and administration solutions; human capital consulting; insurance and financial services; and investment consulting."
How did they do in the latest quarter?
On May 9, 2007, the company reported 3rd quarter 2007 results. Sales rose to $395.6 million from $343.1 million in the same period last year. Net income was $33.8 million or $.76/share, up from $30.4 million or $.71/share last year. Analysts had been expecting $.63/share, and thus the company beat expectations.

In addition, the company raised guidance on sales to $1.48 billion for 2007 from previous guidance of a range of $1.43 billion to $1.46 billion. The company also raised guidance on earnings for 2007 to $2.52 to $2.56/share up from prior guidance of $2.41 to $2.44/share.
How about longer-term results?
Reviewing the Morningstar.com "5-Yr Restated" financials on WW, we can see that revenue growth was stagnant between 2002 and 2004 when revenue actually dropped from $710 million in 2002 to $702 million in 2004. However, revenue grew to $737 million in 2005 and $1.27 billion in 2006 with $1.45 billion reported in the trailing twelve months (TTM).

Earnings also were unimpressive in that period increasing from $1.40 to $1.70 from 2002 to 2003, then dropping to $1.50/share. However, earnings have increased steadily since then to $1.60/share in 2005 and $2.00/share in 2006 with $2.40/share reported in the TTM.

The company initiated a dividend of $.30/share in 2005 and has continued to pay this same dividend. There has been a slight dilution of the stock with 33 million shares outstanding from 2002 to 2005. However, this increased to 41 million in 2006 and 42 million in the TTM. This 27% increase in outstanding shares has been accompanied by a 50% increase in earnings and a nearly doubling of revenue. Thus, this is an acceptable dilution imho.

Free cash flow which was $36 million in 2004, dipped to $33 million in 2005, then increased sharply to $131 million in 2006 and is staying strong at $117 million in the TTM.

The balance sheet appears solid with $69 million in cash and $429 million in other current assets. This total of $498 million, when compared to the $282.8 million in current liabilities yields a current ratio of 1.76--acceptable from my perspective.
What about some valuation numbers?
According to the Yahoo "Key Statistics" on WW, the company is a mid cap stock with a market capitalization of $2.03 billion. The trailing p/e is a moderate 19.63 and the forward p/e (fye 30-Jun-08) is estimated at 17.10. The PEG is a little steep at 1.58, but with earnings exceeding expectations, this is likely to decrease to an acceptable range under 1.5.

According to the Fidelity.com eresearch website, valuation is reasonable as measured by the Price/Sales (TTM) with WW coming in at 1.26 compared to an industry average of 2.78. Also, in terms of profitability, WW comes in with a Return on Equity (TTM) of 15.74%, ahead of an industry average of 13.68%.

Finishing up with Yahoo, we find that there are 42.76 million shares outstanding with 41.47 million that float. Currently there are 2.99 million shares out short (7/10/07) representing 13 days of trading volume (the short ratio), representing 7.2% of the float. There are a lot of shorts out there that may well have been doing a bit of covering today.

As noted above, the company now pays a forward dividend rate of $.30/share yielding 0.7%. No stock splits are reported on Yahoo.
What does the chart look like?
If we look at the "point and figure" chart on Watson Wyatt Worldwide from StockCharts.com, we can see that the stock which climbed steadily from $18 in January, 2005, to a peak of $53 in May, 2007, has now rebounded from the dip to $42 in August, 2007 to a recent price of $47.38. Overall the chart still looks encouraging with the upward movement of the price essentially intact.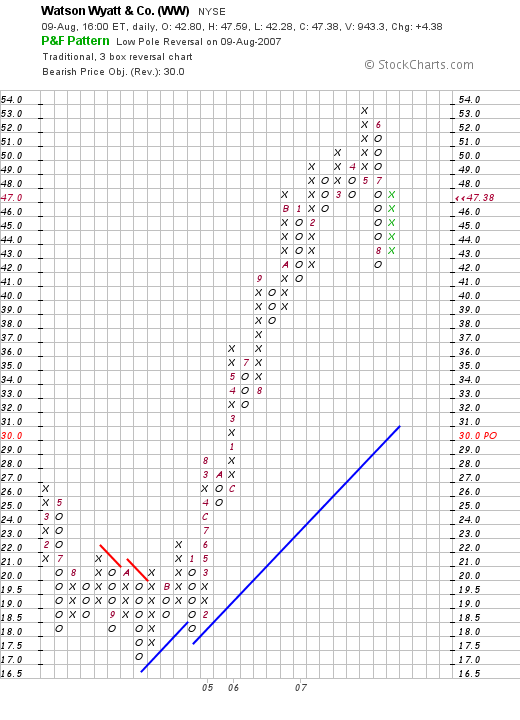 Summary: What do I think?
Well, I like this stock. No I am not buying anything :). But if I were buying something, this is the kind of stock I would be purchasing. Let's review a few of the points above--the latest quarter was solid with growth in both earnings and revenue with the company exceeding expectations on both. In addition they went ahead and raised guidance for 2007 in both revenue and earnings.

Longer-term, the stock has been making headway only the last few years, but the progress is impressive. Revenue has grown nicely and earnings are on the move. The company initiated a dividend, has been growing its free cash flow and the balance sheet is solid.

Valuation-wise, the p/e is under 20, the PEG is a bit rich just over 1.5, but the Price/sales ratio is low while profitability is a bit higher than average as measured by the Return on Equity (ttm). Finally there are lots of short-sellers out there, sellers who may well be finding themselves squeezed a bit by the recent move higher in spite of an overall weak equity market.

Chart-wise the graph is impressive, and although the stock has been under a bit of pressure recently, longer-term bullish price movement appears intact.
Anyhow, that's the bull market in this stock that I found a la Jim Cramer! Thanks again for visiting! If you have any comments or questions, please feel free to leave them on the blog or email me at bobsadviceforstocks@lycos.com.
I hope tomorrow finds you profitably trading.
Bob