A Reader Writes "...although the principle behind having a stop is solid, fixing the % is not."
Hello Friends! Thanks so much for stopping by and visiting my blog, Stock Picks Bob's Advice! It was nice to see that I had another letter this afternoon from a reader and follower of my Covestor Page. It is nice to see that I am reaching investors through this blog, my Podcast site as well as my Covestor account. I enjoy discussions about investing with fellow investors. I continue to learn much about the process from their comments and my need to find reasonable responses to their inquiries.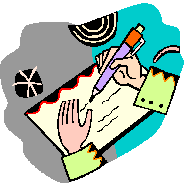 Don B. wrote:
"Congrats on exiting when your stop was hit. It's rarely possible to find out beforehand why a given position is plunging.

Regarding the matter of O'Neil's 7-8% stop rule: I've long believed that although the principle behind having a stop is solid, fixing the % is not.

Why?

1. Some stocks fluctuate that much and more per day. CUB shot up 26% on 8/10.

2. The 7-8% pullback may well coincide with major chart support. If you're buying on the basis of a chart idea, it makes some sense to me to base your initial stop on a chart idea as well. This would be right under the most recent low, not closer, no matter what % is involved, because closer means it's well within the noise range, which means way too close!

There is a simple solution which will preserve the principle of having a stop, but not too close:

Size your position before entering, so that your $ risk is the same for all positions.

Here's the way this works:
Decide beforehand what % of your account you're willing to lose per trade. The maximum should be 2%, but should probably be lower. So, if you have $50,000 in your account, the maximum you should risk on any trade would be 2% * $50,000, or $1000.
Using CUB as an example, if you were to buy this at the close 8/10, 32.89, the closest you could put your stop would be at 25.99, one tick under the recent low.

That's a risk of 6.90 points per share, and 21% below the buy price. If you're limiting your risk to $1000 in this hypothetical example, you'd divide the $1000 by 6.90, and that would give you 145 (rounded up) shares. To check your arithmetic, 145 * 6.9 = $1000.

But then figure your cost, which is 145 * 32.89 = $4769.

This comes to 9.5% of your account. If you sized every position this large, you'd only be able to be in 10.5 positions, which is well under the optimal level for proper diversification. Ideally, an account needs to aim for 30 plus positions.

If you were intent on aiming for 30+ positions, you'd divide your total equity by 30, which gives $1667, and then divide that by the buy price of 32.89, which gives 50 shares. So, depending on whether you are intent on diversifying broadly, or not, you could have as few as 50 shares, and as many as 145, but not more.
Note: this approach is not the same as allocating the same total $ per trade. That will vary considerably. It's a way to minimize risk across all positions, allowing for the great differences in various positions, and insuring your ability to stay diversified.

Good luck in this beast of a market!

Don"
"1. Basing stock selection on some mix of fundamental and technical criteria whose validity is backed up by decades of research--as opposed to basing my selection on the hype du jour.

2. Having a clearly thought out plan for how much to risk on each position, as opposed to basing this on my gut feeling that this is my lucky day.

3. Having a specific plan for how I'll limit my loss if wrong, and maximize my profit if I'm right. In my case, this is a trend-following program.

4. Having a way to manage my own biases, greed, fear, etc., so that I don't let them sabotage my trades. I already have enough memories of the killer trades that I got out of prematurely. This involves recording in detail my reasons and criteria at the point of entry, as well as exit. I then carry out a rigorous periodic review of all of my trades, which is helping me become a more disciplined trader."
You can see that Don and I share many of the same philosophies that I suppose comes from years of doing things without that discipline and realizing that rules are necessary to increase one's chance at success.
In the particular example, Don would have allowed a stock to decline about 21% before a sale would be triggered. In this particular case CUB turned around and climbed 26% on August 10th. And the sale was ill-advised.
I actually do not know if Don is right or wrong on this matter.
I do know that my goal is first and foremost to limit risk in investing.
I have found it easy and disciplined to implement this same 8% loss limit on every position. You will see that once a stock starts appreciating, this arbitrary loss limit disappears and my biggest gainers are given much more slack so to speak. Thus, my recent purchases are quickly dropped if the market turns on me.
It also seems that it might be wise to continually increase the size of your positions as you invest successfully. This makes sense from the perspective of undoing your investments in a declining market. Since your latest investments are most vulnerable to a quick sale on a market pullback, they would also be the larger positions to do so. It might help move your entire portfolio into cash quicker.
Anyhow, there are many ways to 'skin a cat'!