Graftech (GTI) "A Brief Review and a Podcast Tonight!"
CLICK HERE FOR MY PODCAST ON GRAFTECH
Hello Friends! Thanks so much for stopping by and visiting my blog, Stock Picks Bob's Advice! As always, please remember that I am an amateur investor, so please remember to consult with your professional investment advisers prior to making any investment decisions based on information on this website.

Let me briefly go through GrafTech (GTI), which was the topic of my podcast this evening.
Graftech (GTI) made the list of top % gainers on Friday, gaining 17.07% to $15.64, up $1.65 on the day. I do not own any shares or options on this stock.
GrafTech (GTI) reported 2nd quarter 2007 results on August 2, 2007. It was a solid report that beat analysts expectations.
The Morningstar.com "5-Yr Restated" financials on GTI are solid except for some erratic earnings which have indeed solidly grown the past few years. Free cash flow and the balance sheet look nice.
Yahoo "Key Statistics" on GTI showed this mid cap stock with reasonable p/e, nice PEG under 1.0, and lots of shares out short.
The "point and figure" chart from StockCharts.com appears encouraging without appearing overextended.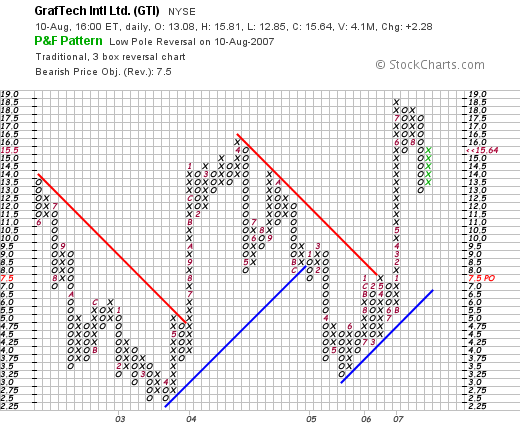 With the nice move Friday, the solid earnings report, decent valuation, great Morningstar.com report, and reasonable chart,
GRAFTECH (GTI) IS RATED A BUY
Thanks again for visiting! If you have any comments or questions, please feel free to leave them on the blog or email me at bobsadviceforstocks@lycos.com.
Bob