A Reader Writes "So you use your stocks as a guide...."
Hello Friends! Thanks so much for stopping by and visiting my blog, Stock Picks Bob's Advice! As always, please remember that I am an amateur investor, so please remember to consult with your professional investment advisers prior to making any investment decisions based on information on this website.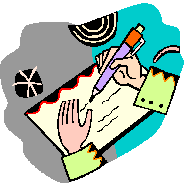 I had the pleasure of getting another nice email from S.J.K. in Anchorage, Alaska, who wrote:
"Thanks bob for your thoughts. We do have an investment advisor, but
often feel like he is selling us funds to get his commission or management fee. We have taken small steps into individual stock holdings with success, but only because we bought when nobody else was buying (ie. the lead up to the iraq invasion). I really appreciate your disciplined approach. It makes sense in a normal market.

So you use your stocks as your guide, as you say on your blog. To clarify, do you ever have your cash fully invested? When you sell on appreciation, you take a portion of your cash holdings in addition to the appreciation to purchase the next equity... so in theory, at 20 postions, you still have an amount of cash on hand equal to the liquidated appreciation. Is that correct?

My partner is a fellow Wisconsiner. (she's a cheesehead from green bay). That might be why I enjoy your podcast so much. Thanks again for your response.

Yours,
---S J.
Anchorage, Alaska"
S.J., thank you for writing! The market has been tough on everyone. I guess maybe the short-sellers without the 'uptick rule' are making money.
Let me talk a little about how I use my stocks 'as a guide' as you write. I should qualify this as one of those 'do as I say not as I do' moments :). Because, if you have been reading through my blog, you will realize that I carry a sizeable amount of margin which I have been hoping to pay down through sales---preferably on the upside.
But in an ideal world, I would not be in margin. My stock holdings have a value of approximately $5,000 apiece. And it would take $100,000 in cash or equity value for the 20 positions which is now my current maximum.
First your question about being at the maximum size of the portfolio. If I am at 20 positions and I sell a portion of a stock at a gain and normally would have a signal to add a position, instead in that case I 'sit on my hands' and would move that appreciation sale into a money market account.
On the other hand, if I am at my minimum of 5 positions (1/2 of the neutral 10 position portfolio), then if I sell a stock at a loss, instead of 'sitting on my hands' and applying that proceeds into a money market account, I would instead replace that sold stock to keep my exposure at 5 positions.
My system requires a minimal exposure to equities which I use as 1/4 of the maximum number of positions, because my own holdings act as the signals to be buying and selling new positions.
Also, if I were, for example, and I sold 1/7th of a holding at a gain and had a signal, like I did recently with my VIVO purchase, to add a new position, I would ideally be using the proceeds of the sale and some additional cash to purchase the new position. (In my particular case, I unfortunately use margin which is borrowed money to make the same move).
You might ask why I am so against margin. But it is due to two basic reasons. First of all, I am paying interest against that loan which reduces my performance, and secondly, the margin, especially in a down market, adds leverage to the performance which in this case is doubly bad. I don't think I need to explain further :(.
As a matter of course, I would prefer to be adding positions to the portfolio that are slightly larger than the average position I already own. I do this so that I can grow my portfolio over time. In addition, in a correction, as you will observe, the first stocks that I am letting go of are the most recent purchases. Thus, I will more quickly be moving into cash.
Another thing, I strongly suggest an automatic deposit of new cash each month into your trading account that will also assist you over time in building that portfolio into a more significant account, no matter where you start.
Thank you for your kind words and loyal listenership to my amateur podcast about my amateur investing.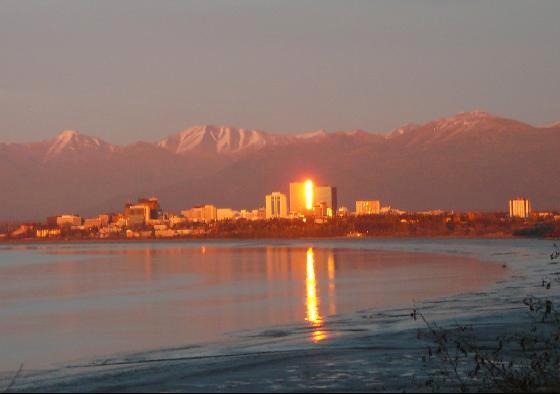 This is a picture of Anchorage, October, 2006, as posted by PA2AKgirl in her travel blog. I have never been there but what a gorgeous view!
I hope tomorrow finds us in better trading shape!
Bob