A Reader Writes "Have you ever thought of using a close protective stop...?"
Hello Friends! Thanks so much for stopping by and visiting my blog, Stock Picks Bob's Advice! As always, please remember that I am an amateur investor, so please remember to consult with your professional investment advisers prior to making any investment decisions based on information on this website.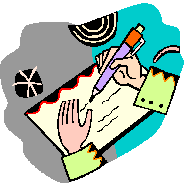 I had another nice letter from Doug S., who has been a regular write and commenter here on the blog. Doug is bright and clever, and his thoughts deserve consideration. He has regularly written to me about different names to consider and he is a good stock picker as well!
Doug wrote:
"Hi: Have you ever thought of using a close protective stop on a certain percentage of your gain at segmented designated levels on the
way up. It seems to me with a little research on past history you could structure a plan that would afford you approximately the same protection and allow "that big winner(position)' to make you a lot more money."
Doug, thanks for writing!
There is absolutely a lot of truth in what you write. Your question is a little bit confusing for me. I believe you are suggesting that I move up my stops a little bit 'closer' on those stocks that have appreciated a lot for me. In that way, I might preserve my large gains so that they don't just drop back to a lower level. Please correct me if I have misinterpreted the question/comment.
You raise some interesting points--especially in the light of the recent volatile correction that we have experienced in the stock market. In other words, 'wouldn't it be wiser to have tighter stops under the big gainers to avoid 'giving back' so much of the profits'.
Let me review my current selling strategy on the downside. After a first purchase, I allow a stock to decline only 8% before selling the entire position. Thus selling at 92% of the price in a worst case scenario.
After a single sale at a 30% gain, I allow a stock to drift back to 'break-even' before selling. This represents selling at 100/130 or 77% of the peak price.
After two sales, or at 30 and 60%, I would plan on selling all remaining shares if the stock declined to 30% appreciation. That would work out to a level of 130/160= 81% of the peak.
After three sales, (30, 60, and 90%), I would sell at 45%, thus 145/190 = 76% of the peak.
Four sales (30, 60, 90, and 120%), I would sell at 60% or 73% of the peak.
Five sales (30, 60, 90, 120, 180%), then I would sell at 90% or 68% of the peak.
It isn't perfect, but I think you can see the trend. After each sale I move up the stops, but generally the 'leash' that I give each stock increases after each sale...giving a stock more 'room to play' in a turbulent market.
The result of this is that when a market corrects, my tendency is to unload my recent purchases before selling my longer-term holdings that might well survive smaller corrections better. In this fashion I retain my strongest stocks and sell my newer additions as I move from equities to cash.
Anyhow, that's how I do it. If I can figure some new methods to manage these questions, then I amn sure I shall make some changes. Meanwhile....
Thanks again for visiting! If you have any other comnenbts or quetions, please feel free to email me at bobsadviceforstocks@lycos.com or leave them on the blog.
Hopefully, today's rally will hold and we will find most of the correction behind us with smoother sailing ahead.
Bob
Posted by bobsadviceforstocks at 1:23 PM CDT |
Post Comment
|
Permalink
Updated: Friday, 17 August 2007 7:48 PM CDT